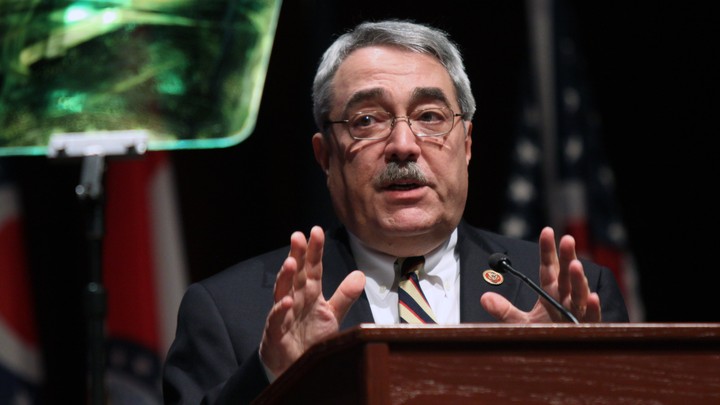 Members from a trio of Democratic minority caucuses confronted House Minority Leader Nancy Pelosi in a closed-door meeting Wednesday, claiming they—and their policy priorities—were left out of omnibus negotiations.
Multiple staffers to members of the Congressional Black Caucus, Congressional Hispanic Caucus and Congressional Asian Pacific American Caucus—collectively known as the Tri-Caucus—described the 90-minute meeting as "contentious" and said it remains to be seen whether their frustrations will endanger the funding bill that's expected to hit the House floor Friday.
Prior to the meeting, Congressional Black Caucus Chairman G.K. Butterfield expressed his concern in an interview. "Most CBC members are opposed to the omnibus and the tax extenders, for the very simple reason that we were not included substantially in the negotiations," he said. "The deal does not address poverty in a significant way, and it ignores many other priorities that the CBC has advocated for for many years."
Butterfield elaborated on more issues in a Wednesday afternoon statement, blasting both the deal and the way it was conducted. "It was negotiated in secrecy and much of our information was obtained from news accounts," he said. He ticked off issues like blight removal, infrastructure investment, funding for historically-black colleges and universities, and debt restructuring for Puerto Rico as priorities that were not adequately addressed in the negotiations.
The CBC was not alone in raising concerns. The Congressional Hispanic Caucus, according to sources in the room, was frustrated that the omnibus did not address Puerto Rico's financial crisis.  "It was pretty contentious," said one staffer. "The Tri-Caucus is about half the Democratic Caucus. Half the caucus felt like they were left out of the negotiation, and their voices weren't heard. … If you'd had such a huge chunk of the Democratic Caucus involved in these talks, maybe you wouldn't have had these problems."
The meeting was called by Pelosi to go over specific provisions in the omnibus and address members' concerns.
A Democratic leadership aide called the members' last-minute criticisms unfair. Pelosi, he said, updated members on negotiations "to the point of exhaustion." And caucuses have never had a negotiating role as GOP and Democratic leaders finalize negotiations. "It's a Big Four conversation," he said. "That's not the way it works."
Meanwhile, the aide added, the policy wish list put forth by the critics simply isn't attainable in a GOP-controlled Congress. "Republicans were never going to give you some special plus-up for HBCUs and some sweeping anti-poverty program," he said.
Sources in the meeting said Pelosi also briefed members on Democratic priorities that were funded in the bill, including healthcare funding for 9/11 first-responders and extensions of clean energy tax credits.
In a Wednesday morning press conference, Pelosi raised the Puerto Rico issue as a major problem with the bill. "We're concerned about the ignoring of the urgency of the situation in Puerto Rico, where American citizens are, really, in a situation that we must address," she said. "It won't cost the American people one thin dime to enable, to allow Puerto Rico to restructure their debt and declare bankruptcy – not one thin dime to the American people."
Later in the day, House Speaker Paul Ryan said he was directing Congress to find a solution to Puerto Rico's debt crisis by the end of the first quarter of next year.
While Butterfield's statement said "most" of the CBC opposes the omnibus, observers said the meeting provided no further clarity about how most Tri-Caucus members will vote on the bill. Pelosi is not whipping for or against the omnibus. "No decision's been made yet," said an aide to one Tri-Caucus member. "This was more a voicing of some concerns to leadership."
We want to hear what you think about this article. Submit a letter to the editor or write to letters@theatlantic.com.
Alex Brown
is a Congressional correspondent at
National Journal.