Paul Ryan Pitches 'Confidence' to a Timid GOP
"Our number-one goal," the new House speaker said, "is to put together a complete alternative to the Left's agenda."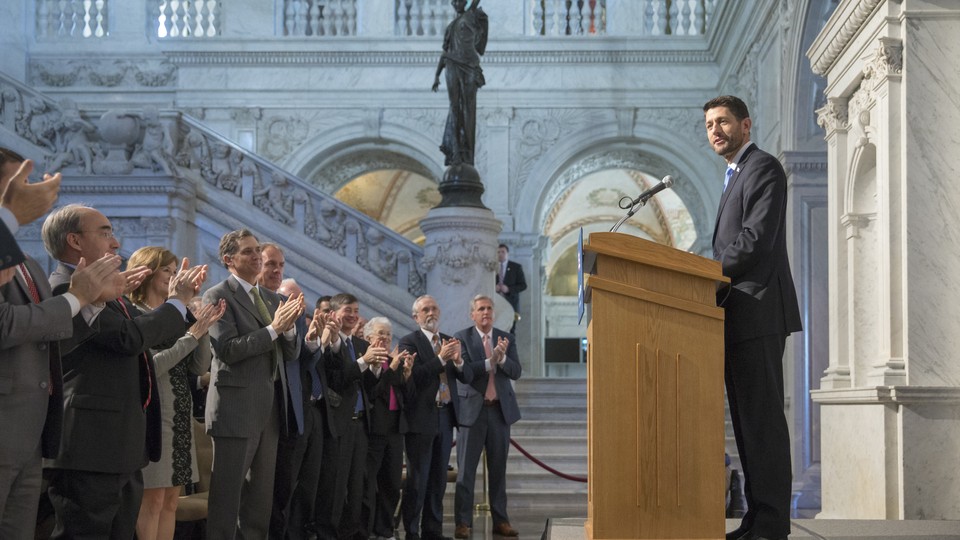 In Paul Ryan's view, the Republican Party in the Obama years has been too timid.
That may be a tough argument to believe, given that the GOP has resisted Obama's policies with more fervor than any opposition party in modern memory. But the new House speaker's critique is not that Republicans have been afraid to oppose the president; it's that they've been content to do only that.
In a speech Thursday laying out his legislative vision for the House, Ryan called on conservatives to summon the "confidence" to put forward a competing policy platform in 2016 that would give a new Republican president a legislative mandate. "Our number-one goal for the next year," Ryan declared, "is to put together a complete alternative to the Left's agenda."
Making the GOP the "alternative party" and not merely the "opposition party" has been a recurring rhetorical theme for Ryan in the last several years—from his time as the chairman of the House Budget Committee to his run for vice president, and most recently, during his abrupt elevation to speaker of the House. But now as the most powerful Republican in the country, he has the opportunity to show what he means. He vowed on Thursday that under his leadership the House GOP would "unveil a plan to replace every word of Obamacare."
It's a promise that Republicans have made in general since the law was enacted in 2010 and as recently as 2014, when then-House Majority Leader Eric Cantor promised that the House would vote on a full replacement for Obamacare by the end of the year. That pledge went the way of Cantor himself, who lost his primary and resigned from Congress before he could deliver on it. Ryan may be less vulnerable to electoral defeat, but he'll face the same political headwinds that for years have stymied Republican attempts to unify around a detailed health-care proposal.
For one, he is presiding over the same fractured conference that bedeviled his predecessor, John Boehner. Sure, many lawmakers may be afraid to take a tough vote that will give Democrats ammunition to attack them, but the bigger reason Republicans haven't acted on a replacement for Obamacare is that 218 of them can't agree on what it would look like. Second, Ryan's status as the de facto leader of the GOP will last only another few months, until Republicans settle on a presidential nominee. Whether it's Donald Trump, Marco Rubio, Ted Cruz, or someone else, the party standard-bearer will have a lot to say about how aggressive Republicans in Congress are as the election approaches. Ryan's approach might also face resistance among senior Republican senators, who know that unlike the party's relatively safe majority in the House, the balance of power in the Senate after 2016 will be determined in a handful of swing states.
Ryan's call for a confident GOP extended to policy areas beyond health care. He urged conservatives to advance a long-debated overhaul of the tax code that cuts rates and closes loopholes. "All I can say is we will not be cowed," Ryan said. "We are not here to smooth things over. We are here to shake things up." The new speaker pushed for action on an issue he has embraced as a personal cause in recent years: reforming the nation's anti-poverty apparatus in a way that consolidates federal programs, gives more power to the states, and incentivizes welfare recipients to seek work without the risk that they lose all government support.
The more assertive approach drew praise from Heritage Action, a conservative group that emerged as a chief critic of former Speaker Boehner. Michael Needham, the group's president, said in a statement after the speech that Heritage Action "strongly supports Speaker Ryan's commitment to lay out a bold agenda."
We agree with him that saving America will require an electoral mandate, not just electoral victory. And we applaud his recognition of the unholy alliance between big government and big special interests.
Ryan is pushing Republicans to be bolder, but he's not ignoring politics altogether. Two policy proposals given noticeably short shrift in his 25-minute speech at the Library of Congress were his contentious plans to partially privatize Medicare and turn Medicaid into a block-grant program in the states. Those ideas were centerpieces of the budget blueprints that he authored, but they were subject to relentless attacks from Democrats, and Ryan gave no indication that they would be priorities for the House GOP in 2016.
Ryan has had a successful first month as office. He's steered the House to complete significant bipartisan agreements on infrastructure and education, and he's won positive reviews from conservatives for taking initial procedural steps to fix what he termed a "broken" House. Thursday's speech marked a sharper turn toward substance. Ryan framed his address around the idea of restoring confidence in the country as a whole. "We want America to be confident again," he said.
We want to see progress and have pride. We want people to believe in our future again. We want a country where no one is stuck, where no one settles, where everyone can rise.
Yet the intended audience was principally his own party. Ryan is more of an earnest orator than a stirring one; he delivers his lines in an increasingly familiar staccato, speaking clearly and directly, occasionally eloquent but rarely emotional. (No handkerchief needed for this House speaker.) So while it might have been difficult to discern from his tone, Ryan was delivering a rallying cry for Republicans on Thursday. "What it all comes down to," he said, "is whether we conservatives have confidence in ourselves. Do we really believe our philosophy is true? Do we have the best ideas? If so, then I don't see any reason why we should hold back." Reluctant as he was to take the job, the new House speaker clearly wants to lead the GOP in a more ambitious agenda. Now the question is, will his party follow?