Paul Ryan Hits Trump for Proposal to Bar Muslims
"This is not conservatism," the House speaker declared in response to the GOP presidential front-runner's plan.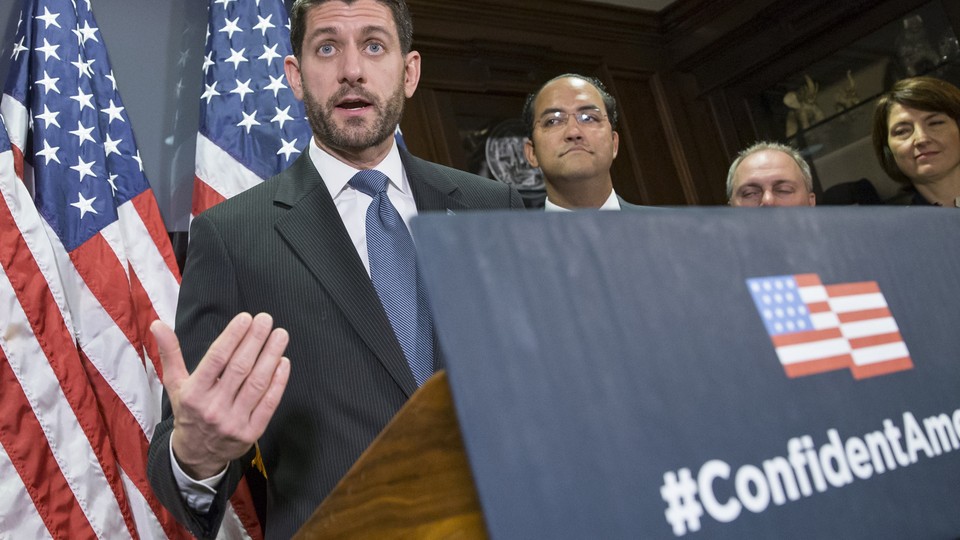 House Speaker Paul Ryan denounced Republican presidential contender Donald Trump on Tuesday for proposing the U.S. close its borders to all Muslims over fears of terrorism.
Although he did not call out Trump by name, Ryan told reporters at a weekly press conference that the businessman-turned-presidential candidate did not speak for the party when he called on Monday for a "complete and total shutdown of Muslims entering the United States."
Ryan reiterated his comments from last month, when he said it was wrong that some members of his party were calling for immigration officials to give preference to Christian Syrian refugees over Muslims.
"Freedom of religion is a fundamental constitutional principle. It's a founding principle of this country," Ryan said. "Normally I do not comment on what's going on in the presidential election. I will take an exception today. This is not conservatism. What was proposed yesterday is not what this party stands for, and more importantly it's not what this country stands for."
Ryan continued that most Muslims are peaceful and are important allies in the fight against radicals within the religion.
"Not only are there many Muslims serving in our armed forces dying for this country, there are Muslims serving right here in the House working every day to uphold and to defend the Constitution," Ryan said.
Two Muslims serve in the House: Democratic Reps. Keith Ellison of Minnesota and Andre Carson of Indiana.
Ryan shared similar sentiments with members of the House Republican Conference in a closed-door meeting immediately before his press conference.
Still, he did not go so far as to say he would withhold support from Trump if he becomes the GOP's presidential nominee.
"I'm going to support whoever the Republican nominee is, and I'm going to stand up for what I believe in as I do that," Ryan said.