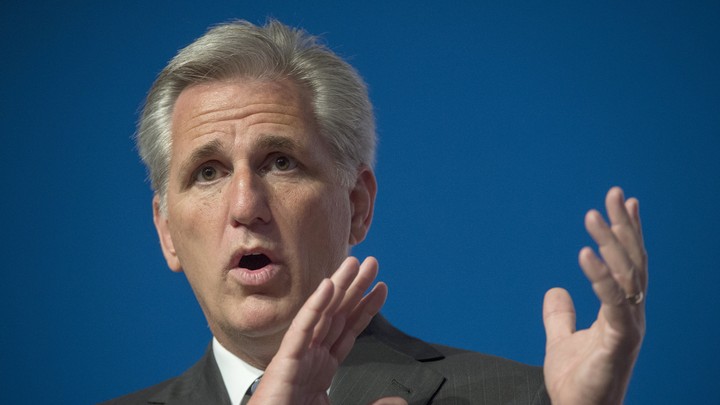 Congressional leaders opened the work week sniping at each other over slow-going negotiations on a sweeping government-funding bill, scuttling early optimism that negotiators could wrap the bill by Monday and pass it in the House by Friday.
Majority Leader Kevin McCarthy said the House could work into the weekend to finish the omnibus bill, and blamed the holdup on Democratic leaders, who he said have not empowered their negotiators to cut a deal. He reiterated, as he said last week, that a short-term continuing resolution could be necessary to avoid a government shutdown and give the Senate time to pass a package next week.
"There's been a number of issues that have not been finalized," he told reporters. "From my understanding, some may be coming from maybe the Democrat side in the House on negotiating the final portions. Some have been withheld from being able to negotiate on the approps side from the Democrats. I think maybe their leadership wants to negotiate."
"They were not given the authority to negotiate on a lot of the different points so that has slowed the process down," McCarthy continued.
Minority Leader Nancy Pelosi's office shot back, noting the bill is held up over GOP insistence on policy add-ons. Pelosi has said measures dealing with the environment, financial regulations, and Syrian refugees have been their main sticking points.
"On the Omnibus bill, House Democrats accepted the Republican budget number. We accepted how they decided to distribute the funds from the budget agreement. In order for us to support the Omnibus bill, the poison pill riders must go," Pelosi wrote Monday in a letter to her colleagues.
Yet neither side revealed which issues are holding up the process, and complicating the bill are concurrent negotiations over a ballooning package of tax breaks and policies.
Pelosi said Democrats want to make the child tax credit permanent and index it to inflation, but Republicans rejected the indexing. In meetings with her members, she said she heard that the bill may be growing too far-reaching for members' taste, a sentiment that has been shared by members in both chambers and on both sides of the aisle.
"During the Caucus meeting last week, it was clear that, in the absence of a balance between working families and business provisions, the permanent bill was on a dangerous path of being too large for members to support," Pelosi wrote.
House aides said they still hope to reach an agreement this week.
One of the outstanding issues is Republicans' desire to include in the omnibus a House-passed bill that would require administration officials to sign off on every Syrian refugee entering the country, which was taken up after the terrorist attacks in Paris.
The issue had been a sensitive political matter since the attacks in Paris and looks to continue in the wake of the more recent terrorism-linked shootings in San Bernardino, California. Leading GOP presidential contender Donald Trump on Monday called for a blanket ban on all Muslims entering the country "until we are able to determine and understand this problem and the dangerous threat it poses," according to a statement from his campaign.
The House will also pass a bill this week tightening controls on the U.S.'s visa waiver program, but McCarthy said the bill is not being passed in lieu of the refugee legislation.
"I would like to see the Syrian refugee bill become law, and have a debate in the Senate," he said. "But I don't look at [the visa waiver] bill based on, 'Does that do something to the omni or not?' I just look at that as a great threat so I want to make sure that gets done as soon as possible."
Senate Majority Whip John Cornyn, meanwhile, said Monday that there are several outstanding issues on the omnibus deal that will likely prevent a deal from being reached Tuesday, pushing the spending package even closer to Friday's deadline. Asked whether the fight could bleed into next week, forcing Congress to pass a short-term continuing resolution, Cornyn said: "Maybe."
---
Sarah Mimms contributed to this article
We want to hear what you think about this article. Submit a letter to the editor or write to letters@theatlantic.com.
Daniel Newhauser is a staff correspondent for National Journal, where he primarily covers the House of Representatives. He was formerly a House leadership reporter for Roll Call, where he started as an intern in 2010 and quickly earned a slot as a beat reporter.
A native of San Antonio, Texas, Newhauser traveled further West to study journalism at Arizona State University's Walter Cronkite School of Journalism and Mass Communication and write for newspapers including the East Valley Tribune and the Green Valley News & Sun.