On Matter of Mercy, Obama Can't Blame GOP for Gridlock
The president can act unilaterally today to bring long-awaited justice to drug offenders.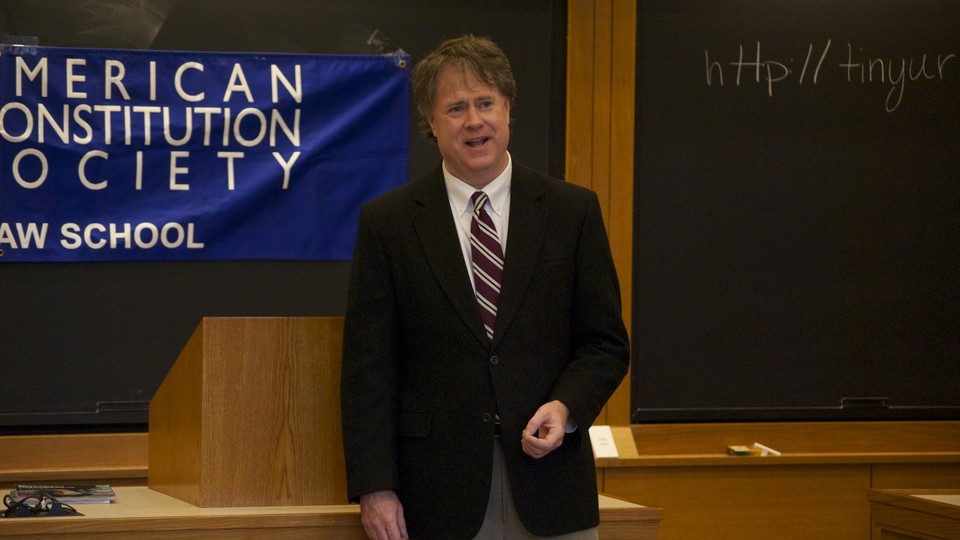 Whenever President Obama or his allies complain about GOP obstacles to his liberal agenda, I think of the racial disparities in prison sentences for drug offenders. Obama has absolute and undisputed power to pardon or commute the sentences of people jailed under sentences that the Supreme Court and Congress later deemed to be excessive.
But he's done little to help.
The system Obama established to fix a broken system is broken, a bureaucratic clog of redundancies, internal politics, and talking points. After reading Sari Horwitz's story on the clemency process in The Washington Post on Sunday, I emailed my old friend Mark Osler, a former federal prosecutor who holds the Robert and Marion Short Distinguished Chair in Law at the University of St. Thomas in Minneapolis. His writings on narcotics and sentencing have appeared in The New York Times and The Washington Post, and in law reviews at Harvard, Stanford, the University of Chicago, Northwestern, and Rutgers. In 2009, he won the case of Spears v. United States in the U.S. Supreme Court, in which the Court held that a 100:1 ratio between crack cocaine and powder cocaine in the U.S. Sentencing Guidelines could be categorically rejected by sentencing judges.
Our lightly edited email exchange:
FOURNIER: OK. Let's get the personal disclosure out of the way. Have we ever met before?
OSLER: Yup—we met back when we were scrawny runners, student journalists, and friends in high school. I like to pretend we look pretty much the same now.
FOURNIER: We do. But that's off the record. So tell me why a former federal prosecutor from Detroit cares so passionately about clemency for convicted drug dealers and users. Why should anybody care about them?
OSLER: I'm still a prosecutor at heart. Some people are dangerous, and need to be locked up. But when I was prosecuting young black men for selling crack, I realized it did not make any difference. We were sweeping up low-wage labor, people who would be replaced the next day by someone else selling crack. Their sentences were out of line, too. Low-level, non-violent drug dealers were getting longer sentences than bank robbers and those who committed major frauds. We have changed the laws, but many of those people are still in prison even though they would be out if they had been sentenced under our current laws, sentencing guidelines, and policies. Keeping them in prison is a failure of justice and mercy at the same time. It wastes money, tears up lives, and solves no problem. As justice issues go, this should be an easy one, a layup.
FOURNIER: Then why the air balls? Tell me what you want President Obama to do and why you think he hasn't gotten it done.
OSLER: It's the same reason that GM can't fix an ignition switch that kills people: too much bureaucracy and not enough accountability (we Detroit guys can't stay away from car analogies). He sees the problem. He knows the broad scope of the pardon power, too, since he taught constitutional law for all those years at the University of Chicago. He just refuses to fix a broken system, something he could do with the stroke of a pen on an executive order.
FOURNIER: Why? Why does he refuse to do what he says is the right thing?
OSLER:  My suspicion—and it is only that—is that he defers to old heads at the Department of Justice who are loath to give up any power. That's not a good reason, especially when voices on the Right and Left (even a white paper from the Heritage Foundation) recognize the conflict inherent in giving the DOJ an effective veto over a power meant by the Framers to be wielded by the president as a tool of balance against legislative and prosecutorial overreach.
FOURNIER: OK. Let's say you're advising him. What does he do today with the stroke of a pen to fix the system?
OSLER: Right now there are four different officials and their staffs analyzing each of these thousands of petitions: the pardon attorney, the deputy attorney general, the White House counsel, and the president. Physical files are literally shuttled between four different federal buildings. The deputy attorney general has a ton of other things to do, and works in a building full of prosecutors. That step should be cut out. Bring the pardon attorney over to the office with the White House counsel, and have petitions go directly to them. That way, a file goes to just two buildings, the cases get proper vetting, and there is efficiency. The Washington Post last Sunday had former Deputy Attorney General James Cole describe how he schlepped clemency files home on Saturday—the only time he had to consider them uninterrupted. That is the problem in a single image. The fix needs no appropriation, just political will and a pen. We know that President Obama has the pen, at least.
FOURNIER: Give me a sense of scope. How many over-sentenced people have been awarded clemency by the president? How many are in the pipeline? How many are people are reasonable, obvious candidates for clemency (and why)?
OSLER: According to the pardon attorney, 18,698 commutation petitions have been received since President Obama took office, and 9,980 have been denied or closed. That means there are over 8,000 petitions pending. Over his entire nearly-seven years in office, the president has commuted only 89 sentences. Not all of those 8,000+ petitions are strong, but if even a fraction are worthwhile, the president has an awful lot of work to do with a strikingly inefficient system. The most obvious candidates of all are those who were sentenced for crack under the old laws that are now changed. Their cases lie in the shadow of damning racial disparities, failed policies, and deep tragedy, and probably constitute at least several hundred of the remaining petitioners.
FOURNIER: Tell me about Ronald Blount. I read about him in the final few paragraphs of this bracing Washington Post story and I suspect he's a reflection of a broken system that the president has the power to fix.
OSLER: Ronald is a reformed crack addict. He has served 16 years of a life sentence for a low-level role in someone else's crack ring. He was so poor, so addicted, that he was living on his mother's porch and begging for change in a park at the time he was convicted. This is the kingpin we have to incapacitate at a cost of over a million dollars? Keeping him in prison is immoral, wrong, and tragic. In that article, Eric Holder responded to my plea for urgency by saying that President Obama is "talking" about this issue a lot. It's true. He was talking a lot about it while Ronald Blount sat in a cell. That is a stark contrast to President Kennedy and his brother Robert, who used clemency to quietly free hundreds of drug defendants serving harsh terms.
FOURNIER: I don't think you doubt the president's sincerity to act but I've got to ask: Is he a hypocrite or feckless? Or is there another option?
OSLER: In the end, he might be either, both, or neither. There is one year left. If he chooses to noodle along with only a few hundred grants, it will be quickly forgotten, except by the thousands who were given false hope. If he finds courage to be the boss of the DOJ and creates an efficient system that frees thousands, he will have fulfilled a promise to the over-incarcerated and also would revive the pardon power as a principled tool of the president. He well knows the maxim of Micah 6:8 (because he really is a Christian): That we are to do justice and love mercy and walk humbly with our God. Justice and mercy are out of balance. He can fix that.
FOURNIER: What did I fail to ask? What would you like to add?
OSLER: My collaborator in creating the Clemency Resource Center, [New York University] law professor Rachel Barkow, says that the disastrous clemency policies of the last three presidents have created a "gaping black hole of justice." She's right. This administration's efforts to pass legislation and reform charging policies are right and admirable, but limited by the reluctance of other actors. Congress is a mess, and prosecutors are recalcitrant, but clemency is a sharp knife in the president's hand that can cut the ropes binding up people like Ronald Blount. Use it.