O'Malley to House Democrats: Make Me Your Backup Plan
The former Maryland governor had some mild criticism for his intraparty foes in the presidential contest.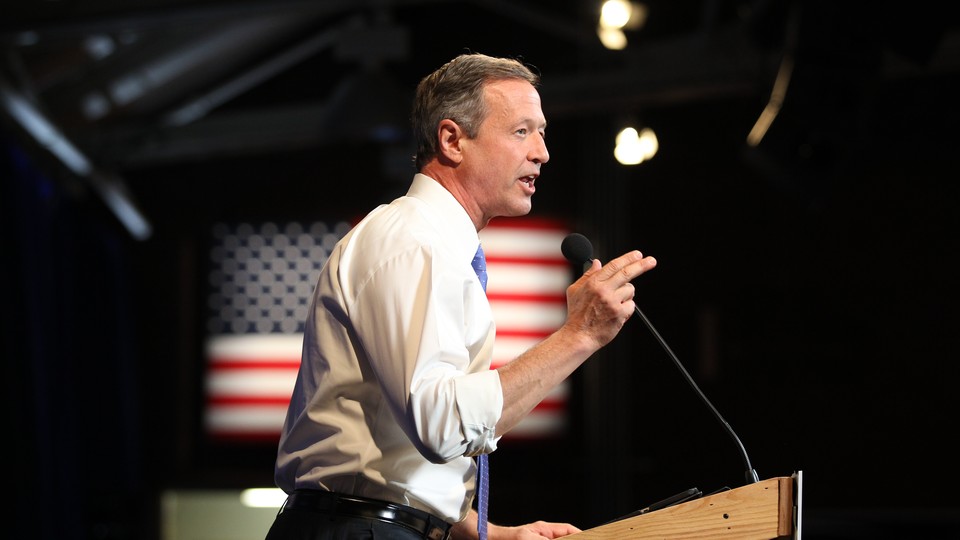 Presidential hopeful Martin O'Malley came to House Democrats on Tuesday with a less-than-ambitious pitch: Let me be your backup plan.
"I certainly asked all the members if I could not today be their first choice, I would like to today be their second choice, and I look forward to their support in the future," O'Malley told reporters after his meeting with the caucus.
O'Malley came to the Capitol knowing he'd long since lost the congressional primary—an overwhelming majority of Democrats in the House and Senate have already endorsed former Secretary of State Hillary Clinton. On Monday, 13 of the 14 Democratic women in the Senate helped fundraise for Clinton at a high-dollar Washington event.
Even Sen. Bernie Sanders, for all his outsider appeal, has the backing of the coleaders of the Congressional Progressive Caucus, Reps. Raul Grijalva and Keith Ellison. O'Malley boasts only a single endorsement from a sitting member of Congress, that of second-term Rep. Eric Swalwell.
"Governor O'Malley spoke first about his record, as the governor of Maryland, as the mayor of Baltimore, but also just about the young people he has spoken to across the country and the message he believes they're waiting for, which is one of new leadership and getting things done," Swalwell said after the meeting.
But if young people are waiting for that message, Congress decidedly isn't. Asked if he expected to pick up any new endorsements after his appeal to the caucus, O'Malley replied with a flat "No." He later added, "Well, not today. … I do expect endorsements later in this process when people start to decide."
Minority Whip Steny Hoyer, a Marylander, who praised O'Malley's tenure as governor, nonetheless backs Clinton. "I took [O'Malley's message] as if he was addressing a group of people, a large number of whom are already committed to Hillary Clinton," Hoyer said. "He was just saying, 'Look, I get it. But I'm here, I'm real. I have a message; I want you to hear my message. If at some point in time you have an opportunity to make a second choice, I hope I'm it.'"
It's not that elected Democrats don't like O'Malley. Many spoke highly of his tenure as governor and presidential platform. But with so many already committed to Clinton, they can do little more than clap politely at his message. Democratic Caucus Chairman Xavier Becerra, a Clinton supporter, said O'Malley received a standing ovation after his address. "He's considered a great friend, a great Democrat, and one of the best governors that we've seen in quite some time."
But not Choice No. 1.
O'Malley's hope seems to be that Clinton will falter, making him the most viable choice for Democrats who want to win the general election. He sought to cast himself as the middle-ground candidate on economics, drawing contrasts with Clinton's and Sanders' records. "Between the crony capitalism, the Wall Street capitalism, the economy of the few, by the few and for the few, and the proven failure of socialism, there's a better way forward," he said. "It is fair-market American capitalism, where when people work hard they're able to get ahead."
For every attack on Clinton, O'Malley added a dig at Sanders, seemingly trying to ensure the current No. 2 in the polls won't be the de facto No. 1 should Clinton lose her front-runner status. "Senator Sanders very recently, just in the last few months, said that immigrants take our jobs," O'Malley said. "I'm aware that Senator Sanders voted against comprehensive immigration reform in 2007, when we actually had a chance to pass it." He went on to attack Clinton for opposing driver's licenses for illegal immigrants—and for using the term "illegal immigrants."
"Senator Sanders has a big vulnerability, as does Secretary Clinton, on the issue of immigration," he said. "Theirs is the old thinking that has prevented us from getting this done. Theirs is the old thinking that says one thing to one group and one thing to another. Theirs is the old thinking that fails to recognize that comprehensive immigration reform actually makes our economy stronger and our country stronger."
Still, many of the biggest immigration reform advocates in Congress—such as Reps. Luis Gutierrez and Linda Sanchez—are firmly in Clinton's camp.
Swalwell, O'Malley's lone congressional endorser, said Democrats don't doubt his qualifications, but the address was a chance to articulate a vision to match his credentials. "You may not have thought to get behind him immediately, or you may be with another candidate, but he hopes that as he makes his case, you will be open-minded enough to come around and come on board," Swalwell said. "He sees the ups and downs of these contests and knows that circumstances can change dramatically. … When his moment comes, that preparation will serve him well."
Still, Swalwell said those "circumstances" are not a reference to Clinton's ongoing email controversy, nor is O'Malley counting on a specific issue to knock off the front-runner.
Some still see O'Malley's role as helping Clinton prepare for the general election. "I don't guess it's unreasonable that that's his message," said Rep. Elijah Cummings, a fellow Marylander who has not yet endorsed. "I think he knows what the lay of the land is. Secretary Clinton is the odds-on favorite; he knows that. He has helped to make her a better candidate. In other words, the process of going through the primary is a good thing."