Obama's Climate Bucket List
With Paris in the rear view mirror, Obama plans to push his domestic agenda in 2016.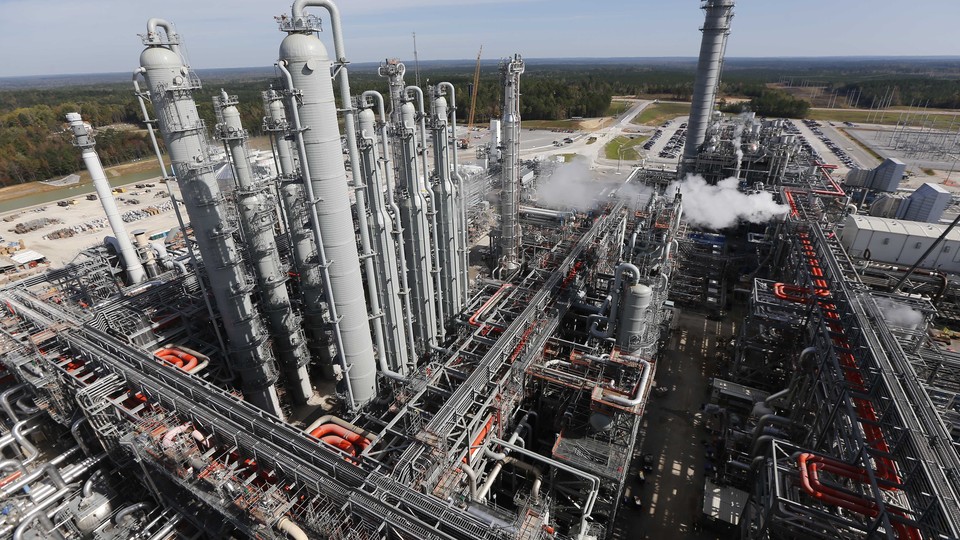 President Obama declared that 2015 would be a "year of action" on climate change. With the release of landmark emissions regulations, agreements with countries like China and Brazil, and the clinching of an international climate-change deal in Paris, it seemed to live up to the hype.
The Paris agreement—which sets nearly 200 countries on the path to combat climate change—could be a walk-off-the-field moment, the culmination of years of climate work.
But Obama's still got a full year left and has promised to "leave it all on the field." Even as the clock runs down and the regulatory calendar empties, he has more climate work in mind.
"We have a 390-day plan," said White House climate adviser Brian Deese at a panel earlier this month. "We've got to continue implementing aggressively our domestic agenda."
Top on Deese's list was getting states on board with the Clean Power Plan, the massive rule finalized in August to limit carbon emissions from the power sector. States have to start submitting their compliance plans this summer, although built-in extensions would allow states to push back their submissions another two years.
The Environmental Protection Agency is bolstering its Clean Power Plan preparedness by releasing a model for states interested in using a carbon-trading mechanism for compliance. The EPA will also prepare a model federal plan for any states that choose not to comply.
At the same time, the White House will be working to fend off an avalanche of legal attacks on the climate rules from states and industry groups, although that process is sure to stretch on for years.
And while getting the Clean Power Plan off the ground—and protecting it from legal challenges by states and industry groups—is likely to be the focus of most environmentalists, they say there's room for Obama to go beyond his successes in 2015.
"It's hard to find any other area of policy with this administration in the second term that's come with more coordination across the Cabinet, more events, and more drive than climate change," said David Doniger, director of the climate and clean-air program for the Natural Resources Defense Council. "I would expect to see more of that in 2016. I don't think he'll follow a year of action with a year of rest."
According to the regulatory agenda released in November, the Department of Energy will keep moving forward on several energy-efficiency rules meant to make appliances greener, including rules on heat pumps, electric motors, portable air conditioners, dishwashers, and ceiling fans. That's part of a DOE pledge to cut 3 billion metric tons of carbon pollution by 2030 through energy-conservation standards.
The EPA will set final emissions standards for heavy trucks, building on a June proposal to limit pollution from trucks, buses, and trailers. Also under consideration is starting a review of the fuel-economy standards on light-duty cars, an opportunity for automakers and regulators to see what progress has been made on the administration's requirement that cars reach 54.5 miles per gallon by 2025. The review, however, could be a trouble spot, as low gas prices have blunted sales of clean cars and could give automakers leverage to try to reduce standards.
Greens are especially hopeful that Obama will use his final year to get the ball rolling on a crackdown of methane emissions from existing oil and gas wells, complementing a rule on new and modified wells that's set to be wrapped up in 2016. Methane is a potent greenhouse gas that traps 20 times as much heat as carbon dioxide, a nasty byproduct of the natural-gas boom that's buoyed the nation's energy sector.
"Finalizing existing-source methane regulations would cement the Obama administration's climate legacy by locking in mandatory reductions meeting the U.S. targets, demonstrating to the world that the U.S. intends to meet its commitments," said Conrad Schneider, advocacy director of the Clean Air Task Force.
The White House has said it would like to cut methane emissions by up to 45 per­cent of 2012 levels by 2025, but the most meaningful rules have been the proposal to slash methane and volat­ile or­gan­ic com­pounds emissions from new gas wells. With the natural-gas boom not going away anytime soon, expect a renewed focus from environmentalists to undo its harmful side effects.
In a USA Today editorial, the Safe Climate Campaign also called on Obama to use his final term to start regulating emissions from previously untouched industries like cement manufacturing. And greens are looking for the EPA to continue the rulemaking process to cut greenhouse gases from airplanes.
Deese said the White House plans to use the afterglow of the Paris deal "to build and deepen our bilateral and multilateral climate cooperation," potentially striking more individual climate deals with major emitters. Already, Obama has been working the phones to talk to leaders in China, India, and Brazil.
While any White House typically ticks off a bucket list in its final term, advocates say there's an added urgency to dealing with the climate agenda before Obama leaves office. Democratic front-runner Hillary Clinton has vowed to go even beyond the current White House on climate change and has said she opposes Arctic and some offshore drilling, but she hasn't fully articulated a climate plan.
The Republican candidates have all said they'd immediately overturn the climate rules. But the gears of the regulatory process—and the momentum of the clean-energy industry—are hard to stop, so any movement in 2016 could continue to pay dividends down the road.
"It makes sense for this president to plan for continuity and think about not just what's going to get finished in 2016, but what I can get started," said Doniger. "What are the next steps on climate change?"