Obama: "The Threat From Terrorism Is Real, But We Will Overcome It"
The president addressed the nation Sunday night about the "evolved" threat of terrorism.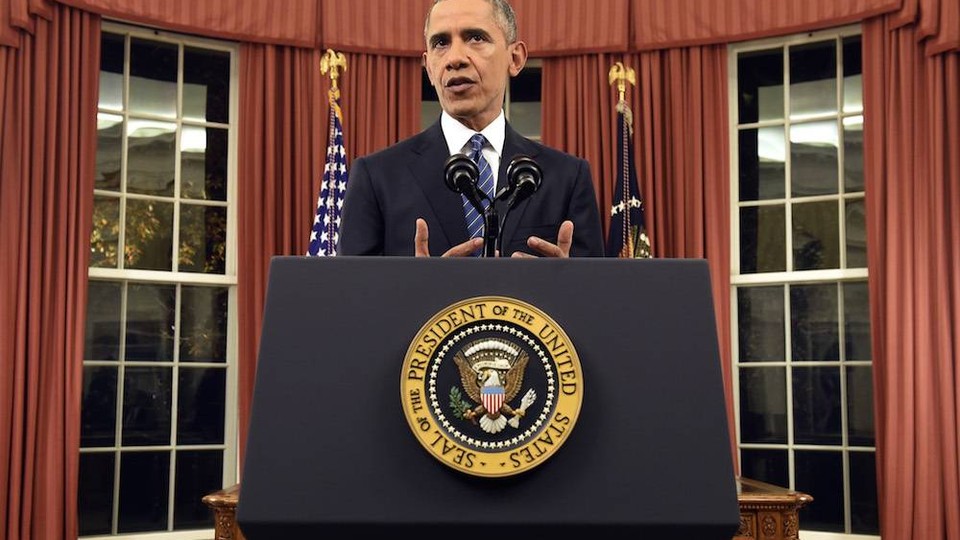 President Obama on Sunday gave the nation an overview of what's being done to fight terrorism, pledging resilience and urging togetherness in a time of uncertainty.
"The threat from terrorism is real, but we will overcome it," he said. "We will destroy ISIL and any other organization that tries to harm us. Our success won't depend on tough talk or abandoning our values or giving into fear. That's what groups like ISIL are hoping for. Instead, we will prevail by being strong and smart, resilient and relentless, and by drawing upon every aspect of American power."
In a speech from the Oval Office, Obama explained how the terrorist threat has "evolved into a new phase," from elaborate schemes, such as those on Sept. 11, 2001, to "less complicated acts of violence like the mass shootings that are all too common in our society." Outlining the steps the country is taking to destroy the Islamic State, the terrorist group that claimed responsibility for the deadly attacks in Paris last month and may have inspired the one in San Bernardino, Calif., Wednesday that killed 14 people, he sought to calm the fear that's broken out in the wake of those attacks. And he again called on Congress to pass gun-control legislation, framing it as an issue of national security.
"I know there are some who reject any gun-safety measures, but the fact is that our intelligence and law-enforcement agencies, no matter how effective they are, cannot identify every would-be mass shooter, whether that individual was motivated by ISIL or some other hateful ideology," he said. "What we can do and must do is make it harder for them to kill."
Obama reiterated his call for Congress to make it illegal for anyone on the country's "no-fly list" to buy a gun, and he asked lawmakers to authorize a use of military force against the Islamic State. That action, he said, would demonstrate that "we are at war with ISIL" and that the American people "are united and committed to this fight."
Though he offered no new information on the San Bernardino attack, he said that it's indicative of a new terrorism concern.
"So far, we have no evidence that the killers were directed by a terrorist organization overseas or that they were part of a broader conspiracy here at home," he said. "But it is clear that the two of them had gone down the dark path of radicalization, embracing a perverted interpretation of Islam that calls for war against America and the West."
Stressing that that perverted interpretation of Islam doesn't represent all Muslims, he urged the nation to stay united in the face of growing hostility to Muslim-Americans.
"It is the responsibility of all Americans, of every faith, to reject discrimination," he said, alluding to comments from presidential contender Donald Trump and others in recent weeks. "It is our responsibility to reject religious tests on who we admit into this country. It's our responsibility to reject proposals that Muslim-Americans should somehow be treated differently. Because when we travel down that road, we lose. That kind of divisiveness, that betrayal of our values plays into the hands of groups like ISIL."
Vowing to fight the terror group until its defeat, he laid out actions the U.S. has taken against it, including air strikes to kill Islamic State leaders, providing training and equipment to Iraqi and Syrian forces fighting the group on the ground, and leading a coalition of allies such as France, Germany, and the United Kingdom to both aid the military campaign and share intelligence.
Since the attacks in Paris, Obama has spoken to reporters at least 30 times. But his use of the ultimate bully pulpit—the Oval Office—is a concession that he needed to take a more exceptional tack to get his message across. He's only given an address from that setting twice before. He made that decision Friday, according to a senior administration official, "to step back and provide that context" so that the country has "a clear understanding of what's happening and what we're doing about it."
The Oval Office in particular, the official said, is a "familiar and appropriate setting for him to speak directly to the American people."
"It conveys the seriousness with which we are taking the issue," the official said. "And it gives him an opportunity to, from the place where he makes decisions, explain his decision-making to the American people."