Obama Takes a Veiled Swipe at Trump and Islamophobia
"We betray the efforts of the past if we fail to push back against bigotry in all its forms," he said Wednesday as he commemorated the abolition of slavery.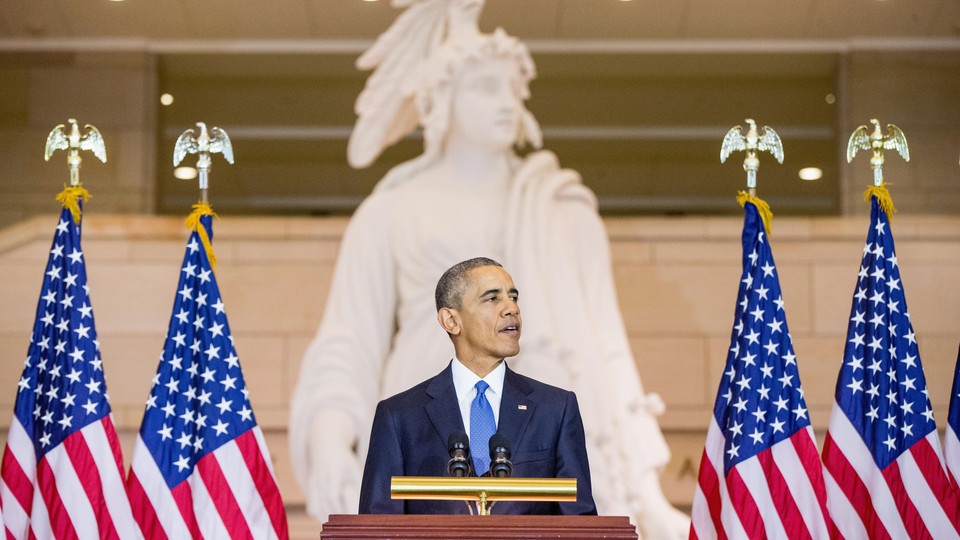 For once this week, the name Donald Trump didn't come up. But it was clear who President Obama was talking about.
Advancing the country's ideals, he said Wednesday, requires Americans "to remember that our freedom is bound up with the freedom of others. Regardless of what they looked like or where they come from or what their last name is," he said, speaking slowly and clearly, "or what faith they practice."
The president's remarks—during an event in the Capitol commemorating the Thirteenth Amendment, which abolished slavery in the United States—didn't get into specifics. But his overt emphasis on using the lessons of the past to guide the country's actions today made it apparent he was rebuking Donald Trump, who on Monday unveiled a plan that would ban all Muslims from entering the United States "until our country's representatives can figure out what is going on." Though the proposal has been roundly lambasted, the growing tide of anti-Muslim sentiment around the country—epitomized most recently by the pig's head that was left Monday at the door of a Philadelphia mosque—has caused the White House and others concern.
That was clear in his speech, as Obama called on the American public not to succumb to cynicism and fear.
"We condemn ourselves to shackles once more if we fail to answer those who wonder if they are true equals in their communities or in their justice systems or in a job interview," he said. "We betray the efforts of the past if we fail to push back against bigotry in all of its forms."
On Tuesday, White House press secretary Josh Earnest took Trump to task for his anti-Muslim proposal.
""The Trump cam­paign, for months now, has had a dust­bin-of-his­tory-like qual­ity to it," Earnest told reporters. "From the vacu­ous slo­gan­eer­ing to the out­right lies to even the fake hair, the whole car­ni­val-bark­er routine that we've seen for some time now."
Though the president's remarks were much more dignified, the message to the American people was the same: Rise above Trump.