Obama's Christmas Clemency Cavalcade
The president pardoned two prisoners and commuted the sentences of 95 others in his largest use of clemency yet.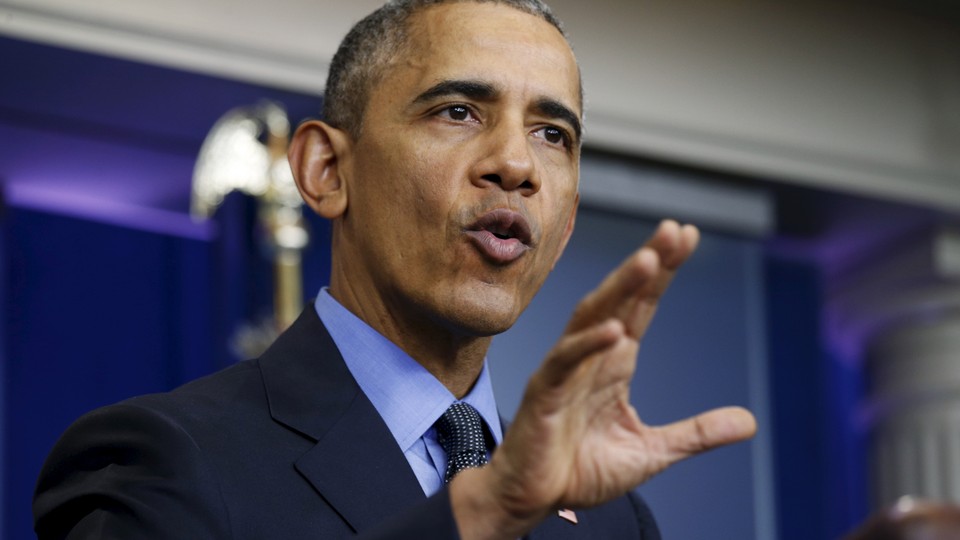 President Obama granted pardons to two people and commuted the sentences of 95 others on Friday, marking his most expansive use of the clemency power yet as his presidency enters its final year.
The 95 commutations largely targeted prisoners convicted of drug-related crimes, many of whom received lengthy sentences for cocaine trafficking and possession in the 1990s. Commutations, unlike pardons, do not remove penalties like the loss of voting rights or jury service. But they still have a dramatic impact on the recipient's life. All of the 95 inmates who received commutations, including 37 of them serving life sentences, will be released either on April 16 or December 18 next year.
In addition to the commutations, Obama also granted pardons to Jon Dylan Girard, who was convicted of counterfeiting in Ohio in 2002, and Melody Eileen Homa, who was convicted of aiding and abetting bank fraud in Virginia in 1991.
Friday's pardons and commutations are the third and largest burst of presidential clemency this year. In March, Obama granted pardons and commutations for 22 people, most of whom had been imprisoned for drug-related crimes. In July, he commuted the sentences of another 46 prisoners convicted under similar circumstances. Overall, Obama has now granted 248 pardons during the first seven years of this presidency, mostly since his reelection.
For most of his tenure in office, Obama shied away from the unbridled power granted to him by the Constitution to pardon and commute the sentences of federal prisoners. Before he commuted 20 inmates' sentences exactly one year before Friday's slate of pardons and commutations, one in seven of his clemency grants had been for Thanksgiving turkeys.
As my colleague David Graham noted in March, Obama's pardons and commutations are infinitesimal when compared to the size of  the federal prison system, which houses over 200,000 prisoners. (Federal prisons are dwarfed in turn by prison systems in the 50 states where nine-tenths of the American prison population is incarcerated.) If Obama wants to make criminal-justice reform a priority in the closing act of his presidency, the pardoning power is a formidable option to selectively reduce prison populations and excessive sentences.
Criminal-justice reform advocates expressed optimism in response to Obama's move on Friday but urged further action. "American presidents have had the power to show mercy since the founding of our Republic," said Julie Stewart, the president of Families Against Mandatory Minimums, or FAMM, in a statement. "President Obama is the first president in decades to use it as the founders intended. For that reason, we commend him for showing more mercy than his predecessors. But his work is not done."
The process toward commutations is lengthy and rarely successful, a problem that Obama sought to remedy last year. He and then-Attorney General Eric Holder enlisted a group of criminal-justice-oriented organizations, including FAMM, the American Bar Association, the ACLU, and the NAACP, to pre-screen potential clemency applicants in an effort to mitigate the Justice Department's cumbersome process. In an examination of the project's record so far earlier this month, The Marshall Project described it as "one of the oddest workarounds in the annals of bureaucracy" and noted that many of the system's flaws remain unchanged.
In his first major speech on mass incarceration at the NAACP in July, Obama touted his clemency record as proof of his commitment to the cause. But his remarks also acknowledged the long path ahead for criminal-justice reform to take root. "I know how hard things are for a lot of folks. But I also know that it takes steps," he told the crowd. "And if we have the courage to take that first step, then we take a second step. And if we have the courage to take the second step then suddenly we've taken 10 steps. The next thing you know, you've taken 100 steps. And that's true not just for us as individuals, but that is true for us as a nation."