Obama Makes the Case—Again—That We're Not Losing The War Against ISIS
Though we are hitting the terrorist group "harder than ever," he said, "progress needs to keep coming faster."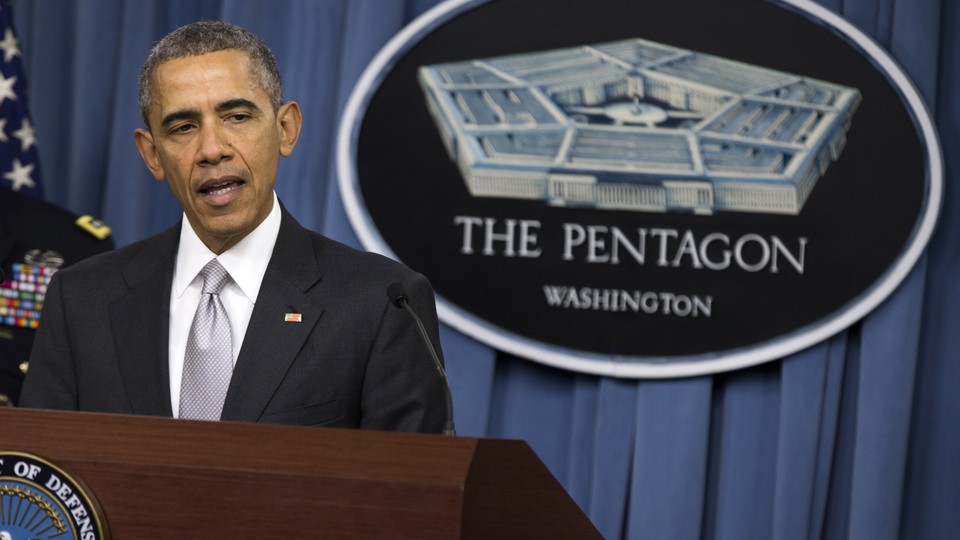 President Obama is driving home the point that he's got homeland security under control amid criticism from some quarters that he's in over his head.
After meeting on Monday with the National Security Council to discuss the nation's strategy to counter the Islamic State, the president gave a short statement from the Pentagon.
"We are hitting them harder than ever," Obama said of the terrorist group, which he calls ISIL, noting that there have been 9,000 airstrikes against their top leaders, and that the U.S. dropped more bombs on targets in the group in November than any month since the campaign started. "The point is, ISIL leaders cannot hide, and our next message to them is simple: You are next."
The statement—which comes a week after a major address on homeland security—makes it clear that he's still trying to convince the American people that he has the threat under control. Just 34 percent of Americans approve of how Obama is handling the terrorism threat, according to a CBS poll from last week.
In his statement, Obama announced that Defense Secretary Ash Carter will travel to the Middle East Monday to secure more military contributions to the fight. The Homeland Security Department, he also said, is updating the terror-alert system. But like many of his recent updates on the campaign to destroy the Islamic State, he focused on keeping the public abreast of the military efforts already underway.
And he conceded that "progress needs to keep coming faster"—hence Carter's visit to the region.
Critics attacked the remarks minutes after he finished speaking.
"This politically motivated photo op won't do a thing to protect the American people from another attack," Republican National Committee spokesman Michael Short said in a statement. "We need a new strategy to defeat ISIS and keep America safe from radical Islamic terrorists, not a new public-relations campaign to protect President Obama and Hillary Clinton's poll numbers."