Obama: It's "Possible" That San Bernardino Shooting Was Act of Terror
But, the president said, "we do not yet know why this terrible incident occurred."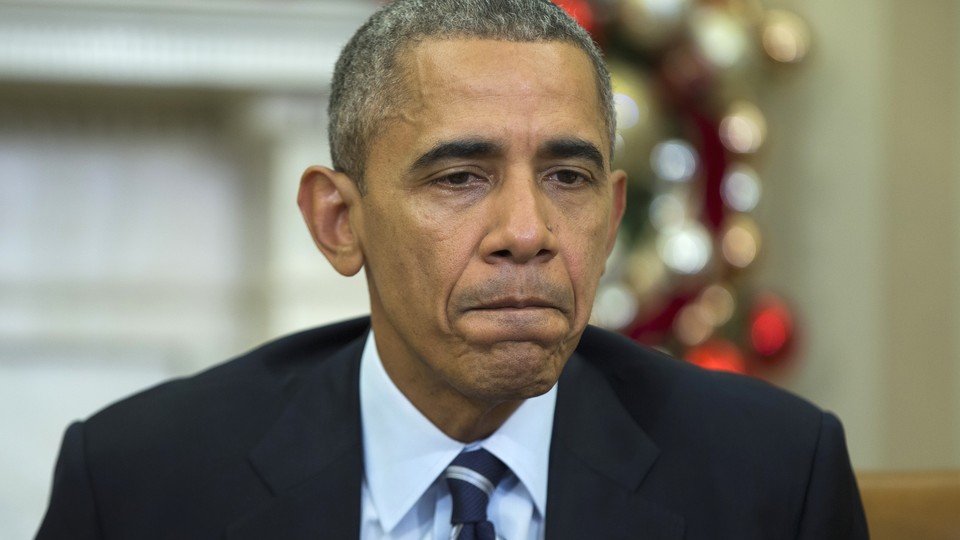 President Obama on Thursday said that he doesn't yet know what prompted the shooting that left 14 people dead and 17 injured at a social-services center in San Bernardino, California. But he left the door open to terrorism.
"We do not know their motivations," he said of the suspects in the shooting, two of whom died in a shootout with police on Wednesday. "It is possible that this was terrorist-related. But we don't know. It's also possible that this was workplace-related."
Looking fatigued, Obama spoke for only a few minutes, sitting down next to Vice President Joe Biden and members of his national security team in the Oval Office. Though his "first order of business is to send our thoughts and prayers" to the victims and their families, he said, he also renewed his perennial call for gun-control legislation, lamenting that "it's just too easy" for people who decide they want to harm others to carry out their acts of violence.
"We're going to have to search ourselves as a society to make sure that we can take basic steps that would make it harder, not impossible, but harder for individuals to get access to weapons," he said.
And, rather than feel helpless, he called on the American people to make their voices heard.
"I think so many Americans sometimes feel as if there is nothing we can do about it," he said. "We are fortunate to have an extraordinary combination of law enforcement and intelligence and military that work every single day to keep us safe. But we can't just leave it to our professionals to deal with the problem of these kinds of horrible killings. We all have a part to play."