No Time to Waste in Louisiana
Boustany and other Republicans are moving quickly to nail down their bases for a competitive Senate race.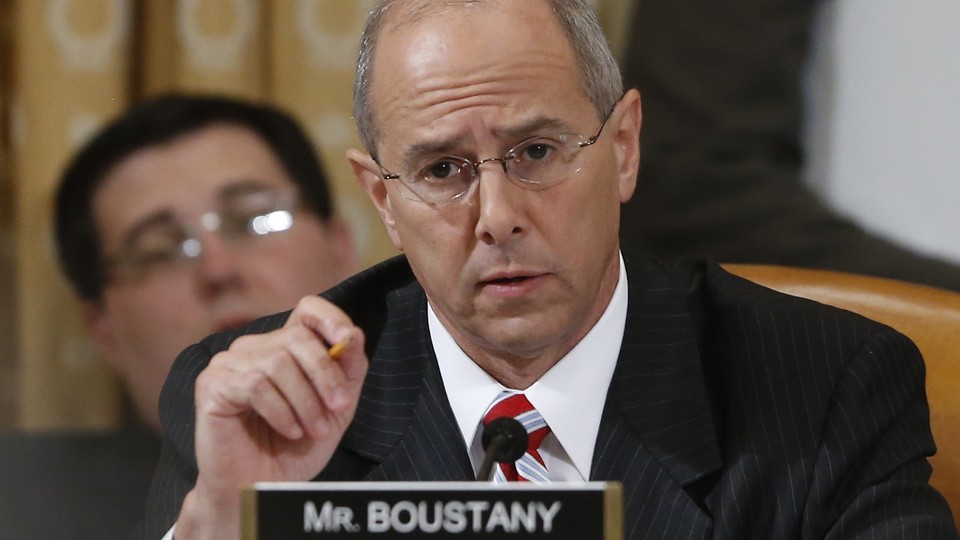 LAFAYETTE, Louisiana—Christmas lights and garland adorned the towering white columns of Rep. Charles Boustany's childhood home, as friends and neighbors filed in through the iron gates on a chilly Monday night.
The former heart surgeon spoke Dec. 14 from a makeshift stage on the family tennis court, delivering a short, newly minted stump speech before wishing the crowd a Merry Christmas and Happy New Year.
Ten days out from Christmas Eve, this was hardly ideal timing to launch a Senate campaign. Beyond competing with the holidays, he had to work around the House voting schedule, which forced him to cancel a statewide launch tour—a routine component of Senate campaign kickoffs. But for Boustany and his fellow Louisiana Republicans, who waited out this year's governor's race, time is of the essence.
"We've been planning to launch this campaign when the time is right," Boustany said.
Holding off until after the new year wasn't really an option. Boustany had to move quickly to plant his flag because at least 10 Republicans have expressed interest in the month since David Vitter's gubernatorial loss and subsequent retirement announcement, creating a jumbled field that threatens to splinter each of their geographical and ideological bases.
Boustany, along with Rep. John Fleming and former Rep. Joseph Cao, have all formally launched their campaigns (Fleming in a video, Cao in a Christmas e-card), while two others, 2014 Senate candidate Rob Maness and Public Service Commissioner Eric Skrmetta have formed exploratory committees.
State Treasurer John Kennedy, who hasn't spoken publicly about the race, distributed to supporters positive polling numbers from a survey conducted by a super PAC formed to support him in a Senate race.
His campaign wasn't official until last week, but Boustany held a nearly identical fundraiser at his childhood home in June, telling donors that when Vitter became governor at the end of the year, he would be interested in the vacant seat. The expectation, Boustany and others believed, was that the newly elected governor would appoint a successor, or, at minimum, assist one contender in the open-seat race.
But Vitter's stunning defeat and decision to retire threw many of those plans into a tailspin. Without his influence, a small field of interested candidates—who all endorsed Vitter for governor—grew quickly to include candidates who wouldn't have necessarily been in the running for the appointment. In particular, Public Service Commissioner Scott Angelle, a chief rival of Vitter in the gubernatorial race who narrowly missed the runoff, said he's looking at the Senate contest and will make a decision soon after the holidays.
For Boustany, a center-right Republican and the dean of the congressional delegation, closing off Angelle's support base is particularly critical. Boustany would start with a significant advantage if he can dominate the southwest region of the state, known as Acadiana, where both men are from. If he can't, allies say the two are likely in for mutually assured destruction.
"If you split Acadiana between those two, and you would, it's going to be tough for them to gather enough support to get into a runoff, and that'd probably bode very well for Fleming," said Bret Allain, a state senator from St. Mary's Parish in Acadiana, and a personal friend of both men. Allain hasn't made an endorsement in the race, and says he won't do so until the field settles.
While Boustany's issue is geographical, Fleming, a founding member of the conservative House Freedom Caucus, has competition threatening to divide his ideological base.
Fleming hopes to rally the Far Right's support, much of which aligned with Maness in the 2014 Senate race. Maness, a retired Air Force colonel who made his first bid for office last year, has formed an exploratory committee and kept in touch with many of the groups Fleming hopes to court.
Though Fleming announced his candidacy with the support of Citizens United Political Victory Fund, another major player, the Senate Conservatives Fund, says it's keeping its options open. In an interview with National Journal shortly after Maness filed for the race, John Brabend­er, a seni­or ad­viser to Flem­ing's cam­paign, ac­know­ledged the over­lap in their bases, but said he was confident many of Maness's allies in 2014 would be with Fleming this time.
As for Boustany, he has already locked down the support of some local oil-and-gas executives, an industry that split its support between Angelle and Vitter in the governor's race.
"I met with [Angelle] and talked to him about it … I told Scott, I'm gonna be for Charles," said Don Briggs, president of the Louisiana Oil & Gas Association. Briggs said he hoped Angelle would avoid an ugly fight for south Louisiana by seeking Boustany's House seat instead, a prospect Angelle allies have said he is considering.
One problem for Angelle in the Senate race is convincing the donors who put up money for him against Vitter, who was marred by an old prostitution scandal, to fund a fight against Boustany.
"There was a huge dislike for Vitter, and there's not one for Boustany," Briggs said.
But Angelle would enter the race as one of the few candidates who didn't back Vitter for governor. Not only did Boustany endorse Vitter, but he actively campaigned with him in Acadiana, which became one of the top targets of the anti-Vitter Gumbo PAC.
"That is Charles's biggest hurdle—there were people who gave to Charles and were supporting him, that ended up lining up behind Angelle [in the governor's race]," said Randy Haynie, a Louisiana lobbyist and Boustany supporter. "When [Boustany] endorsed Vitter, that didn't go over well with some supporters of his that had lined up with Angelle."
Asked whether he had any regrets about campaigning with Vitter ahead of his own Senate race, Boustany downplayed the relationship.
"Senator Vitter and I had a track record of working together on some key issues, restoring funding for our waterways and ports, he assisted me on the Senate side with the veterans' clinics," Boustany said. "We have a working relationship where we look out for the interests of Louisiana. He lost his governor's race, but it was a unique set of circumstances, and I'm excited about the prospects going forward with this campaign."
Even if Angelle passes on the Senate race, there could be another Acadiana-based candidate to contend with. Democrats, who concede the race is an uphill battle, hope to field state Sen. Eric LaFleur. The legislator is actively looking at the race and could help undercut the candidate they fear most in the runoff.
"If Boustany's the guy, I think it's hard to beat him," former Democratic Rep. Don Cazayoux said. "But Eric would certainly cut into his home base."