New Hampshire's Troubled Republican Establishment
With mainstream candidates splitting support, party leaders in the Granite State worry that Cruz and Trump will run away with the primary.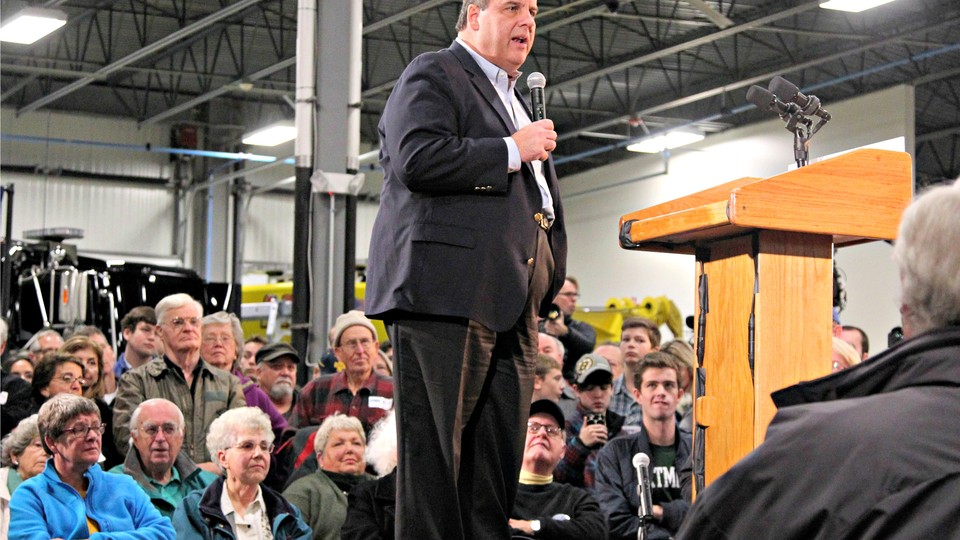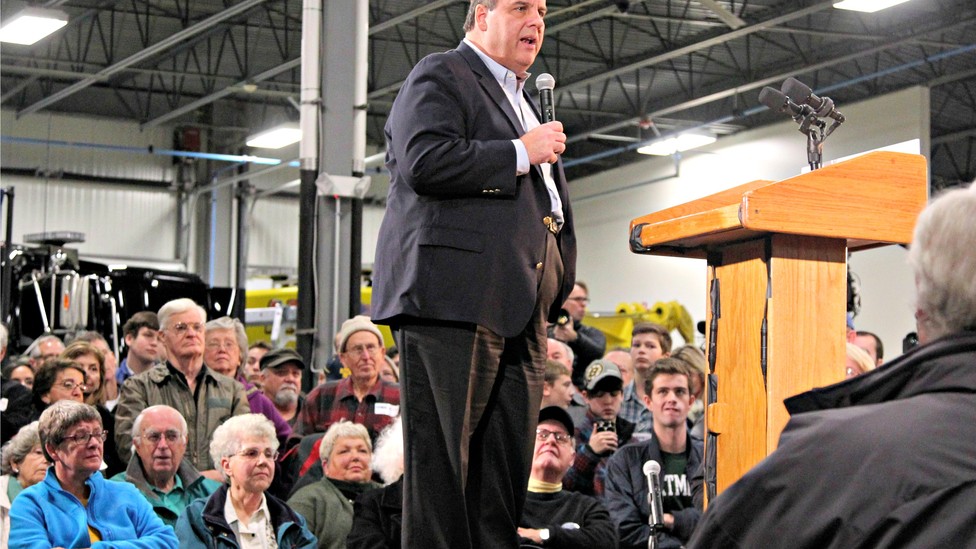 BER­LIN, N.H.—New Hamp­shire typ­ic­ally crowns an es­tab­lish­ment fa­vor­ite for pres­id­ent—a seal of approv­al that's des­per­ately needed in the muddled primary field this year. But the fear among party insiders in the state is that the ver­dict will be muted be­cause sup­port among the four cen­ter-right candid­ates will be badly splintered.
It's a mir­ror im­age of the na­tion­al pic­ture, but much more con­sequen­tial be­cause it's the first-in-the-na­tion primary. Here in New Hamp­shire, the es­tab­lish­ment is troun­cing Don­ald Trump, even if it's not ob­vi­ous from the polls. Trump is consistently in first place with about one-quarter of the vote, while Marco Ru­bio, Chris Christie, Jeb Bush, and John Kasich are hov­er­ing around 10 per­cent, each re­ceiv­ing roughly the same share of more mod­er­ate voters. All four can­did­ates spent the fi­nal days be­fore Christ­mas in the state, hop­ing to break away from the scrum.
New Hamp­shire state Representative Char­lene Takesian is em­blem­at­ic of the prob­lems fa­cing the GOP's prag­mat­ic wing. She en­dorsed Kasich, but at­ten­ded a Christie town hall in Pel­ham be­cause she wanted a backup can­did­ate in case Kasich fal­ters. A self-de­scribed "mod­er­ate Re­pub­lic­an," Takesian said she also liked Ru­bio but hadn't got­ten to see him speak in the state yet. These stra­tegic con­sid­er­a­tions are com­mon­place among New Hamp­shire voters try­ing to make up their minds with just over a month left be­fore the February 9 primary.
"All the people at the bot­tom of the to­tem pole should get out, be­cause it's mak­ing it hard for voters," said Ros­a­lie Thomas, an un­de­cided Republican voter at­tend­ing Ru­bio's town hall in her ho­met­own of Ber­lin. She said she was "lean­ing in his direction" be­fore the event.
Ru­bio has the most at stake in the state's primary. His campaign is hop­ing that New Hamp­shire voters anoint him as the clear es­tab­lish­ment favorite, provid­ing a sig­nal to his like-minded rivals to drop out and con­sol­id­ate be­hind him. But Ru­bio hasn't yet pulled away from the com­pet­i­tion in state polls, and des­pite the na­tion­al buzz, hasn't spent nearly as much time cam­paign­ing in New Hamp­shire as Christie, Bush, and Kasich. Ac­cord­ing to National Journ­al's Travel Track­er, Ru­bio has spent only 20 days in the state since the be­gin­ning of the year, com­pared to Christie's 57 days and Bush's 37.
Ru­bio, sens­it­ive to cri­ti­cism that he's been out­worked, lav­ished the state's blue-col­lar "north coun­try" with at­ten­tion in a three-day cam­paign swing with his family be­fore the hol­i­days. He spent nearly two hours an­swer­ing ques­tions at every town hall, wait­ing un­til the last at­tendee left be­fore de­part­ing. After a staffer at Monday's event signaled for the last ques­tion, Ru­bio in­ter­rup­ted. "I'm not leav­ing here. I'll be around tak­ing every­one's ques­tion and to say hello."
Cliff Hurst, Ru­bio's New Hamp­shire co­chair­man, ac­know­ledged that the sen­at­or from Flor­ida had a lighter state cam­paign sched­ule than most of the oth­er candidates, but said he would be re­train­ing his fo­cus on the state in Janu­ary, when voters play the closest at­ten­tion. "Ru­bio had to raise enough money and get things in place so he wouldn't be drop­ping out after he came here, like some others," said Hurst, who pre­vi­ously worked for Wis­con­sin Governor Scott Walker's pres­id­en­tial cam­paign.
The risk for Ru­bio is that by run­ning a more na­tion­al cam­paign, he ends up ceding ground to the candidates who have put all their chips on win­ning New Hamp­shire. That ap­plies es­pe­cially to the feisty Christie, who has been creep­ing up­wards in state polls and cul­tiv­ates a much more free­wheel­ing approach at his town halls than the more on-mes­sage Ru­bio.
After an at­tendee at a VFW town hall in Pel­ham in­sisted that former Pres­id­ent Bush waged war in Ir­aq only for oil, Christie fired back: "I fun­da­ment­ally, profoundly dis­agree with the premise of your question," to un­an­im­ous ap­plause. He strongly de­fen­ded the rights of po­lice de­part­ments to main­tain mil­it­ary-style equip­ment, say­ing that Pres­id­ent Obama is "a joke on these law-and-or­der issues." After someone cri­ti­cized se­quest­ra­tion for cut­ting the de­fense budget, Christie took out a but­ton from his pock­et with that very mes­sage.
Ru­bio, by con­trast, is more of a tri­an­gu­lat­or. Asked about the ad­min­is­tra­tion's lack of sup­port for law en­force­ment, Ru­bio ex­pressed his un­equi­voc­al back­ing for the po­lice be­fore sound­ing a sym­path­et­ic note to­wards those minor­it­ies who feel un­der siege. "There are a sig­ni­fic­ant num­ber of com­munit­ies in this coun­try, however, where minor­ity com­munit­ies in par­tic­u­lar feel that their re­la­tion­ship with law enforcement is really bad. And I per­son­ally know people that have confronted this," Ru­bio said at the Ber­lin town hall.
He tempered his un­stint­ing op­pos­i­tion to al­low­ing Syr­i­an refugees in­to the country with "com­mon sense" ex­cep­tions al­low­ing a small num­ber from persecuted  re­li­gious groups to be settled in the United States. And he answered a question  about aid­ing early-child­hood pro­grams by em­phas­iz­ing his sup­port for re­du­cing the fed­er­al gov­ern­ment's role in edu­ca­tion, be­fore un­der­lin­ing the importance of pro­grams that en­cour­age learn­ing for chil­dren be­fore they reach kinder­garten. On im­mig­ra­tion, Ru­bio talks about his fam­ily's own in­spir­ing story, but avoids dis­cuss­ing his work on com­pre­hens­ive im­mig­ra­tion re­form, which many con­ser­vat­ives dis­like.
Listen­ing to Ru­bio closely, you can eas­ily feel re­as­sured by his rhet­or­ic, even if his policy views are ambiguous or con­tra­dict­ory. In Ber­lin, a solidly Demo­crat­ic paper-mill town, two at­tendees said they usu­ally vote for Demo­crat­ic pres­id­en­tial can­did­ates but were lean­ing to­wards Ru­bio if he were to be the nom­in­ee against Hil­lary Clin­ton.
"He sees people not as Re­pub­lic­ans or Demo­crats, but as people. He re­minds me of a Ron­ald Re­agan work­ing along­side Tip O'Neill," said Hurst, his state co­chair.
Bush and Kasich face longer odds in the state, ac­cord­ing to statewide party operatives, but are still running com­pet­it­ively. Bush, in par­tic­u­lar, is mak­ing his mark by spend­ing the week on a mis­sion to take down Don­ald Trump—even calling Trump a "jerk" over the week­end. Bush dir­ec­ted most of his cri­ti­cism at a town hall Tues­day against Trump and his "gran­di­os­ity," while re­peatedly apologizing for bring­ing up the brash busi­ness­man's name. (At one point, Bush prom­ised not to talk about Trump again, and then broke his own rule one minute later.) Bush is hop­ing anti-Trump voters re­ward him for be­ing the one can­did­ate who is bold enough to chal­lenge the nom­in­al front-run­ner. Oth­er can­did­ates who have spent their en­ergy at­tack­ing Trump (Rick Perry, Bobby Jin­dal, Carly Fior­ina) are either out of the race or lag­ging badly be­hind. But Bush's strategy, along with his ample cam­paign war chest, could help him main­tain niche ap­peal with some of the state's most mod­er­ate Re­pub­lic­an voters.
The splin­ter­ing of the cen­ter-right vote cre­ates the pos­sib­il­ity of a worst-case scen­ario for es­tab­lish­ment Re­pub­lic­ans in New Hamp­shire. If none of the candidates surges over the next month, Trump and Cruz could eas­ily fin­ish in the top-two spots. The latest Real­Clear­Polit­ics polling av­er­age in the state shows Trump lead­ing with 28 per­cent, and Cruz and Ru­bio tied with 12 per­cent apiece.
The pro­spect of Cruz lead­ing Ru­bio, Christie, Bush, and Kasich in New Hampshire would be an embarrassment to party lead­ers, and makes it very difficult for the es­tab­lish­ment to unite be­hind anyone be­fore the del­eg­ate-rich March primar­ies.
Cruz hasn't spent much time in the state (16 days this year), and his brand of conservativism is a tough sell with a mod­er­ate, less-re­li­gious GOP elect­or­ate. But if the tra­ject­ory of the GOP primary doesn't change in the next month, it's possible there won't even be a cred­ible al­tern­at­ive to Trump and Cruz by the time Su­per Tues­day comes around.
---
This post appears courtesy of National Journal.