Millennials Want U.S. Ground Troops Fighting ISIS
Poll: Young adults are also turned off by politics and believe their American dream is dead.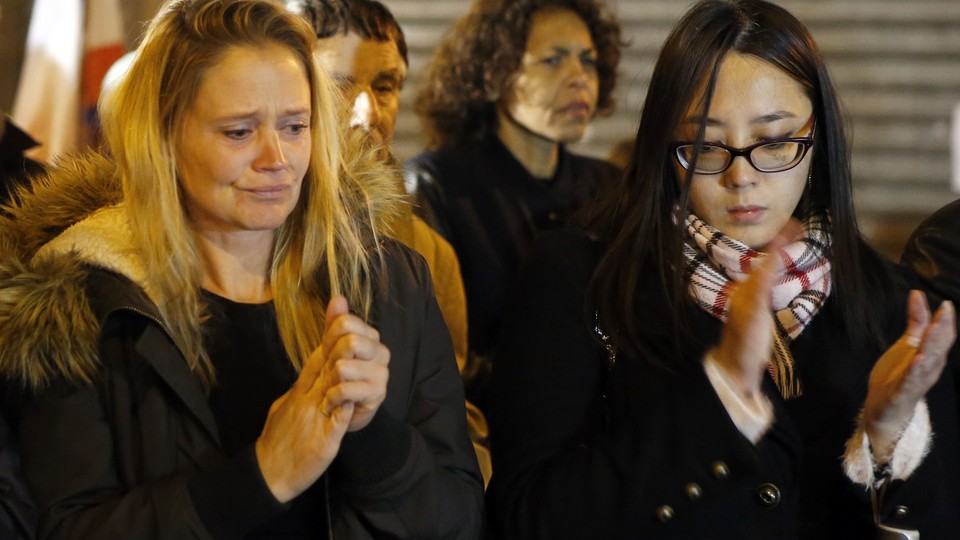 Rattled by the slaughter in Paris, 60 percent of young Americans support sending U.S. ground troops to combat ISIS, a 12 percentage-point increase after the Nov. 13 attacks that killed 130, according to a new poll of 18- to 29-year-olds.
The Institute of Politics at Harvard, which has been polling the attitudes of millennials since 2000, also found that only 16 percent of young Americans said they "have already," "would definitely," or "would strongly consider" joining the U.S. military to combat ISIS if additional troops were needed.
"There clearly seems to be a disconnect between what [young] people say they prefer the country do and what they would do as an individual," IOP pollster John Della Volpe told reporters.
Past surveys at Harvard and elsewhere have revealed American millennials to be more globally connected than past generations, and generally supportive of increased U.S. engagement abroad.
The IOP survey of 2,011 18- to 29-year-old U.S. citizens between Oct. 30 and Nov. 9 showed a split on the question of sending U.S. ground troops to fight ISIS—48 percent for and 48 percent against. When the question was asked again after the attacks, 60 percent supported ground troops and 40 percent opposed.
Polls are not predictive; the spike in support for ground troops could be a temporary reaction to the Paris attacks. The online survey has a margin of error of 2.8 percentage points, or a 95 percent confidence level. The post-Paris follow-up, with 435 respondents, conducted from Nov. 24 through Dec. 2, had a 5 percentage-point margin of error. (Disclosure: I serve on the Harvard IOP Senior Advisory Committee.)
Other findings in the Harvard IOP poll:
Dreams dead. Nearly half of young adults believe the American dream is dead for them. While polls of the general public typically find whites to be more pessimistic than blacks and Hispanics on questions about the American dream, the IOP found no significant different based on race or ethnicity among millennials. Education played a role: Nearly 60 percent of college graduates said the American dream was alive for them personally, compared to just 42 percent of those without college degrees or aspirations. Supporters of Donald Trump and Bernie Sanders were much likelier than not to say the American dream is dead for them.
Tuned out. Just 20 percent of young Americans said they considered themselves "politically engaged and active," a drop of five percentage points compared to IOP polling during the same period in the 2012 election. Less than half of the respondents said they were following the 2016 presidential campaign "very" or "somewhat" closely. These are not good signs for Democrats, who need a huge turnout among young liberal voters to retain the coalition that swept President Obama into office seven years ago.
Marginally Democratic. Fifty-six percent of millennials, ages 18-29, prefer a Democrat win the White House, with 36 percent favoring the GOP. That's down sharply from the 66-32 percent support young voters gave Obama against Republican John McCain in 2008.
The Bern. Sen. Bernie Sanders of Vermont holds a 6 percentage-point lead over former Secretary of State Hillary Clinton among Democratic-leaning millennials. Among Republican millennials, Donald Trump and Ben Carson are statistically tied for first place, with nobody else close.
Experience optional. Asked what attributes they valued most in a presidential candidates, millennials chose integrity (51 percent), level-headedness (33 percent), and authenticity (26 percent) over experience (18 percent).