McConnell: Don't Expect a Deadlocked GOP Convention
The Senate majority leader called it "highly unlikely" the party would arrive in Cleveland without a clear nominee.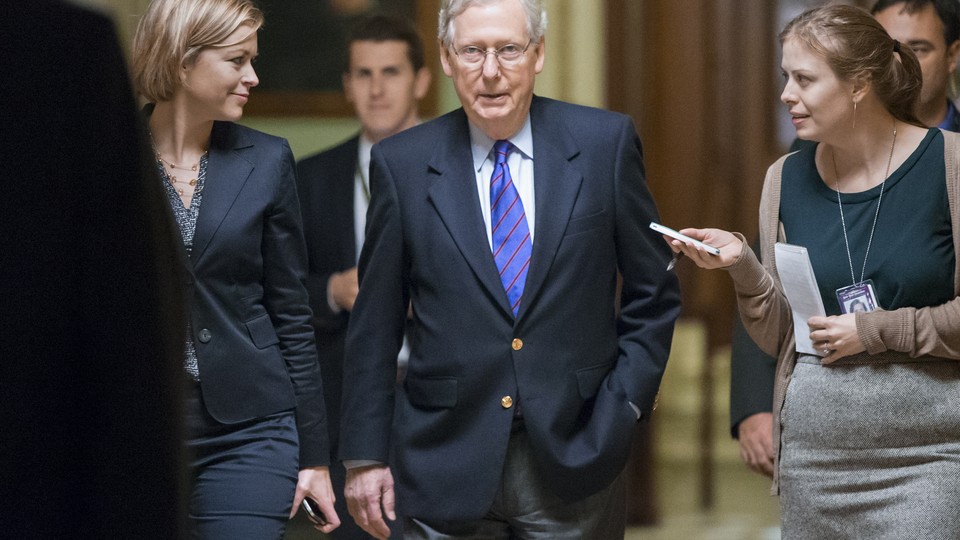 Senate Majority Leader Mitch McConnell said Tuesday that it was "highly unlikely" that the Republican Party would face a deadlocked convention next year, less than a week after a highly publicized report that he and the head of the GOP told other top officials to prepare for the possibility as Donald Trump continues to dominate the early polling of the presidential race.
"We were just talking about politics," said McConnell at a Politico-sponsored event. "A bunch of politicians talking about politics. No conspiracy theories that I heard.
"The meeting is called off the record for some reason," he said to laughter from the audience, adding he was "rather appalled" that people present talked to the press about it.
The dinner last week, first reported by The Washington Post, included McConnell and Republican National Committee Chairman Reince Priebus.
"It's just a group that gets together periodically and has no particular agenda and certainly has no ability to control any particular outcome," added McConnell. "It was like a discussion group."
And McConnell noted that what delegates do at a convention is "determined by state law anyway."
"Well, it hasn't happened in a very long time and I think it's highly unlikely to happen," McConnell said of the idea of a stalemate, adding that he's not worried about it.