McCain Takes on Trump, Cruz
The 2008 GOP nominee said he was surprised the 2016 front-runner's popularity has endured.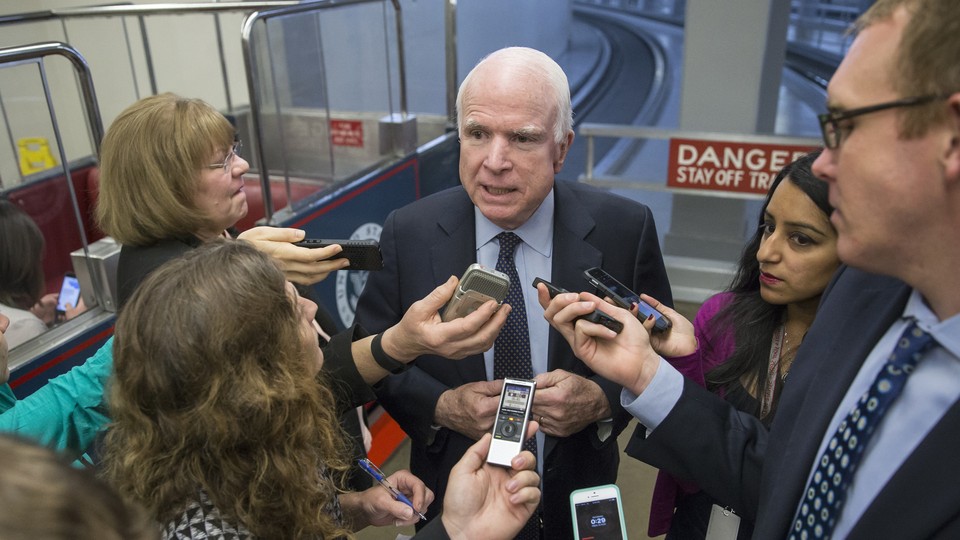 Sen. John McCain took on two key 2016 Republican contenders Wednesday, expressing bafflement at Donald Trump's continued popularity and criticizing Ted Cruz for his tactics in the Senate.
McCain, the 2008 GOP presidential nominee, gave his view of the 2016 field before a breakfast meeting with reporters on Wednesday, caveating with typical humor that his predictions, "speaking as the loser," deserve "zero credibility."
Fielding several questions regarding Trump—who leads in many GOP polls—McCain acknowledged he had disagreements with the front-runner. He referenced a recent, large focus group conducted by GOP message guru Frank Luntz, in which participants were asked about Trump's background giving money to Democrats and previously supporting abortion rights.
"Every one of them said, 'We don't care. We don't care. We're still in there for Trump,'" said McCain. "That's a very interesting phenomena, and I don't think we have seen anything quite like that—certainly not in my political lifetime."
McCain underscored that the "traditional rules" of presidential campaigns don't apply anymore. Reminding the reporters of former Texas Gov. Rick Perry's infamous "oops" moment last presidential cycle, he snapped his fingers, and said, "Too bad—Adios, Governor.
"Now it doesn't matter," he said.
McCain said he admired all candidates for putting themselves through the rigors of a presidential campaign—and reiterated he would support whoever becomes the GOP nominee. He praised the man he endorsed—Sen. Lindsey Graham of South Carolina—as well as New Jersey Gov. Chris Christie, Ohio Gov. John Kasich, former Florida Gov. Jeb Bush, and Sen. Marco Rubio of Florida. But he turned his fire at least twice on Cruz.
"I don't believe we should shut down the government again," said McCain at one point, referencing Cruz's role in the Defund Obamacare movement in 2013 that led to a 16-day partial government shutdown. McCain later returned to the subject of the man he once called a "wacko bird" for being the "only Republican" to vote against the defense authorization bill, which comes under McCain's jurisdiction as chairman of the Senate Armed Services Committee. "I thought that was wrong because I believe that our first obligation is to defend the country," he said. (While Cruz didn't support a version of that defense package—along with fellow presidential candidate Rand Paul—he did vote for the final version.)
In the first half of the hourlong conference sponsored by The Christian Science Monitor, McCain, without mentioning names, warned that a weak top of the ticket hurts the GOP's ability to maintain control of Congress in swing states. He said New Hampshire may be the "best example" of this problem, before noting that he thinks his colleague, GOP Sen. Kelly Ayotte, will win even though putting a weak candidate at the top of the GOP ticket would put her seat in "greater jeopardy."
"In off years in New Hampshire, Republican candidates usually [win,]" he said. "In presidential years, because we have all those jerks from Massachusetts coming over and voting—that's a joke—it goes Democrat."