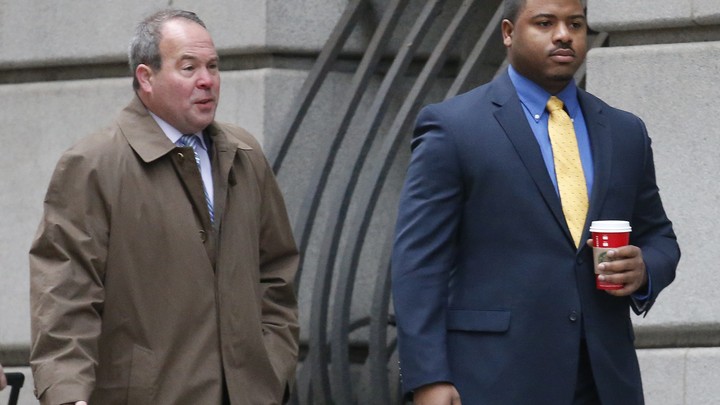 Jury selection for the trial of the first of six Baltimore police officers charged in Freddie Gray's death is underway, and the jurors' responses to the judge's questions speak volumes about the context of the case.
More than half of the 75 potential jurors questioned by Baltimore City Circuit Court Judge Barry G. Williams on Monday have been victims of a crime, investigated, or incarcerated. They have witnessed the operations of the city's police department first hand, and their experiences offer a window into the daily life of Baltimore's residents.
That Gray's death haunts the city—whether in media coverage or in murals—was made evident when all the potential jurors said they were aware of the case, the city's settlement of civil claims, and the protests it sparked. Jurors wouldn't necessarily be disqualified for encountering police in the past or for their knowledge of the case, but they have to prove that they can view the evidence "fairly and objectively," said Andrew Ferguson, a professor at the UDC David A. Clarke School of Law.
But they're still being screened on their experiences in an effort to surface biases, whether positive or negative. It's a strange twist in the process that typically vets for people that are "prosecution friendly" meaning they have a positive view of the police. Instead, prosecutors may look for those that are more skeptical of the police, Ferguson said.
Most of Baltimore was affected by Gray's death, which can prove challenging for the judge as he searches for members of the community that can provide that and still view the case with an open mind, Ferguson said. But weighing the virtues and flaws of a department that hasn't been trusted after a turbulent year in Baltimore may prove equally difficult.
In April, Gray, a 25-year-old black man, died of a spinal injury sustained while in police custody. His death, and later his funeral, sparked clashes in the city, leading the city to impose a curfew and Governor Larry Hogan to declare a state of emergency.
Officer William Porter, one of the six charged in Gray's death, will be the first to go on trial. Porter, who is also black, is charged with manslaughter, assault, misconduct in office, and reckless endangerment. He has pleaded not guilty. During questioning on Monday, more than a quarter of jurors admitted to having "strong feelings about the charges Porter faces, including manslaughter and police misconduct," according to The Washington Post.
The sentiment is a reflection of the current state of the relationship between black communities and police departments. Only 12 percent of African Americans said they had a "great deal" of confidence in the equal treatment of back and white residents by local police, according to national polling from NBC News/Marist. And a Gallup survey showed that urban blacks have less confidence in the police than non-urban blacks.
On Monday, protestors also chanted outside of the courtroom. "All night, all day, we're going to fight for Freddie Gray," they said. Gray is among a list of African Americans who have had fatal police encounters across the U.S., including Michael Brown, Tamir Rice, and Eric Garner. More recently, the death of Laquan McDonald in Chicago and a shooting of five Black Lives Matter demonstrators in Minneapolis have again resurfaced the tension between the police and black communities.  
Despite the strained relationship between the two in Baltimore, Williams appears confident that he will find an impartial jury.
"It'll be interesting to see whether the final 12 jurors reflect the community in the same way both demographically—age, race, gender," Ferguson said, adding that even though tensions in Baltimore are heightened, "citizen-police relationships are complex." Sixty-three percent of Baltimore city's population is African American, according to the U.S Census Bureau.
On Tuesday, a new pool of potential jurors will be questioned. And opening statements and testimony is set to begin in the next few days.
We want to hear what you think about this article. Submit a letter to the editor or write to letters@theatlantic.com.