John Kennedy Super PAC Polls Louisiana Senate Race
The state treasurer led a field of five Republicans looking to replace retiring Sen. David Vitter.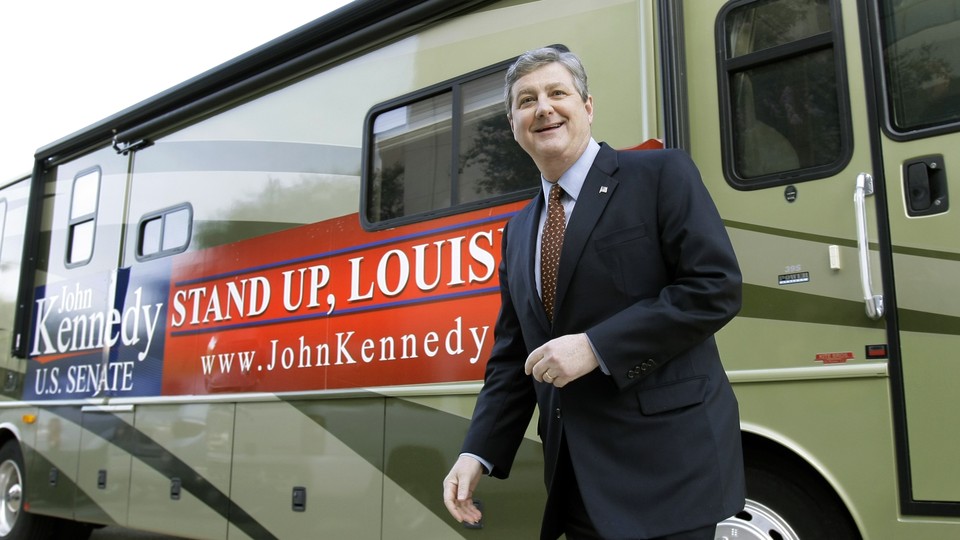 A survey commissioned for the super PAC supporting state Treasurer John Kennedy found a wide-open field in Louisiana's open-seat Senate race.
According to the SurveyUSA poll, obtained by National Journal, Kennedy led a field of five Republicans, including Reps. Charles Boustany and John Fleming, in a hypothetical jungle-primary matchup. It's the first polling released on the Senate race since Sen. David Vitter announced his retirement plans last month.
Kennedy, who hasn't declared interest in the race, took 21 percent of the vote, followed by Public Service Commissioner Scott Angelle's 12 percent. Angelle is also undecided, but a spokesman said he was looking closely at it after being narrowly edged out of the governor's race runoff in October.
Boustany trailed with 10 percent, followed by 2014 Senate candidate Rob Maness with 9 percent and Fleming with 6 percent. The poll included Public Service Commissioner Foster Campbell as the only Democrat on the ballot, pulling 23 percent.
Maness filed for the Senate race last week, and Boustany is expected to make a formal entry soon. Campbell has not been among the names previously mentioned for the race, and he was just named to Gov.-elect John Bel Edwards's administration last week.
Beyond the horse-race number, Kennedy also led in personal favorability, with 55 percent.
Kennedy has run for Sen­ate twice be­fore—in 2004 as a Demo­crat and in 2008 as a Re­pub­lic­an, when he lost to then-Sen. Mary Landrieu by six points. While he hasn't spoken publicly about this race, he raised eyebrows recently by running $1 million of positive TV ads for his noncompetitive reelection as treasurer.
Even more telling, his former aide of 18 years stepped down last summer to re­gister the Louisi­ana Proud PAC, which commissioned this survey. The staffer, Jason Red­mond, told Na­tion­al Journ­al this summer that the PAC was specifically intended to support a Kennedy bid, and had already collected pledges for donations if he ran. Kennedy could transfer the nearly $3 million left in his state account to the super PAC to aid his campaign.
The survey polled 600 likely voters between Dec. 4 and Dec. 7, and had a margin of error of +/- 4.1 percentage points.