Is There a Line Trump Can't Cross With Republicans?
So far, GOP lawmakers who bashed his comments about Muslims are still ready to back Trump if he wins the nomination.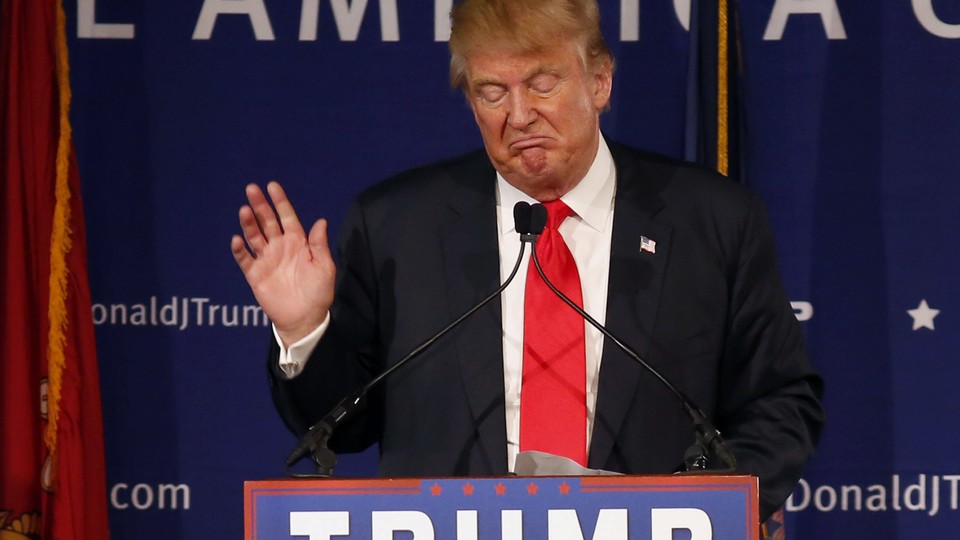 Is there anything that Donald Trump could say that would make him too toxic for the GOP?
Over the past 24 hours, several of his rivals for the GOP nomination and the top House Republican have criticized Trump for proposing to bar, for now, entry of all Muslims into the United States.
But top Republicans, including Speaker Paul Ryan and Senate Majority Leader Mitch McConnell, who Tuesday called Trump's proposal "inconsistent with American values," also grudgingly say that if Trump becomes the nominee, he'll have their backing.
It raises a provocative question: Is there anything Trump could say that would prompt GOP elected officials to say they'll withhold their support if he becomes the nominee?
National Journal put that question to a sampling of Republicans on Capitol Hill on Tuesday.
They disagreed with, or at least declined to endorse, Trump's plan. But responses varied as to whether there's a line Trump could cross that would prevent them from backing him should he win the nomination—a prospect that increasingly worries a number of Republicans, at least in private.
Based on a highly unscientific survey of the lawmakers, it appears there is a line that would make Trump unacceptable to a substantial number of Republicans, despite their stated intention to back the party's candidate—whoever it is.
Where and what that line is, however, is unclear.
GOP Rep. Dana Rohrabacher, who disagrees with the proposal to bar Muslims, nevertheless said he would support Trump should he win the nomination. Could Trump say anything to change that? Yes.
"Sure there are things that he could say," Rohrabacher said. He didn't offer possibilities.
GOP Rep. Mark Meadows also thinks Trump's proposal on Muslims is misguided.
"To suggest that we have a religious litmus test for access to this country is not what our founding fathers would have envisioned, nor is it something in keeping with who we are as a nation," he said. At the moment, Meadows said he would support Trump if he's the nominee, noting that it's up to the voters to decide who leads the party in the general election.
Same question: Is there anything Trump could say or any line he could cross that would change that?
Another yes, again without specifics.
"Obviously it's more where he is on positions than anything else. I certainly have my favorites to be the nominee. In answer to your question: Is there something that he could say? Yes. What that is, I don't know," Meadows said.
House Oversight and Government Reform Chairman Jason Chaffetz also disagreed with Trump's proposal ("outright wrong" and "ridiculous" and "he should know better"). Chaffetz noted that he intends to support the ultimate GOP nominee, but said that willingness has its limits.
"I suppose there are things that people could do that would get me to that point," Chaffetz said. "There is certain egregious behavior that really goes over the line." Asked what going over the line would look like, Chaffetz declined to go into "hypotheticals."
GOP Rep. John Duncan of Tennessee said that "I am going to support whoever is the GOP nominee." But he didn't endorse Trump's call for a sweeping ban.
Asked if there's anything Trump could say that would cause him to reconsider a willingness to back Trump should he win the nod, Duncan replied: "I am sure there is maybe something. But so far he is very popular in my district. In fact he came to Knoxville two or three weeks ago and drew one of the biggest crowds that I have ever seen."
Across Capitol Hill, Sen. John Thune, a member of the GOP leadership team, said Trump's comment was "not consistent with the values and beliefs that we hold as a nation." But he said he will support whoever the eventual nominee is.
Could Trump do anything to change that? "That's a very speculative field to go into," said Thune, declining to get into "hypotheticals."
"I think in the end we will nominate a candidate that can lead our party in the general election," he said.