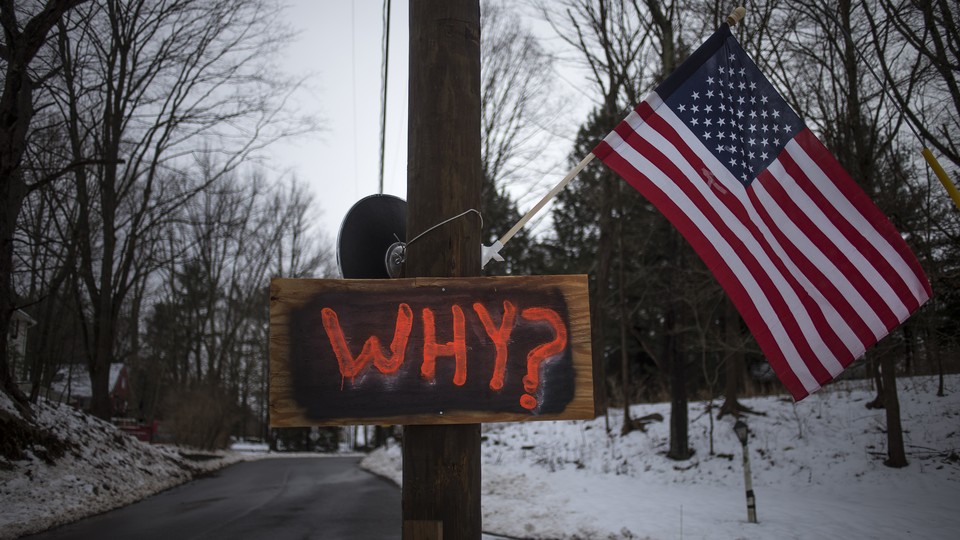 Editor's Note:
This article previously appeared in a different format as part of The Atlantic's Notes section, retired in 2021.
On December 15, 2012, I met a man at a pizza shop in Newtown, Connecticut. He was there to grieve with his neighbors. I was there as a reporter, covering the mass shooting that had stunned his community the day before.
This man's daughter, he told me, was a kindergartener at Sandy Hook Elementary School, where 20 children and 6 adults had been murdered. His daughter never went to school that day. The man was rattled by his family's luck.
The morning I met him, his little girl was at a showing of The Nutcracker, an outing that had been arranged at the last minute the evening before. He didn't know what else to do, he told me. She was supposed to have basketball, like every other Saturday morning, but half of the kids on her team were dead. He didn't know how to tell her why practice was canceled.
Newtown, for the four days I spent there, was cloudy and gloomy. I remember thinking how cruel it would feel if the sun came out. It was easy to see, anyway, how charming the town could be. On main street, there was a warm library, and an old-fashioned general store. A short walk away was an ice cream shop, and a store where women sold hand-made mittens. Near the middle of main street, there was a tall flagpole carrying a bright American flag.
I had taken a train to Newtown from New York City, and the man I met told me he used to live there, in lower Manhattan. After 9/11, the way he thought about the city changed. He didn't want his daughter to experience what he had. He wanted her to be safe. So he picked an idyllic town in Connecticut.
I wonder if he stayed in Newtown. I wonder where he would go instead to feel safe.