In New Hampshire, a GOP Establishment Divided
Moderate voters are having a hard time deciding who to support—and that's welcome news for Donald Trump and Ted Cruz.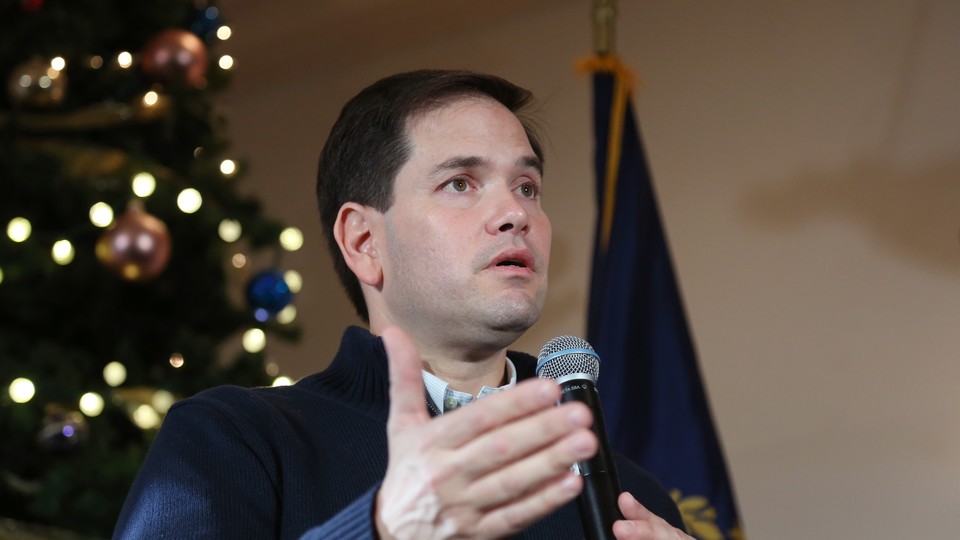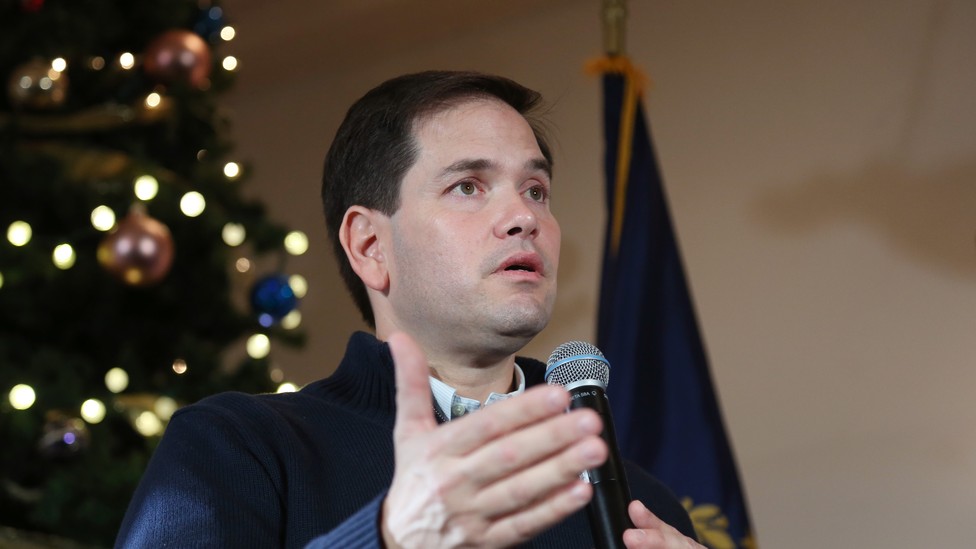 BERLIN, N.H.—New Hampshire typically crowns an establishment favorite for president—a seal of approval that's desperately needed in the muddled primary field this year. But the fear among party insiders in the state is that the verdict will be muted because support among the four center-right candidates will be badly splintered.
It's a mirror image of the national picture, but much more consequential because it's the first-in-the-nation primary. Here in New Hampshire, the establishment is trouncing Donald Trump, even if it's not obvious from the polls. Trump is consistently in first place with about one-quarter of the vote, while Marco Rubio, Chris Christie, Jeb Bush, and John Kasich are hovering around 10 percent, each receiving roughly the same share of more moderate voters. All four candidates spent the final days before Christmas in the state, hoping to break away from the scrum.
New Hampshire state Rep. Charlene Takesian is emblematic of the problems facing the GOP's pragmatic wing. She endorsed Kasich, but attended a Christie town hall in Pelham because she wanted a backup candidate in case Kasich falters. A self-described "moderate Republican," Takesian said she also liked Rubio but hadn't gotten to see him speak in the state yet. These strategic considerations are commonplace among New Hampshire voters trying to make up their minds with just over a month left before the Feb. 9 primary.
"All the people at the bottom of the totem pole should get out, because it's making it hard for voters," said Rosalie Thomas, an undecided GOP voter attending Rubio's town hall in her hometown of Berlin. She said she was "leaning in his direction" before the event.
Rubio has the most at stake in the state's primary. His campaign is hoping that New Hampshire voters anoint him as the clear establishment favorite, providing a signal to his like-minded rivals to drop out and consolidate behind him. But Rubio hasn't yet pulled away from the competition in state polls, and despite the national buzz, hasn't spent nearly as much time campaigning in New Hampshire as Christie, Bush, and Kasich.  According to National Journal's Travel Tracker, Rubio has spent only 20 days in the state since the beginning of the year, compared to Christie's 57 days and Bush's 37.
Rubio, sensitive to criticism that he's been outworked, lavished the state's blue-collar "north country" with attention in a three-day campaign swing with his family before the holidays. He spent nearly two hours answering questions at every town hall, waiting until the last attendee left before departing. After a staffer at Monday's event signaled for the last question, Rubio interrupted. "I'm not leaving here. I'll be around taking everyone's question and to say hello."
Cliff Hurst, Rubio's New Hampshire cochairman, acknowledged that the senator from Florida had a lighter state campaign schedule than most of the other candidates, but said he would be retraining his focus on the state in January, when voters play the closest attention. "Rubio had to raise enough money and get things in place so he wouldn't be dropping out after he came here, like some others," said Hurst, who previously worked for Wisconsin Gov. Scott Walker's presidential campaign.
The risk for Rubio is that by running a more national campaign, he ends up ceding ground to the candidates who have put all their chips on winning New Hampshire. That applies especially to the feisty Christie, who has been creeping upwards in state polls and cultivates a much more freewheeling approach at his town halls than the more on-message Rubio.
After an attendee at a VFW town hall in Pelham insisted that former President Bush waged war in Iraq only for oil, Christie fired back: "I fundamentally, profoundly disagree with the premise of your question," to unanimous applause. He strongly defended the rights of police departments to maintain military-style equipment, saying that President Obama is "a joke on these law-and-order issues." After someone criticized sequestration for cutting the defense budget, Christie took out a button in his pocket with that very message.
Rubio, by contrast, is more of a triangulator. Asked about the administration's lack of support for law enforcement, Rubio expressed his unequivocal backing for the police before sounding a sympathetic note towards those minorities who feel under siege. "There are a significant number of communities in this country, however, where minority communities in particular feel that their relationship with law enforcement is really bad. And I personally know people that have confronted this," Rubio said at the Berlin town hall.
He tempered his unstinting opposition to allowing Syrian refugees into the country with "common sense" exceptions allowing a small number from persecuted religious groups to be settled in the United States. And he answered a question about aiding early-childhood programs by emphasizing his support for reducing the federal government's role in education, before underlining the importance of programs that encourage learning for children before they reach kindergarten. On immigration, Rubio talks about his family's own inspiring story, but avoids discussing his work on comprehensive immigration reform, which many conservatives dislike.
Listening to Rubio closely, you can easily feel reassured by his rhetoric, even if his policy views are ambiguous or contradictory. In Berlin, a solidly Democratic paper-mill town, two attendees said they usually vote for Democratic presidential candidates but were leaning towards Rubio if he were to be the nominee against Hillary Clinton.
"He sees people not as Republicans or Democrats, but as people. He reminds me of a Ronald Reagan working alongside Tip O'Neill," said Hurst, his state cochair.
Bush and Kasich face longer odds in the state, according to statewide party operatives, but are still running competitively. Bush, in particular, is making his mark by spending the week on a mission to take down Donald Trump—even calling Trump a "jerk" over the weekend. Bush directed most of his criticism at a town hall Tuesday against Trump and his "grandiosity," while repeatedly apologizing for bringing up the brash businessman's name. (At one point, Bush promised not to talk about Trump again, and then broke his own rule one minute later.) Bush is hoping anti-Trump voters reward him for being the one candidate who is bold enough to challenge the nominal front-runner. Other candidates who have spent their energy attacking Trump (Rick Perry, Bobby Jindal, Carly Fiorina) are either out of the race or lagging badly behind. But Bush's strategy, along with his ample campaign war chest, could help him maintain niche appeal with some of the state's most moderate Republican voters.
The splintering of the center-right vote creates the possibility of a worst-case scenario for establishment Republicans in New Hampshire. If none of the candidates surges over the next month, Trump and Cruz could easily finish in the top-two spots. The latest RealClearPolitics polling average in the state shows Trump leading with 28 percent, and Cruz and Rubio tied with 12 percent apiece.
The prospect of Cruz leading Rubio, Christie, Bush, and Kasich in New Hampshire would be an embarrassment to party leaders, and makes it very difficult for the establishment to unite behind anyone before the delegate-rich March primaries.
Cruz hasn't spent much time in the state (16 days this year), and his brand of conservatism is a tough sell with a moderate, less-religious GOP electorate. But if the trajectory of the GOP primary doesn't change in the next month, it's possible there won't even be a credible alternative to Trump and Cruz by the time Super Tuesday comes around.