In Houston, Young People of Color Feel Left Out of the City's Success
Houston's economy is vibrant, but everyone is not benefitting.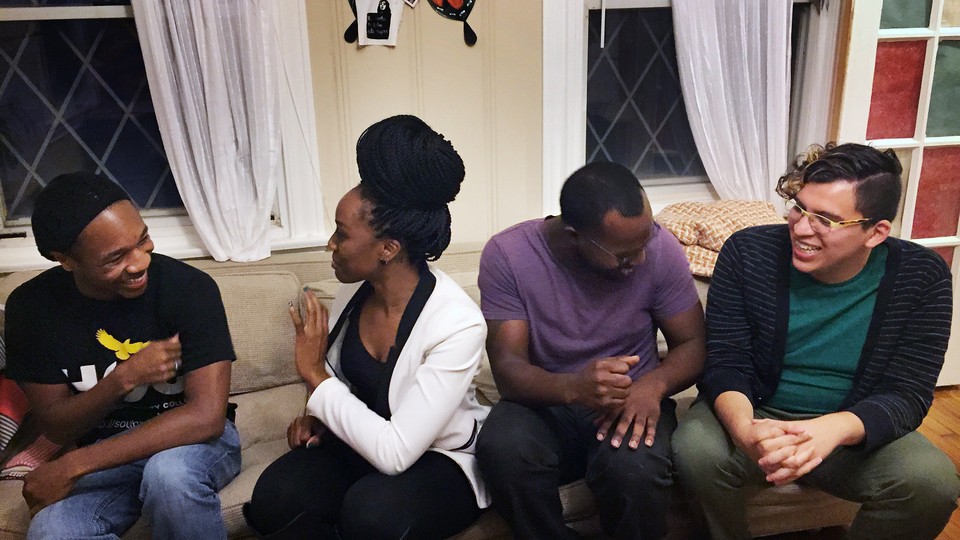 HOUSTON—I only planned to spend an hour at the modest two-story house where young community activists gather to push for social justice. But it's well past dusk when I pull away from Casa Blue in the Third Ward, an economically struggling community south of downtown.
It's the last evening of a weeklong work trip to this bustling port city. I've spent four days in meetings with school officials and nonprofit presidents who are working to make sure young people are equipped with the skills they need to keep this region thriving. Progress in Texas' largest city, these officials told me all week, is slow but real. Schools are reintroducing technical courses like welding to produce oil workers, and organizations such as Neighborhood Centers and Workforce Solutions are helping people apply for and find jobs.
But I wanted to talk to young people who were beyond the point of benefiting from new high school reforms, while also outside the net of support services the city offers its most vulnerable residents.
So I met up with José Sánchez, the southern regional director for the national nonprofit Young Invincibles, and some of his friends, all millennials living in the greater Houston area. Sure, the economy is booming around them, and oil companies and hospitals complain they can't hire workers fast enough, but how are these young people faring? Is the group gathered at Casa Blue—mostly young people of color from modest backgrounds—benefiting from the economic growth, too?
The answer, predictably, is complicated.
But the gist of what I hear over the course of several hours is that a number of perhaps-individually-manageable obstacles combine to hold some young people, particularly blacks and Latinos, back.
Their comments fit the broader national landscape. Around 62 percent of white students who start college are likely to have a bachelor's degree six years later, according to data from the Education Department. For blacks and Latinos, the completion rates are around 40 percent and 52 percent, respectively.
Over the past few months, Sánchez, a 27-year-old with neon glasses and an edgy asymmetrical haircut, and his team have talked to around 250 young people in the Houston region about workplace barriers for a Young Invincibles report to be published in January. Several themes surfaced repeatedly, among them soaring college costs. Tuition at four-year public colleges has increased 29 percent since 2007, according to a report from the Center on Budget and Policy Priorities. Those surveyed also cited the lack of transportation options. Houston is a web of unwalkable freeways with a woefully inadequate bus system, and it's getting harder and harder for them and their peers to find a job near where they live.
"The getting-to-work piece came up all the time," Sánchez said, sitting on a folding chair on the unfurnished ground floor of Casa Blue.
If you don't have a way to reliably be at work on time, you run the risk of losing your job. Work hours themselves are often sporadic for young people in retail and restaurant jobs, yet penalties are harsh for workers who don't have the ability to drop what they're doing and head for a shift when the call comes in. The burden is particularly acute for people of color and young parents, who face limited childcare hours at exorbitant prices.
In 2014, whites in Houston had an a 5.4 percent unemployment rate. For blacks, the rate was 15.7 percent, and for Latinos, 8.1 percent.
But securing a more-flexible, more-lucrative work situation requires either technical training or a college degree, because as much as oil companies and hospitals say they need workers, what they mean is qualified workers. Becoming qualified to ride the economic boom is increasingly costly. The group gathered that night in November does not have the technical training to go into the oil industry and each wants a four-year degree. But paying for school requires juggling coursework and paid work, a balancing act that often delays the start of a career by years.
"It's no longer a choice," Sánchez said. "You have to go to school while you're working, and you have to work while you go to school in order to do both, and so...the challenges that come with that definitely play into what kind of job [you get] and if you're able to keep a job."
A smattering of sticky notes posted on the wall of an adjacent sitting room spell out other concerns: Employers who take advantage of young workers. No control of housing and leasing requirements. A lack of paid leave. Unlivable minimum wage. Meager networking opportunities. Language barriers. Undocumented status. Rules against hiring people with criminal backgrounds. A dearth of mental health services.
These barriers, the group at Casa Blue said, seem to fall disproportionately on young, working-class people of color. They worry that any positive change happening isn't making its way to the communities who have long called neighborhoods like the Third Ward home. In fact, they worry, gentrification may be slowly pushing communities of color out of historically significant places such as Emancipation Park, a long-time gathering place for black families, and away from informal support networks.
Young people of color, Sánchez added, "see that maybe, even though our city has been doing well economically, they haven't always benefited equally from that, and so they still face some of these challenges, maybe harsher than their peers."
There are other, more malevolent forces at play, too.
The group initially skirts around the topic of racism. Yes, it's real. Yes, it's painful, they say before almost everyone becomes interested in staring down at their own shoelaces.
When I press for specifics, Marquis Wiley, a college student, and Dartalian Harris, a 25-year-old accounting student, both young black men, offer a litany of examples almost mechanically, resigned. They've been spat on, told to shut up by a police officer, called the n-word, embarrassed at a restaurant for trying to correct a wrong meal. Sometimes the racism is subtle, Harris said, but he feels people staring, and it takes a toll. Wiley's coworkers in one adjacent town told him to be careful driving home because of what the police might do. Driving home makes him nervous. "It's made me want to leave on a number of occasions," Wiley, a generally affable guy who attended Houston Community College and plans to study science at Texas Southern University, said.
Most of the incidents involve other people of color, Latinos specifically, they say when I dig deeper.
Although Houston is a demographically diverse city, its makeup is changing. The Latino share of the population has climbed 35 percent since 2000. Yet people of color remain continuously more likely to attend failing schools, to experience poverty and to be unemployed, which can lead to clashes that obscure the broader issue: that both blacks and Latinos are disproportionately less likely to be in positions of power when it comes to shaping where Houston is headed. Median income in 2014 for whites was close to $79,000. For blacks and Latinos, it was $33,000 and $36,000, respectively. Blacks make up nearly a quarter of the population, but own only around 15 percent of businesses. Latinos own just 23 percent of businesses, but make up nearly 44 percent of the population.
As Sánchez told me, "Diversity does not translate to equity automatically."
Economic prosperity in Houston is real. But true equity, these young people say, is nowhere in sight.
Janie Boschma contributed research for this piece. 
This is the fifth and final story in a series of stor­ies on edu­ca­tion and the work­force in the Hou­s­ton re­gion. Check the column to the right for more stor­ies on or­gan­iz­a­tions work­ing to in­crease eco­nom­ic op­por­tun­ity for res­id­ents in the area and on how schools and col­leges are rethinking education.