In Houston, Students Are the Key to City's Oil Future
Houston's petrochemical industry is robust, but companies still face a shortage of workers.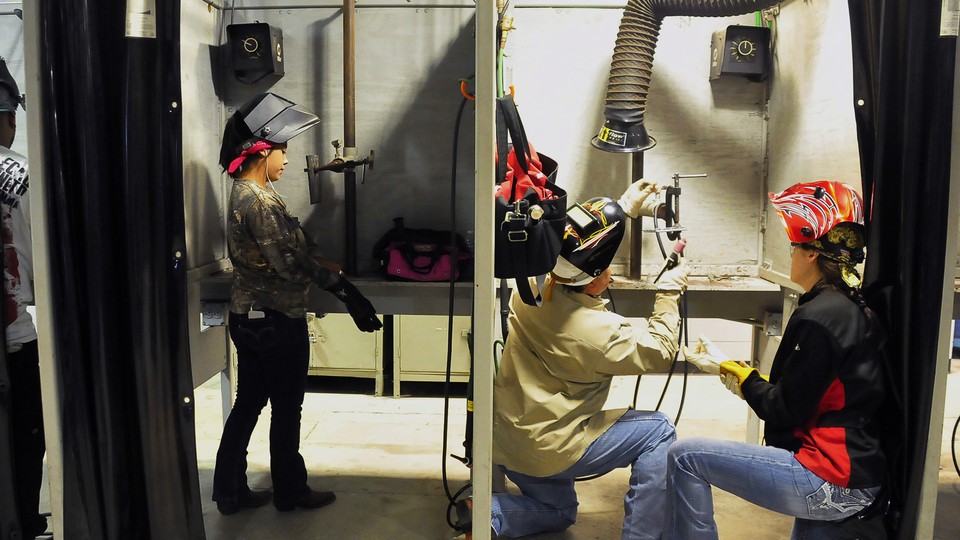 HOUSTON, TX--The welding class at San Jacinto College doesn't get out until 2 a.m. Demand has ballooned so much in recent months among day workers looking to tap into the booming petrochemical industry that the school recently opened the graveyard shift course.
A dozen miles northeast in Baytown, Lee College is piloting a weekend welding degree program in an attempt to keep up with need.
Several years ago, companies like ExxonMobil announced they would need to hire upwards of 50,000 workers over the next decade. The strong economy has led to plant expansions in this oil-rich metropolis at the same time that  companies feel the effects of an education strategy that pivoted sharply away from vocational and technical training in the 1990s. Baby boomers are retiring and companies are struggling to find qualified young people who can fill their slots. That's partly the result of an education system that has lasered in on college preparedness.
While high schools in the area are beginning to reintroduce and rethink technical courses, the efforts are new enough that any immediate impact is limited, and companies have turned to playing offense when it comes to attracting workers.
So in a somewhat unusual (although less so at the community college-level) show of collaboration, industry and academia are talking. The result in south Texas is the Community College Petrochemical Initiative, a collection of schools in the Gulf Coast region making a concerted effort to understand and respond to shifting workforce needs. Hence the welding classes at odd hours. ExxonMobil will contribute more than a million dollars over several years to the program, in part because it needs the region to produce more qualified workers or the company will have to look elsewhere to meet demand.
"In the last three years, industry is a more active partner in recruiting, doing outreach and helping to cultivate and attract a workforce," said Dr. Allatia Harris, vice chancellor of strategic initiatives at San Jacinto.
"The pendulum has swung to the side of workforce education right now because of the fact that so many jobs are available that require more than a high school diploma and less than a four-year degree," Jeffrey Parks, dean of business and technology at San Jacinto, told Next America.
Wanted: Welders and Technicians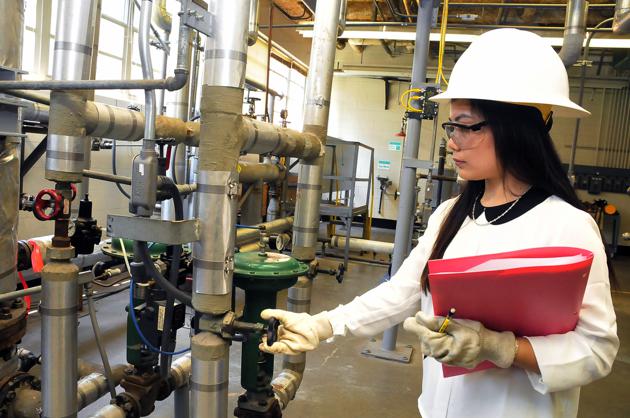 Parks and representatives from other colleges and organizations gather with companies every few months so industry can review the curriculum and make suggestions. "We can modify it on the fly," Parks said.
Glenn Johnson, manufacturing workforce development leader for BASF Corporation, told Next America that while companies have worked with colleges on curriculum for years, he has seen an increase in the number of companies participating in the process technology advisory committee at San Jacinto as more and more workers retire.
"We're kind of like the customers buying their products," he said.
The cooperative attempt to produce a new generation of workers is not without its challenges, however. Convincing students (and their parents) that opting for a two-year associate's degree in a field like process technology while a four-year degree is widely regarded as the more prestigious path to success, is difficult. So is finding instructors. In the current economy, if you're qualified to teach, you're qualified for a much more lucrative position in the petrochemical industry. And if you've retired from the industry, as many instructors are, you've probably put away enough that you don't need the instructor gig (bigger oil companies have retained pension plans and one local company just gave all of its employees a $100,000 Christmas bonus).
But interest is growing, in part because numbers don't lie, especially six-figure salaries. Ronald Wills, the Houston-area maintenance manager for Air Products and Chemicals, a Pennsylvania-based company that sells gases and other services, says his company is set to lose around 20 percent of its workforce to retirement over the next five years. According to Wills, the company's lower level instrument technicians make around $28 an hour and can move up to than $40 in three years. Add in major overtime pay (since they can't hire fast enough, workers regularly pick up extra shifts) and people with two-year degrees are making $85,000 or more.
Kelly Dando, project coordinator for the ExxonMobil grant at Lee, estimates that more than 90 percent of students pursuing technical degrees at the school get jobs. Wills' company had to increase their intern pay to $18 an hour from $16 because they were losing interns to competitors.
"Financially, you can do a lot better with some of these degrees," he said, comparing two-year technical degrees to four-year degrees, such a communications. He's not wrong. The average salary for a 2014 communications graduate was less than $44,000. Salaries are high, in part, he noted, because there simply aren't enough qualified workers to fill demand. That's changing, albeit not fast enough.
At San Jacinto, Parks said, around 1,300 people enrolled in process technology last spring. Seven weeks from the new semester, well ahead of when enrollment typically occurs, the program this year is only nine percent below that figure. He estimates that many of the petrochemical-related programs like process tech and welding see between four and 10 percent growth each semester. The college will open a new maritime campus (lots of petrochemical products make their way through the Port of Houston) in January in response to growing demand. A recent $425 million bond measure to add petrochemical facilities developed in cooperation with industry stakeholders recently passed with overwhelming support.
While the schools recruit young people fresh out of high school, they also serve as a relatively low-cost way for older workers in low-wage, low-skill jobs to earn a degree or certificate that vastly increases their earning power. The average age at San Jacinto is 27, for instance, and many students work and study at the same time. Many petrochemical companies in the region offer tuition reimbursements for employees, a trend that is slowly gaining traction nationally.
Companies have also started their own intern programs and work with students at the elementary and middle school levels to encourage more young people to consider petrochemical careers.
Wills estimates that about 70 percent of his interns are young, while around 30 percent are older. Over the summer, a local English teacher participated in the 11-week paid program (which was launched about seven years ago after the company realized it couldn't find the qualified, experienced workers it was looking for) while he was off. "I think he's going to switch as soon as he can," Wills said.
"It's a new opportunity for a lot of people here," Harris said. "It's a new day."
Wanted: Responders and Caretakers
Oil isn't the only growing industry in the region. Houston is home to one of the world's largest medical centers, and colleges have found themselves responding to the need for more healthcare workers. San Jacinto approved three new healthcare technician programs for next year, Harris said, because the Affordable Care Act has made it possible for technicians with more than a high school education but less than a degree to work many healthcare jobs. Demand is also high in peripheral industries, such as medical equipment repair. The school received a federal $8.7 million grant to train 1,250 low-income participants in healthcare jobs where there are shortages.
"They seem to be very interested in creating value for the student so they can get a marketable skill," Wills said of the colleges.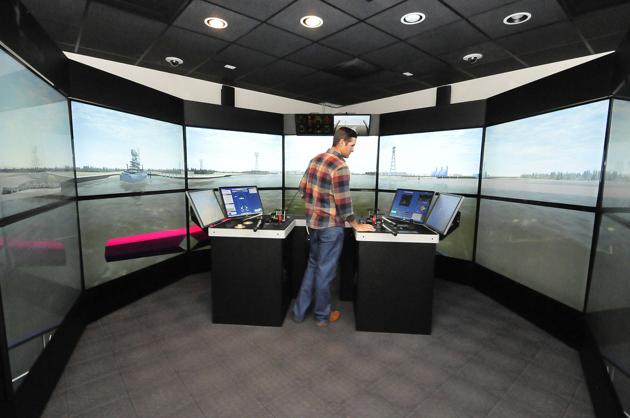 While colleges and employers are the main players in how to develop the future workforce, they are scaffolded by nonprofits like Neighborhood Centers, one of the partners that will administer the federal healthcare grant. The Economic Alliance Houston Port Region, a nonprofit working to support and grow the petrochemical, maritime and logistics industries, is also involved. Broader regional workforce initiatives like UpSkill Houston, which describes itself as "the nation's first business-led, community-wide, integrated workforce effort," also play a role.
There was "lukewarm interest" in workforce development six years ago, Chad Burke, CEO of Economic Alliance, said during an interview at his office in Deer Park on the outskirts of Houston. Today, "it's gone from yellow to red as a problem."
Economic Alliance, along with community partners, works with young people to combat stereotypes about manufacturing jobs and bring successful petrochemical workers into schools to talk to students.
While it's too early to tell how these relatively recent attempts to build a bridge between school and workforce will play out, the fact that stakeholders are acknowledging and collaborating to address the issue is a departure from what has in many places been the norm and remains the standard where many four-year schools are concerned--the enduring, almost deliberate, chasm between education and a path to employment. In Houston, connecting the two isn't just a nice idea; it's vital to sustaining the region's vibrant economy.
This is the fourth in a series of stor­ies on edu­ca­tion and the work­force in the Hou­s­ton re­gion. Check back for more stor­ies on or­gan­iz­a­tions work­ing to in­crease eco­nom­ic op­por­tun­ity for res­id­ents in the area and on how young people of color are faring.