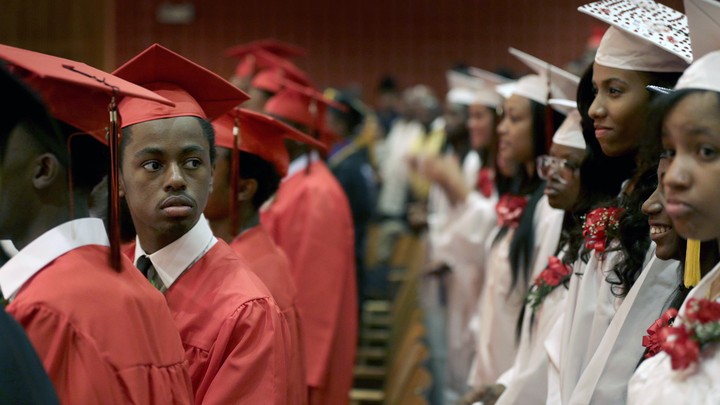 The national high school graduation rate reached a record high of 82 percent during the 2013-14 school year. But that number alone obscures important details, among them that black and Latino students remain less likely to graduate than their white peers, and that not all states are making progress toward raising graduation rates. 
Different subgroups of students do well in some states, but not well in others. Latino graduation rates are highest in West Virginia and Texas, but relatively low in Minnesota and New York. Nearly all Asian students in states like New Jersey and Maryland graduate, but just three-quarters earn a diploma in Alaska. Black graduation rates are best in Montana, low in Nevada. New Jersey comes in first when it comes to white graduation rates. Economically disadvantaged students do best in Indiana, while those with limited English proficiency fare best in West Virginia (and, with an atrocious 18.1 percent graduation rate, most abysmally in Arizona). Arkansas graduates students with disabilities at 83.1 percent, the highest rate in the nation for that category. 
"We can't begin to declare victory yet," Education Secretary Arne Duncan told reporters on a call, noting that "unacceptable gaps" remain. 
Helping more students, particularly children of color, graduate will require recognition by states and schools that dropping out is more than just a matter of not understanding the coursework. Mentors, role models and coaches, Duncan said, need to step up and help kids get individualized support. Schools need to identify students at risk of dropping out earlier, he added, bluntly stating that the "only thing" preventing more schools from focusing on early intervention is a lack of urgency, creativity and strategy. 
Use the chart below to explore some of the data, and check out the full data set here. We've highlighted a few key points:  
5.6 percent—The increase in graduation rates for English learners between 2010-11 and 2013-14. English learners had the highest rate of improvement among all categories of students. Black students also made significant progress, with an increase of 5.5 percent over those three years, as did Latino students, at a rate of 5.3 percent. 
14.8 percent—The difference in graduation rates between whites and blacks.
11 percent—The difference in graduation rates between whites and Latinos. 
61.4 percent—Washington, D.C.'s graduation rate, the lowest overall in the nation. (New Mexico, at 68.5 percent, is the state with the lowest overall graduation rate.) 
90.5 percent—Iowa's overall graduation rate, the highest in the nation. 
This story is part of our Next America: Workforce project, which is supported by a grant from the Annie E. Casey Foundation.
We want to hear what you think about this article. Submit a letter to the editor or write to letters@theatlantic.com.
Emily DeRuy
is a former staff writer at
The Atlantic
, where she covered education.
Janie Boschma
is a former senior associate editor at
The Atlantic.