How Voters Think Clinton and Trump Are Similar
In new national survey, voters see similarities in their strengths—and weaknesses.
It's difficult to think of two political candidates more different in their values, views and style than Hillary Clinton and Donald Trump.
Yet, in the eyes of the American public they share some strengths and weaknesses, according to the latest Quinnipiac University national survey released on Wednesday.
The poll asked registered voters to assess the personal characteristics of several of the presidential contenders. Both positive and negative judgments about Clinton and Trump converged on two key points, as big majorities rated them strong—but slippery.
As this graphic shows, those polled rendered almost identical negative verdicts when asked whether the two were "honest and trustworthy or not." Just 35 percent of those surveyed said Trump fit that description while 59 percent said he did not; for Clinton, the numbers were 36 percent positive and 60 percent negative.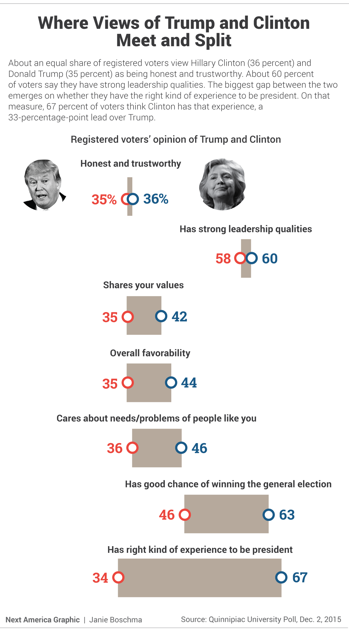 Conversely, both drew comparably strong ratings for leadership. Fully 60 percent of those surveyed said Clinton possessed "strong leadership qualities" while only 38 percent said she did not. For Trump, the numbers were almost identical: 58 percent branded him a strong leader, while 39 percent did not.
Karlyn Bowman, a public opinion analyst at the conservative American Enterprise Institute, says this convergence is "true in other polls as well, in leadership, on honesty and favorability. They are both strong personalities in the public's mind."
One key question if Clinton and Trump ultimately emerged as their party's nominees would be which of these universally known and deeply polarizing figures would find their negative portrayals more set in concrete—and which could more easily improve the public's assessment. Bowman thinks both would have trouble significantly improving the numbers they are facing today.
"I think perceptions of her are pretty much set," Bowman said. "I think perceptions of Trump could become more negative."
Overall, the survey painted a bleaker picture for Trump than for Clinton. Apart from honesty and leadership, Clinton consistently outpolled Trump—sometimes slightly, sometimes massively.
While 46 percent of registered voters said Clinton "cares about the needs and problems of people like you," only 36 percent said that description applied to Trump. While 42 percent said Clinton "shares your values" only 35 percent thought Trump met that test.
Clinton held wider leads on two other important measures. By a margin of roughly two-to-one (67 percent yes to 32 percent no), those polled thought she possessed "the right kind of experience to be President." On Trump, those surveyed rendered almost the inverse verdict: just 34 percent thought he possessed the right kind of experience, while 63 percent did not. Clinton also held a big advantage on electoral viability: while 63 percent of those surveyed thought she would stand a good chance of defeating the other party's nominee, 46 percent said the same about Trump. (Still, that number is far better for Trump than a private poll of GOP leaders would likely reveal.)
Bowman said she thought it was unlikely that Clinton's biggest weakness in polling—doubts about her honesty—"was a deal-breaker for most Americans" because "it is so baked into the cake for the Clintons, that voters think about them differently than the way they do about other candidates." More worrisome for her, Bowman said, are her relatively equivocal ratings on empathy.
Likewise, Bowman said, doubts about Trump's honesty are probably not the most significant hurdle he faces. Like other analysts, she identified the nexus of limited experience and volatile temperament as his biggest personal challenge. "It's bravado that gets him the strong leadership ratings," she said, "but to be a president [people believe] you need both the leadership and temperament."
In the bottom line on a possible general election showdown, Quinnipiac found Clinton leading Trump 47 percent to 41 percent, behind big margins among the groups at the core of the modern Democratic coalition: people of color, Millennials, and college-educated voters.
More relevant to their immediate challenges in the primaries is the survey finding that Clinton receives broader approval on these qualities across her party than Trump does across his. On every measure tested, Clinton receives better marks from self-identified Democrats than Trump does among self-identified Republicans.
For instance, while a nearly unanimous 96 percent of Democrats say Clinton has the right experience to be president, a more modest 60 percent of Republicans concur about Trump. Over four-fifths of Democrats give Clinton positive marks on three of the other measures: caring about people like them, sharing their values, and standing a good chance of winning the general election. Roughly two-thirds of Republicans, a somewhat conservative number, rated Trump positively on the first two; nearly three-fourths did on the third.
Both score well in their party on strong leadership (91 percent among Democrats for Clinton, 80 percent among Republicans for Trump). But the former secretary of state receives a heartier endorsement from her own partisans for honesty (73 percent) than Trump does (58 percent). Similarly, while 84 percent of Democrats express an overall favorable view of Clinton, 64 percent of Republicans responding rate Trump positively.
The new Quinnipiac Poll also continues the pattern of surveys finding Trump performing better among Republicans without a college degree than among those who hold a four-year degree or more. Nearly four-fifths of both groups consider him a strong leader and about three-fifths of each group said he cared about people like them. But while non-college Republicans believe Trump has the right experience to serve as president by a solid 24 percentage point margin (60 percent yes, to 36 percent no), college-plus Republicans are much more divided: just 52 percent say yes, and 45 percent no. And while non-college Republicans say Trump shares their values by a resounding 67 percent to 29 percent, college Republicans again display more ambivalence: 54 percent say yes and 40 percent say no. Trump's overall favorability rating stood at 64 percent with non-college Republicans and a more closely contested 53 percent with college Republicans.
In Quinnipiac's latest measure of the national GOP primary race, Trump drew 31 percent among likely Republican voters without a college degree. That was about double the showings of the next closest competitors: Ben Carson and Ted Cruz (at 16 percent each) and Marco Rubio (at 15 percent). But among college-educated Republicans Trump drew a more modest 20 percent, statistically no different than the 21 percent that preferred Rubio in the survey.
Still, the relatively benign personal assessments of Trump among college-educated Republicans, though notably less enthusiastic than among their non-college counterparts, show a substantial audience for his confrontational persona throughout the party. That suggests the candidates hoping to consolidate the white-collar wing of the party that displays more skepticism about Trump will need to make a compelling case against him. One measure of that opportunity is that the most recent Quinnipiac survey last month found Trump's standing on several of these personal assessments was somewhat weaker among college-educated Republicans in Iowa, whose first-in-the-nation caucuses next February are more intensely engaging voters in the campaigns' competing arguments.
The resistance to Trump among college-educated whites evident even during the Republican primary could become a critical issue if he takes the GOP nomination. In the new Quinnipiac survey, Trump crushed Clinton among whites without a college degree by 58 percent to 31 percent. But among whites holding at least a four-year-degree, the survey showed her leading Trump by a solid 51 percent to 37 percent. No Democratic presidential nominee since at least 1980 has carried even a plurality of those well-educated whites.
The Quinnipiac University poll surveyed 1,453 registered voters nationwide from November 23-30 by landline and cell phone. The survey has a margin of error of +/- 2.6 percentage points for the entire sample and larger margins of error for the sub-samples of Republicans and Democrats.
---
Janie Boschma contributed to this article