How the White House Started Taking Donald Trump Seriously
Over a few months, Team Obama went from resisting the "temptation" to weigh in to calling out the Republican front-runner's "fake hair."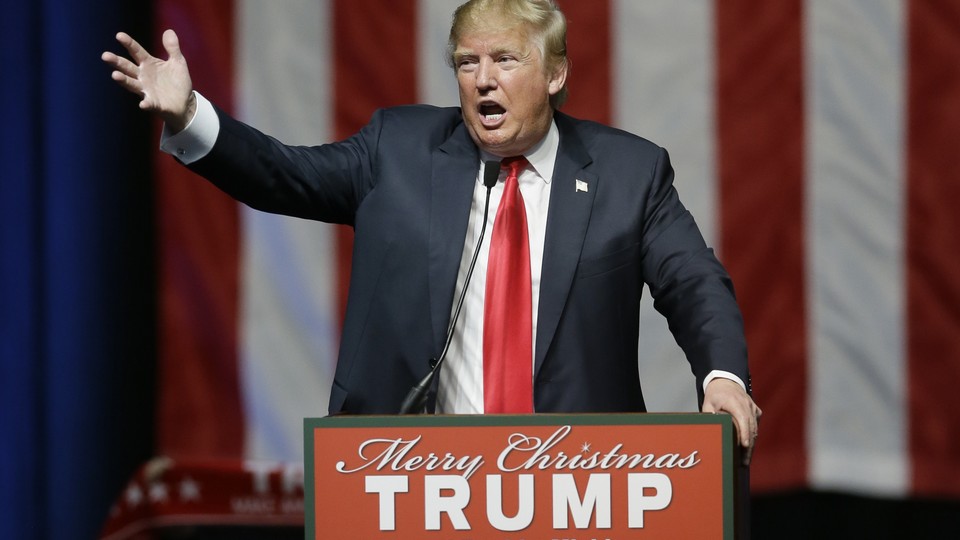 In the first days after Donald Trump declared his bid for the presidency, the White House didn't seem concerned. Despite Trump's pointed mudslinging and infamous invectives, the administration took the high road, declining opportunities to weigh in.
But then, unexpectedly, Trump climbed to the top of the GOP primary pack—and stayed put there. The White House could no longer ignore him: President Obama and Vice President Joe Biden let their ire seep into public remarks (the veep, as usual, tipping his hand more plainly), and, hoping to render the rest of the GOP field collateral damage, officials took every opportunity to tie other Republican contenders to Trump. As the months went on, their messages grew more urgent—and more like those of Trump himself.
Here's a look at the White House's evolving message on the Republican front-runner.
July 20: Resisting "the temptation to weigh in"
After Trump slammed decorated Vietnam war veteran Sen. John McCain by saying he wasn't actually a war hero, criticism from all sides was swift. But when White House press secretary Josh Earnest was asked whether Trump owed veterans an apology, the White House spokesman declined to get involved. "I've resisted the temptation to weigh in," Earnest told reporters, "even though I've had ample opportunity to do so."
Sept. 10: Declining to take the bait
At a rally opposing the president's deal to prevent Iran from developing a nuclear weapon, Trump twice asserted that the country was led by "very, very stupid people."
"Any reaction to that?" a reporter asked Earnest at the next day's briefing.
"No," he replied simply, to laughter from the press corps.
Sept. 15: A "sick message" of xenophobia
The first White House official to speak candidly on Trump was, unsurprisingly, the notoriously unfiltered vice president, Joe Biden. As Trump's anti-immigrant rhetoric—accusing those from Mexico of being rapists and calling to deport all 11 million undocumented immigrants already in the country—swelled, Biden bluntly maligned the GOP front-runner to a group of Latinos gathered at his home.
"There's one guy absolutely denigrating an entire group of people, appealing to the baser side of human nature, working on this notion of xenophobia in a way that hasn't occurred in a long time.
"This isn't about Democrat-Republican. It's about a sick message," Biden continued. "This message has been tried on America many times before. We always, always, always, always overcome."
Sept. 16: Getting under Obama's skin
The next day, it appeared that Trump was getting to Obama, too.
"In the echo cham­ber that is pres­id­en­tial polit­ics, everything is dark and everything is ter­rible," Obama lamen­ted at the Busi­ness Roundtable headquar­ters in Wash­ing­ton. Pres­id­en­tial can­did­ates "don't seem to of­fer many solu­tions for the dis­asters that they per­ceive, but they're quick to tell you who to blame."
And, rebuffing Trump's controversial slogan, "Make America Great Again," the president insisted, "American is great right now. America is winning right now."
Sept. 18: The rest of the GOP field is just as bad
As Trump's perch atop the GOP primary pack crystallized, the press secretary shifted tactics: Rather than stay above the fray, he wove a common thread between Trump and the rest of the Republican contenders. When queried about Trump's failure to correct a man who called the president a Muslim, Earnest recalled other Republicans who had questioned Obama's Christian faith and U.S. citizenship.
"Mr. Trump isn't the first Republican politician to countenance these kinds of views in order to win votes," Earnest told reporters. "In fact, that's precisely what every Republican presidential candidate is doing when they declined to denounce Mr. Trump's cynical strategy, because they're looking for those same votes."
Nov. 3: Bringing up the bankruptcy
A successful businessman, Trump was taken seriously in some quarters when he claimed that Federal Reserve Chair Janet Yellen was keeping interest rates low for political reasons. "That's an economic observation made by someone who at least tells the country he has some experience in real estate," a reporter noted to Earnest at the press briefing.
"And somebody who has declared bankruptcy like four times, too," Earnest quipped, to laughter among the press corps. "So consider that advice—consider the source of that advice."
Dec. 8/9: The "Muslim ban" breaking point
Trump's proposal to ban Muslim immigrants from entering the U.S. earned him condemnation across the country. But it was the White House's prepared diatribe, slick with punchy Trumpisms, that was most notable. The day after the campaign unveiled the proposal, Earnest lobbed carefully curated insults at the real estate mogul, declaring that his bigotry disqualified him from seeking the presidency.
"The Trump campaign for months now has had a dustbin-of-history-like quality to it, from the vacuous sloganeering to the outright lies to even the fake hair—the whole carnival-barker routine that we've seen for some time now," he said. And he quickly moved to link Trump's actions to his peers in the GOP. "The question now is about the rest of the Republican Party and whether or not they're going to be dragged into the dustbin of history with him. And right now, the current trajectory is not very good."
The next day, Obama took a more implicit swipe. At an anniversary event to commemorate the ratification of the 13th Amendment, which abolished slavery, the target of Obama's words was clear.
Ad­van­cing the coun­try's ideals re­quires Amer­ic­ans "to re­mem­ber that our free­dom is bound up with the free­dom of oth­ers. Re­gard­less of what they look like or where they come from or what their last name is," he said, and, slowly enunciating his words, his voice rose: "Or what faith they prac­tice."