How the Louisiana Governor's Race Could Aid Criminal-Justice Reform Efforts
Outside the presidential race, few candidates running in 2016 are spending much time talking about criminal-justice reform on the campaign trail so far, but reform advocates say the Louisiana campaign set a helpful precedent.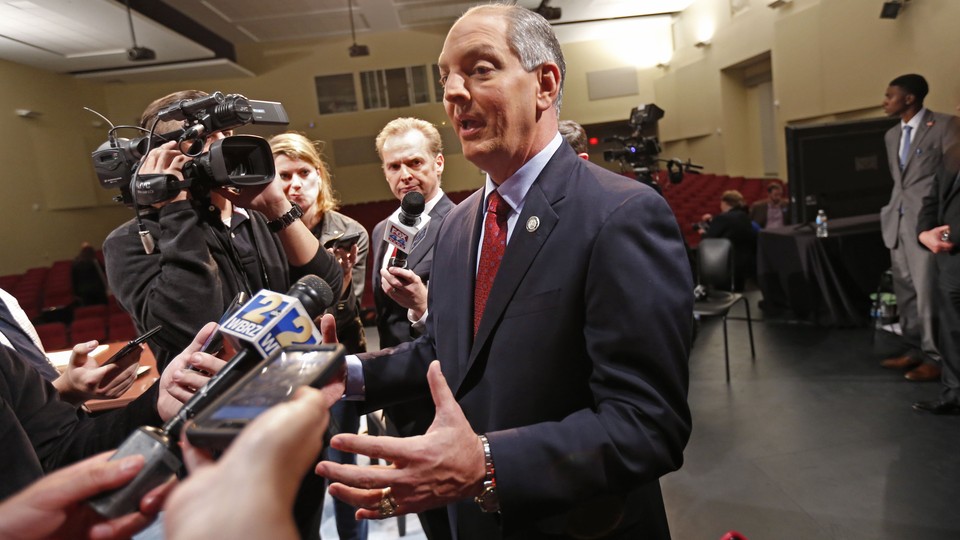 When Sen. David Vitter ran a TV ad in late October accusing his Democratic opponent in the Louisiana governor's race of supporting the release of "5,500 dangerous thugs" and "drug dealers" from prison, criminal-justice-reform advocates were worried.
The ad marked the first time a candidate in a high-profile race had made hay out of proposed changes to the criminal-justice system since it emerged as one of the few issues in recent years to win broad-based bipartisan support, including inside the Capitol.
Outside the presidential race, criminal-justice reform has yet to receive much attention from Senate or House candidates in competitive races in 2016, but that could change once bills come up for consideration in Congress next year. The issue has already been part of the debate in Democratic Senate primaries in Illinois and Maryland, and it's likely to come up in state races.
But thanks to the Vitter spot, the U.S. Justice Action Network, a prominent coalition of liberal and conservative groups pushing for a package of federal reforms next year, was able to use the Louisiana race as a live experiment to test the potency of anti-reform attacks.
"Louisiana was the first time justice reform was a top-tier issue in a contest of the magnitude of a governor's race, and obviously it turned out well for us," said the group's executive director, Holly Harris, referring to Vitter's loss.
While Vitter's personal issues, including a years-old prostitution scandal, became the central debate of the race, the coalition can still point to his ad's inability to move votes, and Democrat John Bel Edwards's successful response, as it seeks lawmakers' support across the country.
In the wake of Vitter's "thugs" ad, the coalition sponsored a poll to test where Louisiana voters stood on broad reforms, and the results were encouraging. The survey conducted by Red Oak Strategic showed 83 percent of Louisianans broadly supported justice reform, including 79 percent of Republicans.
It also found widespread support for reducing money spent locking up nonviolent offenders, support for increasing funding for rehabilitation programs, ending mandatory minimum sentences, and ending requirements that employers ask all job applicants about their criminal history. The poll surveyed 500 likely voters between Nov. 10 and 14, with a 4.4-point margin of error.
The network includes an array of groups as disparate as the ACLU and Americans for Tax Reform. It also includes the NAACP, the Faith and Freedom Coalition, FreedomWorks, the Center for American Progress, the Leadership Conference on Civil and Human Rights, and Right on Crime. It targeted Michigan, Ohio, and Pennsylvania for state-based reforms beginning this year, and it intends to triple the number of targeted states heading into 2016, including Louisiana.
A criminal-justice overhaul years in the making easily cleared the Senate Judiciary Committee in October, but it has vocal Republican opponents, including Sen. Ted Cruz of Texas, who is among the top contenders for the GOP presidential nomination. He and Vitter were among the five Republicans to vote against the bill in committee.
While Vitter's ad stood out in the race, Harris also thinks the way Edwards responded at the time could serve as a road map for other candidates forced to defend their support for justice reforms. Edwards aired a TV ad featuring a handful of local sheriffs who touted bipartisan support for reforms and scolded Vitter for "using fear and deception for political gain," and spreading false information.
The brief debate over criminal justice in the Louisiana race was vastly overshadowed by Vitter's prostitution scandal and, in the final week of the race, by talk of terrorism and Syrian refugees. But, Harris said, "I definitely think Louisiana made a mark on candidates everywhere."