How Lindsey Graham Can Play Kingmaker in South Carolina
The home-state senator was never going to win the pivotal primary, but now he can help decide who will.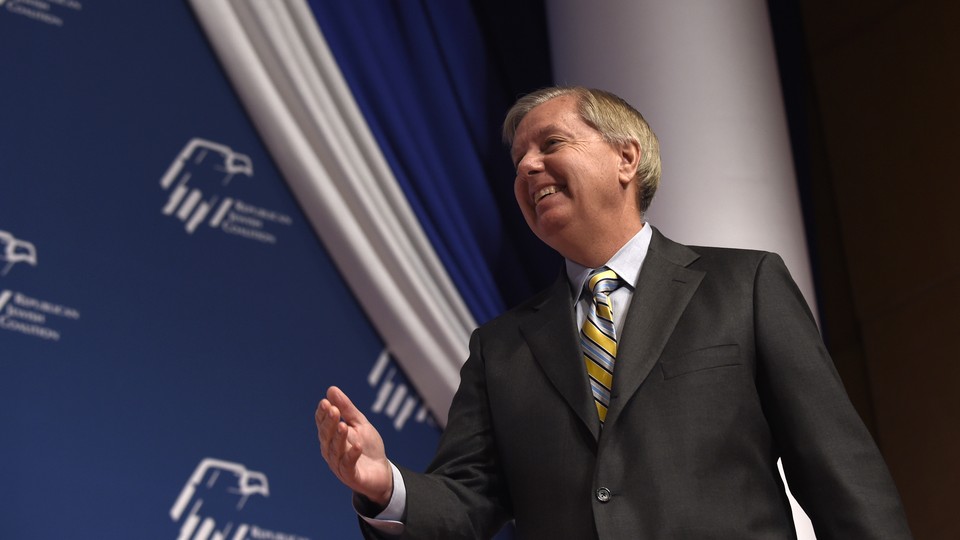 Lindsey Graham is no fool. By dropping out of the presidential race Monday, he retains his ability to serve as a South Carolina kingmaker without the embarrassment of losing the state's primary by a landslide.
Graham's support matters, even though the senator from South Carolina never stood with the dozen or so candidates on the prime-time, top-tier debate stage.
"Senator Graham won 56 percent of the ballots of the primary voters in South Carolina just last year," notes Matt Moore, the state's GOP chairman. "So I would not underestimate Senator Graham's ability to develop a campaign or candidate. He has a huge audience in South Carolina."
The question now remains what he'll do and where his support will go. Since he entered the race in June, Graham frequently attacked Donald Trump over his nativist, ban-the-Muslims rhetoric, as well as any candidate who didn't purport hawkish foreign policy views, whether it be Rand Paul or Ted Cruz. In just the last week, he lumped both Cruz and Paul together as "isolationists" and labeled Cruz, who has attempted to position himself between Graham and Paul, as a "drunk driver going from one lane to the other." It's pretty clear Graham won't be supporting any of those three candidates.
"I think it goes without saying that Lindsey Graham is not stealing votes from Ted Cruz and vice versa," Rep. Mick Mulvaney of South Carolina told National Journal earlier this month."
Graham's support then could go to Sen. Marco Rubio of Florida, Ohio Gov. John Kasich, or even New Jersey Gov. Chris Christie, who has adopted Graham's approach of talking tough and making New Hampshire a second home. He could also join some senior members of his team who will now support Jeb Bush; Graham national finance committee chairman David Wilkins told me earlier this year that he would support Jeb if Graham weren't in the race. Wilkins, who served as ambassador to Canada under George W. Bush, wouldn't comment about that on Monday, but another member of Graham's national finance committee, Edward Floyd, said there was no doubt he would be a Bush donor.
"No question," said Floyd. "I've always been close to the Bush family. We supported his daddy and strongly his brother.
"I think he would make a really, really good president," he added of the former Florida governor. "Most of the Bush people that supported W. are going to come on board with Jeb, and it's going to make a hell of a difference. I mean, this is what I think. All of my buddies—they've already started calling me this morning over the state. I really think you will see a big change in the next few weeks."
Graham exiting the race and releasing a pool of South Carolina GOP money could prove pivotal for those positioning themselves to be the establishment candidate. Through September, Graham raised $1.2 million in itemized contributions from individuals in the first four early states—more than front-runners Ben Carson and Hillary Clinton, according to Bloomberg, with almost all of the money coming from his own state.
"Lindsey Graham was by far the head person, the No. 1 candidate as far as South Carolina contributions," said Wilkins, the Graham national finance chairman, in an interview.
Adds Katon Dawson, a top South Carolina GOP strategist who previously worked for former Texas Gov. Rick Perry's campaign, "Now the donors are fair game for all the campaigns, but I suspect the donor base will take its lead from Lindsey on whom to support financially.
"When Lindsey decides to endorse a candidate, it will be a big deal in [South Carolina]," he added.