How Houston Is Redefining Learning to Prepare Its Future Workers
When college is just another option and teachers focus on skills-based learning, students see clear futures and the city sees real progress.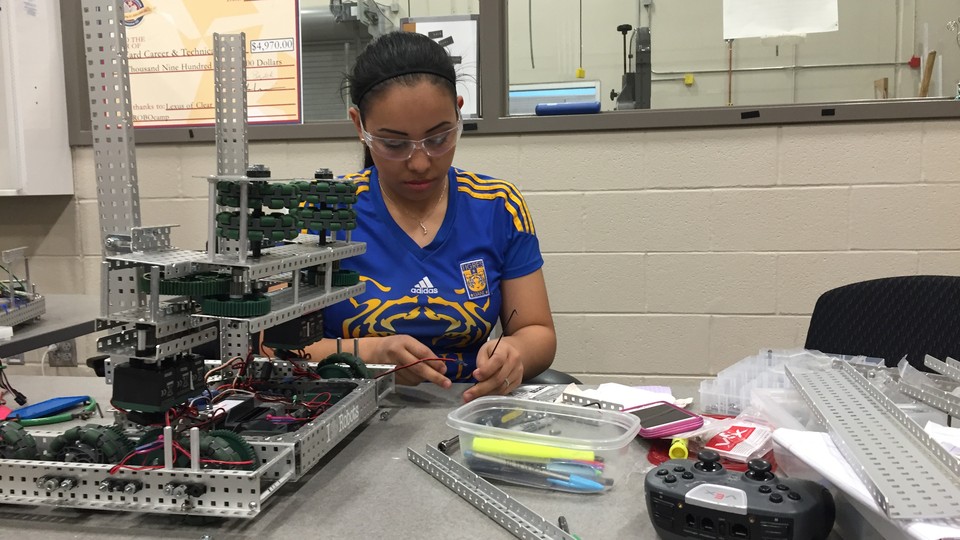 HOUSTON—Omar Díaz is well on his way to becoming a towboat captain. At 18, he already has some of the required training to make it happen.
By the time he graduates this spring, the high school senior is set to be the proud owner of an OSHA-10 card, a standard workplace-training requirement for maritime industry jobs, and a boating license. Díaz is pretty sure a maritime career will be a good fit. He has already been down to the Port of Houston, one of the world's busiest, with his class to meet some of the workers who keep the place running, and he can envision himself as part of the team.
"We actually got to meet the people we're going to work for," he said, standing after class on a rainy November afternoon in one of his high school's many bright hallways. In other words, while thousands of high-school seniors around the country ponder where they might land in that seemingly distant post-college landscape, Díaz has a firm plan.
He developed his plan with the help of his teachers at Career and Technical High School. If that name conjures images of some underfunded vocational dumping ground where kids with few prospects while away their formative years, think again.
Opened in 2014, the 247,000-square-foot school is a masterpiece of soaring ceilings and top-of-the-line technology. Educators from as far away as Japan have come to look at the building and to hear about the curriculum, which is also shiny and new, academically speaking.
Students at CTHS, which is open to any high schooler in the Pasadena Independent School District, take traditional core classes. But they also belong to a career academy, such as "Transportation and Shipping" or "Manufacturing and Construction," where they gain hands-on technical skills and have the ability to do internships and college-level coursework. Perhaps most importantly, students, as Díaz noted, have the opportunity to see how what they learn in a classroom can be applied in Houston's job market. Some of its graduates will go on to college, others to shorter training programs, and others straight into the workforce.
The school has yet to graduate a class, so it's far too early to tell what the long-term outcomes of its students will be. But a stroll through the halls shows young people learning marketable skills, not memorizing obscure historical facts. Students learn to change oil and work on engines in a still-spotless automotive-repair shop the size of a Costco. A functional courtroom for kids studying criminal justice sees real, albeit minor, cases. There's an herb garden the kids studying horticulture tend until they turn the bounty over to the kids studying culinary arts in the gleaming stainless steel kitchen, and a functional preschool where high schoolers studying early childhood education watch staff children under the protective eye of their instructors.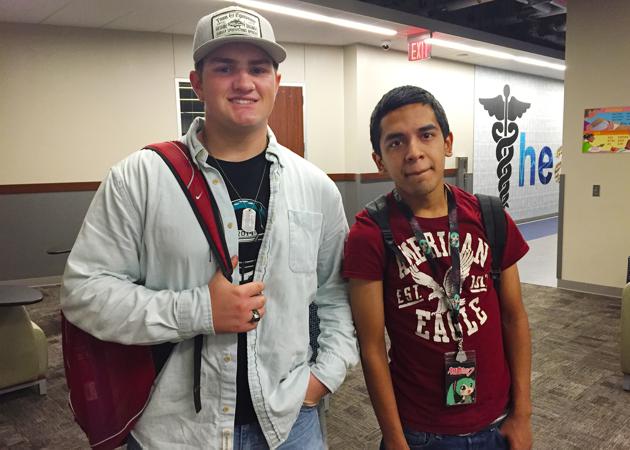 The number of schools in Texas that offer such hands-on experience is growing. Not all are standalone schools like CTHS. More than 40,000 students are now enrolled in career and technical courses at schools throughout the Houston Independent School District. The district also recently developed Linked Learning, a program designed to connect Houston schools with business, medical, and energy leaders, and to give students access to real-world experiences in growing industries.
Five years ago, just a handful of the state's schools offered maritime programs like the one Díaz is in. Now, there are dozens. As the nationwide push to get more young people to and through college grows, Texas is pushing back. In 2013, the state passed House Bill 5, which changed graduation requirements that critics said too rigidly promoted college as the only path forward. The new requirements are intended to help students become career-ready, too.
Bringing the real world in
Greg Mitchell's job title in the Pasadena district is business partner liaison. "My main job," he said as he walked the halls of CTHS, stopping to play with dogs in the vet-tech training lab and inspect robots in the technology academy, "is to bring the real world into the classroom."
That statement could be read as controversial in certain education sectors, but it's completely logical to Mitchell, and perhaps nowhere more so than in Houston. This booming port city has seen massive job growth in recent years, particularly in areas tied to the oil industry, including maritime work and welding, which is also offered at the school. Oil companies and the contractors and subcontractors they work with consistently say they cannot hire young workers fast enough to replace older employees as they retire. Sometimes, they bring in workers from out of state or even out of the country.
To address the problem and to meet House Bill 5 requirements, Pasadena, Houston, and other districts have brought on people like Mitchell to talk to companies about what skills workers need, and then work with schools to make sure the curriculum matches up. Many students, Mitchell said, are hired by companies before they even graduate. About 90 percent of the kids who study automotive repair, for instance, will go into shops and then take additional training courses through community colleges while they work.
"Let the kids see options," he said, adding that the district is "well aware" that not every kid belongs in college.
"The way I look at it is we're getting a step closer to career-readiness," said Tyler Lee, an 18-year-old classmate of Díaz's who wants to pursue a career in marine transportation after completing a four-year degree.
Some educators have expressed worries that such programs will disproportionately funnel students of color without resources into work directly after high school when they're capable of pursuing a four-year degree, while white students will go on to college.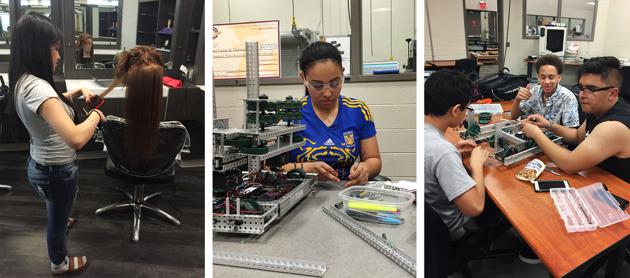 Ruth López Turley, a professor at Rice University and director of the Houston Education Research Consortium, a partnership between the college and the Houston Independent School District, expressed that concern and added that the district continues to struggle with high dropout rates and dismal college-advising ratios, with the students most in need of career and college advice the least likely to get it.
"We need to get involved in making sure our educational system and the systemic factors are in place to ensure that students with limited means still have the same educational opportunities to be able to contribute to the economy," she said.
While Mitchell says it is true that CTHS is overwhelmingly students of color, that's also true of the entire district.
"This is a way to ensure those kids aren't falling through the cracks," said Aurora Terry, director of Linked Learning for the Houston Independent School District, Like Pasadena, Houston has also stepped up career-training programs in the last couple of years, Terry said during a meeting at the district office northwest of the city center.
Multiple people interviewed for this story referenced a pendulum to describe the state's, and specifically Houston's, approach to education. Like the nation, Texas swung away from tracking certain students into vocational training as an acceptable form of education in the 1980s toward college alone in the 1990s and early 2000s. Now, the pendulum is swinging back toward the middle, and, observers say, gaining traction. The gleaming new CTHS building was funded through a $270 million 2011 bond issue.
Not all roads lead to college
Terry said that her district's motto eight years ago was college readiness for everyone. Now, career readiness is seen as just as valuable.
"College doesn't equate success," she said.
The district took a hard look three years ago at where jobs were, whether the district offered appropriate training for those jobs, and how they might align them better, she said. They met with representatives from Kroger and Walmart, who said they would need to bring in outside managers to meet need if the district didn't adapt, and petrochemical companies in need of pipe fitters. The conversations "spurred us to reconsider what it means for success," Terry said.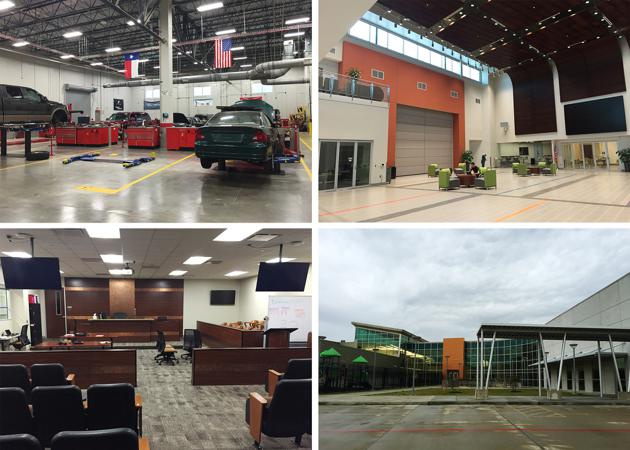 In response, the district has expanded its partnerships with community colleges, which were previously limited to just Houston Community College, so students can take technical classes at local community colleges while they're still in high school. In 2013, the district opened the nation's first energy-focused high school in response to the booming oil industry. There's a maritime magnet school and a high-performing health-sciences-focused high school.
At the middle-school level, HISD closed a low-performing traditional school in the economically depressed (but gentrifying) Third Ward and opened the Baylor College of Medicine Academy, a magnet school that pulls from all over the city designed to interest young kids in four-year health-science degrees. The Texas Medical Center, the largest in the world, sits just a few miles away and badly needs workers. The idea has taken off. In its third year, principal Jyoti Malhan said in her office during a brief lunch break, the school had 2,300 applications for 250 spots. Around 90 percent of the students are people of color, and between 60 and 70 percent receive free or reduced-price lunch, characteristics that too often signal low scores. But 95 percent of the school's students are proficient in both math and reading.
"It's the 'whatever it takes' attitude of the faculty I have," Malhan said. The school is public, but she demands that her teachers make themselves available for tutoring on Saturdays, and there is more of an emphasis on cerebral games like chess than on sports or music, which puts it more in line with certain charter networks than most public schools.
Baylor provides the health-science curriculum and medical residents work with the students occasionally. One 13-year-old eighth grader told Next America her friends at other schools talk about "things we've already covered in the past couple of months."
But the parent of a student at Baylor expressed concerns that kids from the neighborhood weren't reaping the benefits of the school. Critics argue that the creation of magnet schools, like the Baylor Academy and the energy high school, pull students and badly needed resources away from traditional neighborhood schools. The neighborhood school that absorbed the children who had previously attended the low-performing school that was shuttered to make room for Baylor saw its state test scores drop after taking the kids in.
Malhan acknowledged that the number of students who are English-language learners or who have special needs is low because the school does not modify its curriculum.
Critics question whether all children will have access to such quality programs, and say the bureaucracy and politics inherent in a district of 283 schools serving 215,000 students has meant slow progress.
The district fares worse than average and behind other major Texas cities when it comes to meeting academic standards. Some of that has to do with high poverty rates. Three-quarters of the students come from economically disadvantaged backgrounds. More than 60 percent are Latino; 25 percent are black. Advocacy groups complain that Houston is not focusing enough on connecting low-income and immigrant youth with college and career opportunities, and that the district was not prepared to fully implement House Bill 5 requirements across the board. One nonprofit worker, who spoke on condition of anonymity and has been at the table with the district and employers about connecting young people with work opportunities, said Houston "hasn't brought a strong presence." Another described making progress in Houston schools as "like wrangling cats."
And Terry, the Houston Linked Learning director, said that getting "buy-in" from teachers on the type of project-based learning that career-and-technical education favors is difficult as long as their jobs are linked to the way kids perform on standardized tests. (That practice could end nationally soon, though, if a rewrite of No Child Left Behind makes its way through Congress.)
Even as it expands career opportunities, the city of Houston will need to continue to increase the number of students it sends to college. A report from the Greater Houston Partnership Regional Workforce Development Task Force suggested the region has had trouble finding enough qualified managers, particularly in health care, in which degrees are typically required.
But Houston does appear to be making progress, both at the college and career-readiness levels. Since 2007, dropouts at HISD have decreased 43 percent. The number of students taking the SAT has increased 100 percent. There's also been a 92 percent increase in the number of AP exams passed. In 2013, the district became the first in the nation to twice win the Broad Prize for Urban Education, which goes to the large urban district that has made the greatest gains in student achievement. Houston was one of the only urban districts to win a $30 million Race to the Top grant.
For Houston's young people, the changes, however messy, carve out a path to success that was once narrow and exclusive. Asked what he thought about his education, Díaz responded, "I love how the school turned out." He's talking about more than the shiny building. The instruction that happens within its walls has helped him envision real possibilities and spell out precisely how to succeed. Next fall, the lanky high school senior plans to enroll in San Jacinto College, where he'll study for an associate's degree in maritime transportation.
Janie Boschma contributed reporting from Washington, D.C.
This is the second in a series of stor­ies on edu­ca­tion and the work­force in the Hou­s­ton re­gion. Check back for more stor­ies on or­gan­iz­a­tions work­ing to in­crease eco­nom­ic op­por­tun­ity for res­id­ents in the area and on how community colleges are re­struc­tur­ing cur­riculum to align with the area's work­force needs.