How Families Pay the Never-Ending Price of a Criminal Record
Nearly half of all American children have a parent with a criminal record, creating barriers to jobs, housing, and education for everyone in the family.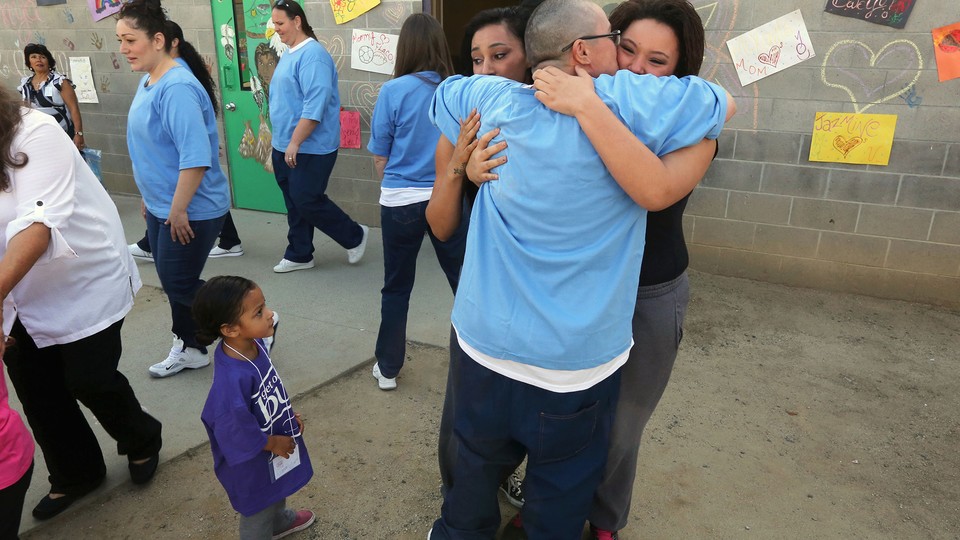 WASHINGTON—"An individual need not have spent time behind bars or even had a conviction in order to face tremendous barriers due to having a criminal record," stated Carmel Martin, Center for American Progress Executive Vice President for Policy at CAP's Thursday release of a new report on the consequences of criminal records. Many with criminal records were only convicted of misdemeanors, and some arrests never led to convictions. However, because of federal and state policies, "even a minor criminal record now creates lifelong barriers to nearly all the basic building blocks of economic security — employment, housing, education, job training and building good credit."
The CAP report, titled "Removing Barriers to Opportunity for Parents with Criminal Records and Their Children: A Two-Generation Approach," found that one in three American adults have some type of criminal record. That translates to nearly half of U.S. children—between 33 and 36.5 million—with at least one parent with a criminal record.
"This number should be truly staggering to everyone. But this is the legacy of America's failed experiment with mass incarceration and over-criminalization," said Rebecca Vallas, lead author of the report and Director of Policy for CAP's Poverty to Prosperity Program.
These barriers, said Martin, have broad economic implications for those who want to move on and become productive citizens. Even more importantly, a parent's criminal record has huge consequences for families and children. A criminal record negatively impacts a family's well-being in terms of income, savings and assets, education, housing, and family strength and stability.
For example, state hiring laws bar people with certain types of convictions from more than 800 occupations nationwide. Also, Vallas said, nine out of 10 employers use background checks, and those who have a felony drug conviction are banned from receiving government assistance. As a result, more than 60 percent of formerly incarcerated individuals remain unemployed a year after being released. Those who do find jobs receive 40 percent less pay than those who have never been incarcerated.
CAP pointed to a study by the National Institutes of Justice that found that "any arrest during one's life diminishes job prospects more than any other employment-related stigma."
The report points to a study by the Ella Baker Center for Human Rights, which found that "85 percent of returning citizens face criminal-justice debts." These debts include fees for a public defender, GPS ankle bracelets, pay-to-stay fees, or late-payment fees. In some instances, outstanding debts can prevent access to credit, housing, employment, or public assistance the report found, all of which can impact a family's chances of upward mobility.
Those with a criminal record also experience limited access to higher education. The report found that "an estimated 66 percent of colleges and universities use background checks in the admissions process." Also, federal law prohibits those with felony drug convictions from receiving certain grants.
The lack of resources for educational attainment has a devastating impact on children and families. Those who lack a high school diploma or post-secondary education have limited earning potential, which can impact family income and assets. But also, the report noted, a parent's education level is directly linked to a child's long-term educational prospects. Children whose parents have less education are more likely to experience poverty.
Another barrier is housing discrimination. In its research, the CAP report found that many local public-housing authorities "will evict or deny housing to an individual or even to an entire household if one household member has had an arrest, even if that arrest did not lead to a conviction." In addition, it noted, "four out of five landlords use criminal background checks to screen out potential tenants."
The report from the Ella Baker Center found that "79 percent of returning citizens reported being denied housing due to their criminal history."
Housing instability can have long-term consequences for children the CAP report noted. For example, "multiple moves can lead to disruptions in education" and children are "less likely to complete high school, enroll in post-secondary education, or complete a degree than their counterparts who had stable housing during childhood."
"Family income is one of the strongest predictors of economic mobility. Research shows that income is especially critical to child development during the first few years of life," said Vallas. "When parents face challenges in securing employment or accessing basic income support to help meet basic needs, children suffer both short and long-term negative consequences. It affects their language development, their school performance, their educational attainment, health outcomes, employment and earnings."
During a panel discussion, Rev. Gabriel Salguero, president of the National Latino Evangelical Coalition, shared that his father and all his father's eight siblings were incarcerated at one time in their lives. But his father went on to gain full employment and educate all his children. "Someone gave him a second chance," said Salguero, who said policies should provide ladders of opportunity.
But not only does a criminal record keep some individuals from stable employment, it also impacts a person's ability to save for their family because of costs associated with the criminal-justice system.
Amy Solomon, senior advisor to the Assistant Attorney General at the Department of Justice, said the federal government has numerous resources for people who want to get back on their feet. "We cannot hold consequences against people for a lifetime," she said.
"Policy makers must seek solutions with a two-generation approach," said Martin. "Removing barriers to employment, housing and education is not only necessary for individuals with criminal records to get a fair shot in life, it's also critical to ensuring that a parent's criminal record does not determine their child's life chances."