How Conservatives Lost the Battle Over the Export-Import Bank
They say the war's not over.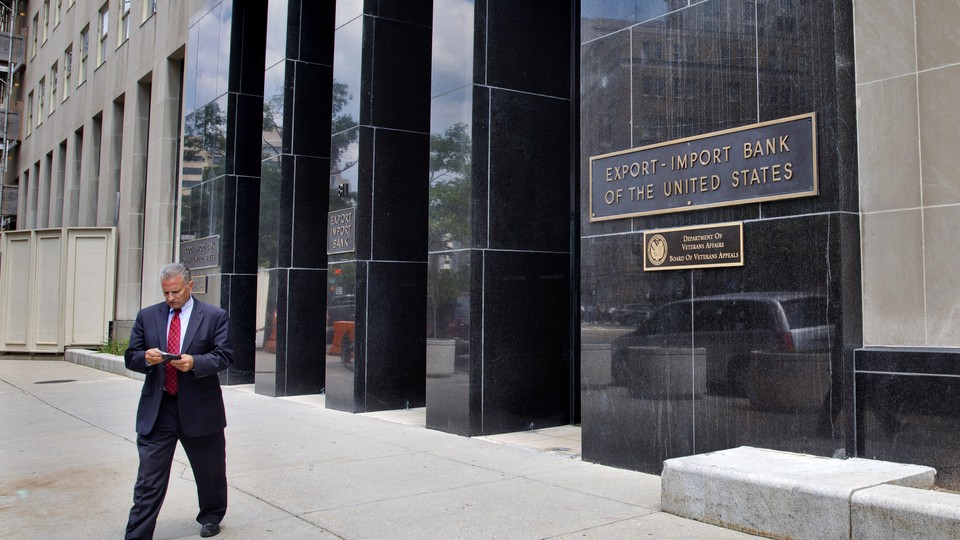 A federal bank that gives loans to major American businesses to help them export goods overseas will soon reopen its doors, despite strong opposition from congressional conservatives, including recently elected House Speaker Paul Ryan.
Following a four-month hiatus after its authorization expired at the end of June amid strong conservative opposition, the Export-Import Bank earned the backing of Democrats and a sufficient number of Republicans in the House on Thursday to continue its operations through Sept. 30, 2019. The Senate voted its approval of the bank in a broader transportation-funding measure later Thursday night.
Conservative groups who opposed the bank, including Heritage Action, the Club for Growth, and the Koch brothers' network, sought to cast the bank's reopening as a victory, arguing that its four-month closure raised the profile of opposition to the bank. But Republican members who have accused the bank of "crony capitalism" now face another five years of essentially the status quo in its operations. Given Congress's penchant for deadline deals and a perpetually packed legislative calendar, the chances of proactively closing the bank rather than waiting until 2019 for its charter to again expire appear slim.
Rather than seeking concessions from Ex-Im supporters to alter the bank's charter and make reforms, conservatives shot for the moon and succeeded in temporarily shuttering the bank altogether. But with the majority of members and President Obama supporting the bank, that victory was short-lived.
House Financial Services Chairman Jeb Hensarling, one of the Ex-Im Bank's staunchest opponents, froze the bank out by refusing to take up a reauthorization bill in his committee, leading to its four-month shutdown. But that move ultimately backfired, House Democrats argued in a victory-lap press conference on Thursday. By refusing to put the reauthorization through committee, Ex-Im opponents tied their own hands, losing the ability to amend the bill and reform the bank, after supporters pushed through a discharge petition to force a vote to reopen it.
"When you're in the majority, you do have the opportunity to work through the bill, add the amendments, make the changes," Rep. Gwen Moore, a Wisconsin Democrat, said Thursday. "We heard a lot of whining on the floor from the majority about their not having the ability to do that. Well, they were in charge and they didn't bring it to the committee, where there clearly was a majority that wanted to work with it. That was a lost opportunity that they had to make changes."
But conservatives said pushing for reforms was never a viable option, noting that the amendments they introduced when the bill eventually came to the floor were defeated with near-unanimous Democratic opposition. And Hensarling has noted that the majority of Republicans on his committee opposed any efforts to reauthorize Ex-Im, precluding him from seeking changes to the bank as part of a deal. "Given that nearly all Democrats and about half the Republicans support Ex-Im, I didn't expect to win this round of the fight, but I certainly wasn't going to back away from it," he said in a statement. "This was an important debate to have."
"I know if I was the CEO of a Fortune 50 corporation, I would think twice before building my long-term business plan on Ex-Im," Hensarling added.
Asked whether conservatives should have sought reforms instead of closing the bank for a few months, Heritage Action spokesman Dan Holler said there were "no reforms worth pursuing." With major corporations like Boeing and General Electric pushing aggressive lobbying campaigns in favor of the bank, Holler said, there was no opportunity for conservatives to sneak a "poison pill" amendment into the authorization that would have gone unnoticed by proponents. "From the perspective of, was it the right fight to hold the line on [ending the bank's] authorization? Absolutely," Holler said.
Ultimately, bank opponents' efforts were undermined by members of their own party. Republican Rep. Stephen Fincher of Tennessee used a rarely-invoked procedural measure in October to force a vote on Ex-Im. When he gained the support of 61 colleagues and the tacit approval of outgoing House Speaker John Boehner, the bank was on the path to reauthorization. Several House Democrats on Thursday pointed to Boehner's implicit backing as a key factor in their win, with Rep. Maxine Waters noting that the former speaker "more than once" gave her "a wink and a nod" indicating "that he was behind it and he was going to do everything that he could."
Boehner publicly backed Hensarling, saying he would support whatever the Financial Services chairman could get through his committee, but also warned that "thousands of jobs" would be lost if the chairman allowed the bank's authority to expire without at least offering a plan to wind it down. After Boehner announced his retirement and it became clear that Hensarling was not going to reach a deal with Fincher, the former speaker gave implicit consent to bank proponents to move forward with the discharge petition.
"There is no doubt in my mind John Boehner was an important part of facilitating the willingness of Mr. Fincher and [Rep. Frank] Lucas to initiate that [discharge] provision. ... There is no doubt Speaker Boehner was an important ally in getting this done," House Minority Whip Steny Hoyer said.
But Boehner is now gone, and he's left behind a leadership team that unanimously opposes the Export-Import Bank. Even as conservative members and outside groups face another five years of a chartered Export-Import Bank, and a large enough cadre of Republicans who support it, opponents are hopeful. While they may have lost the battle, they argue, small victories along the way are preparing them to win the war further down the line.
The Export-Import Bank was hardly an issue for most members, Republican or Democrat, before 2012 when conservative groups began targeting it. Now, they have the backing of the speaker of the House, the leader of the Senate, a growing number of Republican members and, almost certainly, the Republican presidential nominee in 2016. If elected, that candidate would occupy the White House when Ex-Im comes up for another authorization in 2019.
Conservatives believe the momentum is in their direction. Ex-Im "shut down for the first time in its 80-year history," Holler said. "… There was a 2012 reauthorization that us and the Club [for Growth] were really engaged in and that for the first time in a couple of decades brought Ex-Im back to a point of contention."
Closing the bank for good in 2019, or whenever the opportunity arises, won't be a major coup that will save the country, Holler noted. It's a small-ball change compared to the larger issues facing the nation and will hardly be noticed by voters, many of whom have never even heard of the Export-Import Bank. But shutting down Ex-Im is part of a larger messaging strategy, one that will—with other, future legislative victories, they hope—help the party to reform its image and tap into voters' antipathy for what they see as extreme federal measures to benefit large and wealthy corporations.
"What it would have been and will be in the future is a [statement] by the Republican Party that they're willing to change, they're willing to take on Wall Street and take on big business," Holler said, giddy at the possibility of a debate between a Republican presidential nominee talking about opposing corporate welfare and former Secretary of State Hillary Clinton, who supports the bank.
Five years is a long time to wait, but conservative groups say they'll stay focused on Ex-Im. "We're going to keep an eye on it [and] make sure all the lessons that have been learned over the last three years aren't forgotten," Holler said.
This article has been updated.
---
Alex Brown and Daniel Newhauser contributed to this article