How Asking About Their Needs Connects People in Houston
By mining the local talent and workforce, one non-profit is linking hundreds of thousands to jobs and opportunities.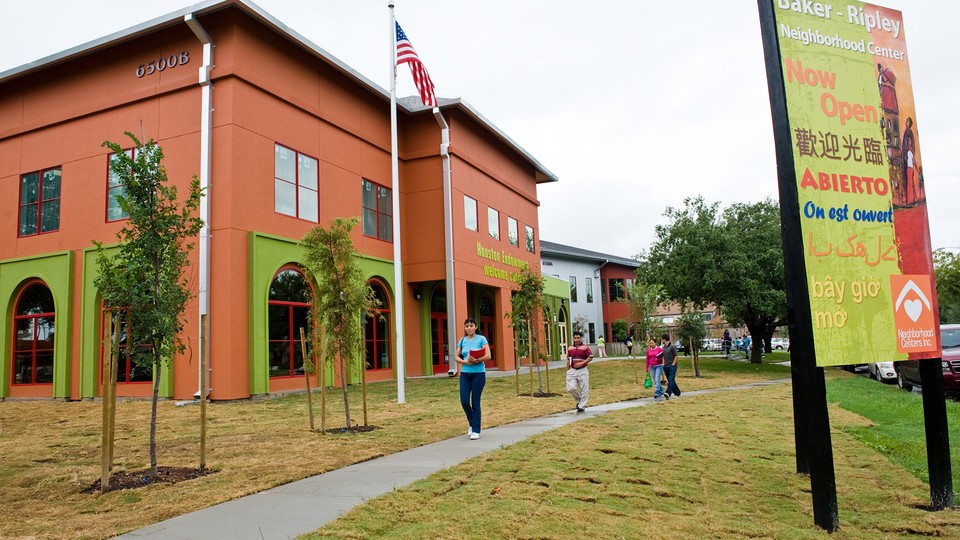 HOUSTON, TX--Ammi Arevalo, 28, knows exactly how the newly arrived immigrants in the "Ellis Island of Houston" feel.
When she arrived in the Gulfton neighborhood from El Salvador with her parents and brother at age 14, Arevalo wasn't sure where she fit in. Everything was new and different. But then she and her family found what would evolve into a community gathering place for immigrants and others in this densely populated pocket southwest of downtown.
The Baker-Ripley Neighborhood Center's main entryway exudes a cozy living room vibe and the playground out front beckons to children. Inside the sprawling campus that has become something of a hub for Gulfton families, a charter school offers newly arrived youngsters their first taste of the American school system. A credit union helps immigrants with little experience navigate the financial system, open checking accounts and navigate online banking. The center runs a host of classes--citizenship, English, computer literacy and healthy cooking among them--for adults.
Baker-Ripley is run by Neighborhood Centers, a behemoth of a nonprofit that serves nearly 600,000 Texans annually at 70 sites across 60 counties. Twenty-five miles east, at its Cleveland-Ripley community center in the working-class, heavily Latino city of Pasadena, people take homebuyer training, parenting and GED classes. Recently, community members created a bullying support group.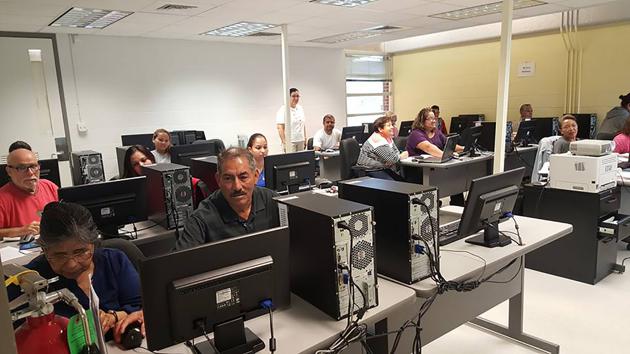 The center's offerings, and even look and feel, are different from Baker-Ripley. That's because Neighborhood Centers operates under the premise that different communities have different needs, and the only way to address them is by asking, involving and empowering the people they serve. "Neighborhood Centers goes where we are invited to go, and we do what we are asked to do," reads the group's website. The idea is to figure out what works and how to build on it, not to look for problems, a somewhat unique mission in the nonprofit world.
Angela Blanchard, an elegant, straight-talking force of nature in this part of the world, has been at the helm of the organization for the past two decades. Under her direction, Neighborhood Centers' annual budget has swelled to $260 million, placing it in the top one percent of nonprofits nationwide. Blanchard has spoken in places as distant as Australia about the organization's model, one that recognizes the rapid demographic shift taking place in cities like Houston, and sees immigrants and long-time residents alike as human capital to be leveraged in a positive way.
"Despair is very expensive," she said over dinner one evening at a quiet restaurant in the trendy Montrose neighborhood during a candid conversation peppered with delightfully unexpected but expertly employed swear words.
She both recognizes and relishes the fact that, as the Brookings Institution has noted, "Houston is America on demographic fast-forward." According to the Migration Policy Institute, 1.4 million of the Houston metro area's 6.3 million residents were foreign born, up 60 percent from 2000. Between 2000 and 2013, the immigrant population grew by 59 percent, compared with just 33 percent nationally. Nearly half of all people in the area speak a language other than English at home. While unemployment is relatively low, poverty remains relatively high. Blanchard said that means many people, particularly immigrants, are underemployed and could benefit from the types of workforce training Neighborhood Centers offers as a path to wider, more lucrative, career possibilities.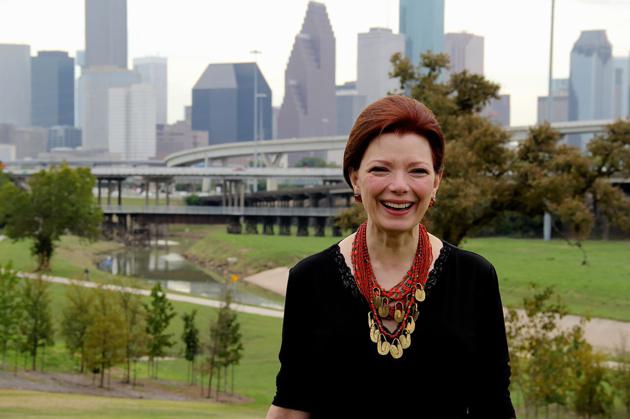 But connecting people with opportunities in this sprawling landscape can be challenging, particularly when it comes to mobilizing oil companies and other corporations that desperately need workers but have been slow to recognize the talent pool in their backyards, and Texas politicians, who have been reluctant to embrace immigrant-friendly policies.
"The people in those industries have no idea those kids are their workers," she said.
That companies don't recognize that concept might discourage outsiders, but it doesn't phase Blanchard, a born-and-bred Southerner with decades of experience navigating the web of contradictions that is Houston.
"People will pay for what they won't vote for," she said. Generous donations will pour in to help refugees or undocumented immigrants, for instance, but there's a general distrust when it comes to federal involvement. "We're some odd thing where the South meets the West," she said, alluding to a mix of innovation coupled with a deep disdain for government meddling.
Blanchard takes the support she can get, financial and otherwise, and finds ways to connect the dots--to offer assistance and to match communities with other service providers, big and small, that meet their needs where appropriate.
Neighborhood Centers operates with a mix of federal, state and local dollars, both public and private. It partners with companies and foundations to offer a "flea market of many services," as Margie Pena, the director of the Cleveland-Ripley center, put it. Pena's mother enrolled her in the organization's child care program as a toddler and she worked at the Ripley House center as a teen. That's not uncommon. The organization is a trusted one in Houston, and prides itself on serving multiple generations of families.
It has helped multiple generations of Arevalo's family earn the education they needed to achieve their own version of the American Dream. Her father took baking classes at Baker-Ripley and now works as a pastry chef. She runs the center's on-site cafe, a full-time job that recently saw her dishing out chicken, feta and strawberry wraps to visitors who approached the counter. She found herself at the helm after taking an entrepreneurship course at the center and winning a business incubator competition.
Baker-Ripley, Arevalo said, "is my second home, it's my second family." Her wedding reception took place in the gym on-site. "[Life] would be so much harder if we didn't have this place."
As more people make their way to Houston in search of economic opportunity and the demographics continue to evolve, Neighborhood Centers hopes to continue finding ways to connect residents with the education and resources they need to take advantage of the opportunities that exist in this booming port city. How exactly they do that will depend entirely on what each community says it wants.
This is the third in a series of stor­ies on edu­ca­tion and the work­force in the Hou­s­ton re­gion. Check back for more stor­ies on or­gan­iz­a­tions work­ing to in­crease eco­nom­ic op­por­tun­ity for res­id­ents in the area and on how schools are re­struc­tur­ing cur­riculum to align with the area's work­force needs.