How American Muslims Counter ISIS 'Groomers'
Growing violent extremism in the United States has made Muslim-Americans vigilant in their own communities.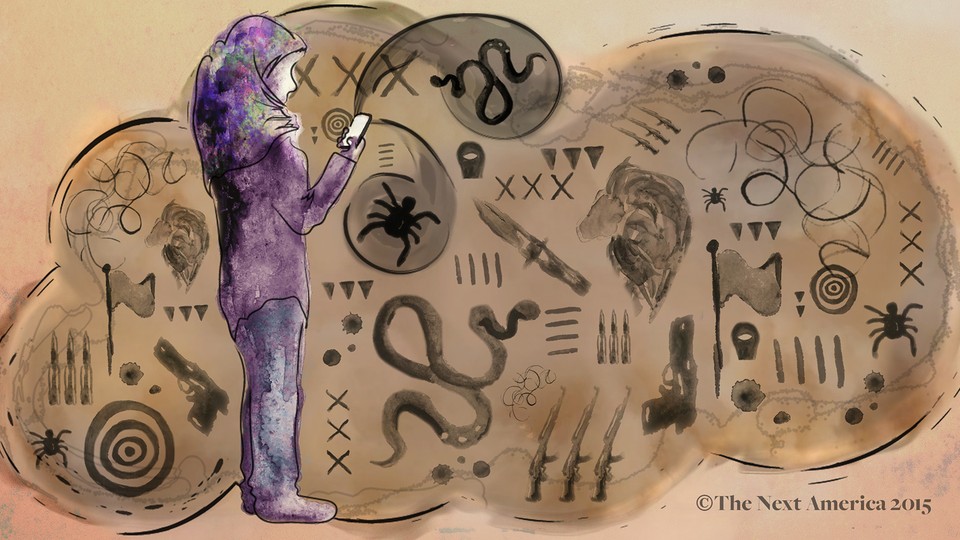 Humera Khan scours Twitter, Facebook, and Tumblr for familiar words. Phrases like: "They are animals" or "it's us versus them" or "war on Islam."
Khan is following the Islamic State's electronic trail. The extremist group's grooming process usually starts with political messages, then it turns religious, she says. These are ISIS tactics used by recruiters around the world to brainwash young people into embracing radical, violent interpretations of Islam—ones that demonize nonbelievers and victimize Muslims.
"They use hate speech. They increase the anger level. Once you are angry, people seem to think less clearly," says Khan, a national security strategist with four degrees from MIT.
The Pakistani-American woman works from her Washington office at Muflehun, a think tank she founded in 2010 to combat violent extremism. First, the work focused mostly on al-Qaida, now it's all about the Islamic State. In the past year-and-a-half, ISIS has reached American recruits at a faster pace than al-Qaida ever did.
During a Sunday evening address from the Oval Office, President Obama outlined his military plan to defeat ISIS. He also emphasized that Muslim communities are allies in the fight, and encouraged the country not to retaliate against them.
"That does not mean denying the fact that an extremist ideology has spread within some Muslim communities. This is a real problem that Muslims must confront, without excuse," Obama said. He also called on Muslim-American leaders to speak out against Islamic views that do not promote tolerance and human dignity.
Khan is one of a handful of Muslim-Americans who are working to stop ISIS from recruiting young Americans, not just Muslims. She works mostly online, but also offline, hosting training for imams and community leaders around the country. She shows mosque leaders how to spot youth at risk of being radicalized.
She recently held a workshop for 100 teens in Northern Virginia to teach them the difference between Islamic theology and terrorist ideology. Usually, it is the youth who don't go to mosque regularly or study the Quran closely who are most likely to be brainwashed, she says.
"If young people knew more about [Islamic] values, they would know when they are being manipulated," says Khan.
The ISIS reach in Western countries has sparked international concern after recent terrorist attacks in Paris and California. The Pakistani woman who orchestrated the shootings in San Bernardino last week with her husband had pledged support on Facebook to ISIS leader Abu Bakr al-Baghdadi.
Experts on violent extremism are raising the alarm over the influence of ISIS here in the United States. About 250 Americans have traveled or tried to travel to Syria or Iraq to join ISIS fighters as of November, according to Lorenzo Vidino, director of the Program on Extremism at George Washington University.
His staff has spent the past six months combing through FBI court files and monitoring social media to understand the appeal of the terrorist group here in America. One thing they discovered is that Americans who join ISIS come from all backgrounds.
"The diversity is incredible," Vidino says. "We see Caucasians, Latinos, African-Americans and Jews. It really defies any attempt to create a common profile. It makes it even more difficult to understand their motives."
People arrested this year in connection to the terrorist group include a white, teenage girl from suburban Denver who recently converted to Islam and a Cuban-American man from Miami.
Though the Islamic State has a much stronger influence in Europe, there are about 900 active investigations against ISIS sympathizers in all 50 American states, according to the George Washington University report. Most of them were "groomed" by ISIS supporters through social media networks such as Twitter and Instagram. And many embraced their radical interpretation of Islam as a way to find belonging and a sense of personal identity.
Federal prosecutors around the country have charged 71 people with ISIS-related activities since March 2014. Charges include attempting to support a known terrorist organization to plotting deadly attacks on U.S. soil. Most of the arrests have happened since January, making 2015 the year with the most terrorism-related arrests since September 2001.
"They are only the tip of the iceberg," said Seamus Hughes, deputy director of the Program on Extremism.
He recalls following one Midwestern woman on Twitter who recently converted to Islam and was trying to find out more about the religion online. ISIS supporters recognized her naiveté and in a matter of weeks he "saw her fall into their trap."
"If we have 1,000 people who do adopt this ideology ... not all these individuals will take the leap. But how do you know who is all talk and who will do something dangerous? Monitoring all these people is very complicated. We cannot arrest our way out of this problem," Hughes says.
The influence of ISIS in the Western world began escalating rapidly in June 2014, when the group announced it was creating a caliphate in Iraq and Syria. ISIS recruiters began ramping up social-media efforts to encourage people to move to this new Islamic empire that doesn't recognize borders or nationalities. People who can't make the trip are encouraged to continue the fight in their own communities.
In their homes, neighborhoods, and mosques, Muslims have started their own outreach to counter the spread of ISIS. Imam Makhdoom Zia leads weekly prayer for hundreds of young Muslims each Friday in Northern Virginia. They meet in a banquet hall in Alexandria as part of his organization, Make Space. The idea is to have a more open and inviting place for Muslim-Americans who feel disconnected from their local mosque. About 300 to 400 people lay their prayer mats each Friday facing Mecca.
Zia keeps a close watch on the social media chatter in his circle of congregants, friends and family. Luckily, he has never had to deal directly with anyone showing signs of radicalization, but he constantly talks to his community about the importance of discussing Islamic theology with children, so they are less susceptible to brainwashing.
"We want to get to them before other people get to them," Zia says. "This kind of ideology and this twisted understanding of Islam is not what most Muslim-Americans are about. It's basically a false version of Islam available on the internet. But it constantly keeps us up at night and is a big concern for us."