How a Customs Bill Ignited a Fight Over Climate Change
Despite changes, a key Democrat says the bill would block climate work.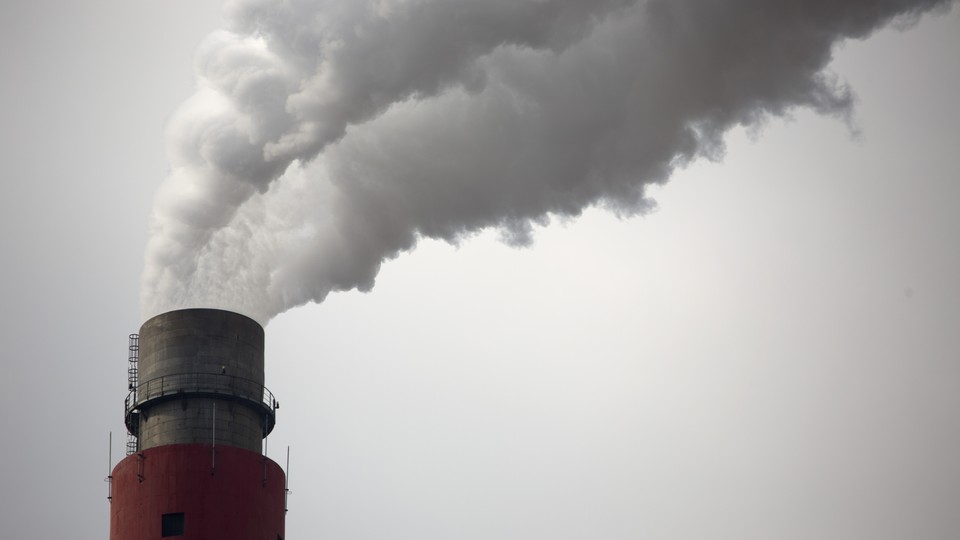 A key Democratic lawmaker says that a bipartisan, bicameral agreement on a customs bill still contains language that would block the U.S. from using trade pacts to cut back on greenhouse-gas emissions—and he's urging other Democrats to block the bill over the issue.
House and Senate lawmakers this week unveiled a deal on the customs bill, which would reauthorize U.S. Customs and Border Protection and set policy on trade agreements at the border. The bill is set for a House vote on Friday.
Democrats and environmentalists had balked at the original House version of the bill, in part because of an amendment that would have barred any trade deals that required the U.S. to make any new obligations to fight global warming.
Republicans inserted the language over concerns that the White House would use fast-track trade powers to jam through new climate deals, but environmentalists warned it would put a freeze on the U.S. climate negotiations.
The conference report softened that language. Rather than climate change, it now refers only to "greenhouse gas emissions" (still the largest part of climate policy) and it authorizes the U.S. Trade Representative to keep working on greenhouse-gas policy if that's the main objective of the talks.
A Senate aide said the measure would not block negotiators from reaching a greenhouse-gas emissions cap.
But Rep. Sander Levin, the top Democrat on the Ways and Means Committee, said that even softened, the language is a nonstarter for him, and should be for the rest of the caucus.
"The whole purpose of it was to tie the hands of our negotiators on climate change," Levin said. "If it doesn't have much of an impact, it wouldn't be there."
Levin distributed a brief to members urging them to vote no and raising several objections to the bill, including what he called "meaningless" language on currency manipulation and a provision he said would weaken tools to address human trafficking. As for the climate language, Levin wrote that it would "prevent us from negotiating provisions like common fuel efficiency standards—a very real possibility in our ongoing negotiations with Europe right now—even if the common standard is good for both the environment and for our automakers who may prefer to build to one standard instead of two."
Only 12 Democrats voted for the original bill (in contrast, the Senate version, which didn't have climate language, passed 80-20 in May) and Levin said that his caucus remained "overwhelmingly" opposed.
On the Senate side, Democrat Ron Wyden, ranking member on the Finance Committee, and Democrat Debbie Stabenow both signed off on the bill. A Senate aide said that the climate provision wouldn't go as far as Levin warned.
The original climate amendment was inserted into the House customs bill as an olive branch to House Republicans amid fears about fast-track trade authority. Rep. David McKinley of West Virginia, for example, had warned that such authority could allow President Obama to "man­date a re­duc­tion in the use of nat­ur­al gas and coal at home and abroad, im­ple­ment his con­tro­ver­sial cli­mate-change agenda, and im­pose rad­ic­al en­vir­on­ment­al­ist reg­u­la­tions."
Environmental groups, however, said the language was simply meant to block the U.S. from making any international progress on climate change. In a joint letter, several green groups wrote that it would "limit the United States' latitude to safeguard climate policies from trade attacks under existing and future trade agreements" and put a dent in climate language requested by the European Union in the Transatlantic Trade and Investment Partnership.
A spokeswoman for Rep. Jim Sensenbrenner, who requested the original language, said he would back the revised version. "He finds it acceptable because he received assurance from [U.S. Trade Representative Michael Froman] that the [Trade Promotion Authority] bill does not provide the administration any new authority to enter into climate-change agreements," said spokeswoman Nicole Tieman.
And despite assurances from Senate Democrats, Levin said he's still opposed. He alluded to the ongoing United Nations climate change talks in Paris and said he wasn't sure if the language would hamper U.S. action there. "It's not clear … and that's a problem," he said.
Likewise, environmental groups remain opposed.
"As the world negotiates an agreement for how to address climate change, the United States Congress is trying to explicitly exclude its consideration in trade agreements," said Friends of the Earth President Erich Pica. "President Obama needs to stop allowing trade to trump climate change. We ask President Obama to make it clear that he will veto this legislation if it comes to his desk."