House Republicans at a Crossroads as Trump-Mania Continues
Those who represent the most racially diverse swing districts have a choice: Push back on Donald Trump's divisive rhetoric, or keep quiet and wait for this to wash over.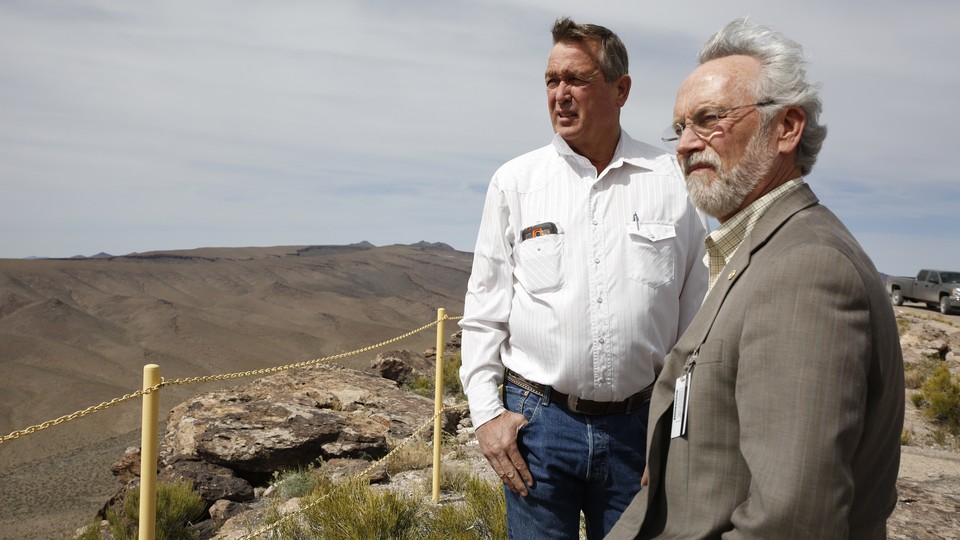 Some of the most vulnerable Republicans in Congress ducked when asked about the most controversial major figure in the party today: Donald Trump.
A National Journal survey of eight members from racially diverse and Democratic-leaning districts—including one Senate candidate—resulted in just a trio of House freshmen who took clear stances on the presidential candidate, whose polarizing rhetoric has simultaneously bolstered his own standing in the polls and endangered certain down-ballot Republicans.
Already facing challenging races, these members are now in a tough spot: Do they push back against the Republican poll-leader, crafting a moderate profile but alienating potential supporters? Do they embrace him and his supporters? Or do they keep quiet and hope the national focus on Trump ends before they have to answer for their party's loudest voice?
The three who took a clear side were split: Rep. Cresent Hardy of Nevada said he would support Trump if he were the Republican nominee, while Reps. Robert Dold of Illinois and Carlos Curbelo of Florida said they would not.
"I'm a Republican first," Hardy said, clarifying that he hasn't decided which candidate he'll support in the primaries. "I am going to support the Republican nominee, because I believe that that nominee is going to be by far—not just a little bit, by far—better than the alternative."
Curbelo and Dold went the other way.
Unlike most Republicans, Curbelo hasn't held back his criticism of Trump. In July, he speculated the real estate mogul was actually a Democratic plant, citing Trump's friendship with the Clintons. He repeated that claim in an interview with National Journal in which he called Trump a "fraud," an "opportunist," a "farce," a "clown," a "liar," and "an embarrassment to our country," all in less than 10 minutes.
"No, no way," Curbelo said when asked if he would support Trump as the nominee. "He's not going to win the nomination, and if he did I wouldn't support him. I wouldn't support the Democratic nominee, either. But I would certainly not support Donald Trump."
Dold's office declined a request for an interview, but his campaign spokesman offered a statement making the congressman's position clear.
"Congressman Dold believes Donald Trump's disgusting and offensive comments toward Hispanics, veterans, women, Muslims—the list goes on—disqualify him from holding the office of President of the United States," Dold campaign spokesman Brad Stewart said in an email. "Congressman Dold does not and will not support Donald Trump's candidacy for President."
Most of their Republican colleagues haven't been so explicit: After Trump's anti-Muslim proposal, Rep. Mike Coffman of Colorado released a statement saying he aims to "represent all of the citizens of my district," but didn't specifically address Trump. His office declined an interview request, and when reached at the Capitol, Coffman said, "Call my office," before ducking into the House chamber.
Coffman endorsed Sen. Marco Rubio in the primary, but he told Roll Call he was "not going to go there" when asked if he would support Trump as the nominee.
Rep. Steve Knight's office also declined an interview request, and said the California Republican will not comment on the presidential race at all until next year. Rep. Barbara Comstock of Virginia said in a radio interview that Trump's proposal was "unconstitutional" and "un-American." But her office declined an interview request and did not answer whether she would support Trump as the nominee.
Rep. Will Hurd's office also did not respond when asked if he would support Trump as the nominee. The Texas Republican, a former CIA agent who serves on the Homeland Security Committee, has called Trump's emphasis on building a wall on the Mexico border "the most expensive way to do border security, and it's the least effective." Still, despite representing a 71-percent Hispanic district, Hurd hasn't offered a Curbelo-like rebuttal to Trump.
These candidates represent the frontlines of Democrats' attempts to chip away at a historic House Republican majority. Curbelo is running for reelection in a newly drawn district that President Obama would have carried with 55 percent of the vote in 2012. Obama won Coffman's district with 52 percent, and Mitt Romney carried Knight's, Comstock's, and Hurd's districts with less than 52 percent.
In general, swing-district Republicans have laid low on Trump, and Florida-based GOP consultant Rick Wilson, who recently launched an anti-Trump super PAC called Make America Awesome, said that's probably a good idea.
"Can you blame them? It's a distasteful subject. It's Donald Trump, for Christ's sake," he said, adding that if he worked or any of these candidates he would "walk them around" the question of whether they would support Trump as the nominee, shifting the focus toward whomever they support in the primaries.
While Hardy stands with Trump more than other swing-district Republicans, and certainly more than Curbelo and Dold, his own language about sensitive policy issues sounds more like that of former Florida Gov. Jeb Bush. Hardy represents a district in which non-Hispanic whites constitute just 48 percent of the population, and where Obama won with 54 percent of the vote in 2012.
In an interview with National Journal, Hardy walked the fine line down-ballot Republicans face when discussing Trump. He called for immigration laws that address undocumented immigrants "in a compassionate manner, that protects the family unit, the individuals that [have] tried to be a good individual in the country that maybe didn't come here in the right way."
He also touted a Hispanic Heritage Summit he hosted in October in conjunction with the Latin Chamber of Commerce and other organizations. And after Trump called to block Muslims from entering the U.S., Hardy released a statement saying the proposal "would disgrace some of our deepest held values, including freedom of religion."
Still, Hardy and many other Republicans have been careful to distance themselves from Trump while embracing the concerns of Trump's supporters.
"His tone doesn't bother me," Hardy said, "because I believe that these are concerns people have. He's speaking the truth. He's touching base with so many people on their concerns."
Hardy isn't the only one threading that needle. Rep. David Jolly, who is running for Sen. Marco Rubio's seat in Florida, quickly called on Trump to drop out of the presidential race after he suggested barring all Muslims from entering the U.S. Since pushing back, Jolly has painted himself as a Trump-like straight-talker.
"The safe course politically, as you see from everybody else, is to say nothing," Jolly told National Journal. "I joke that Trump and I actually have something in common: We both call it like we see it and we're not afraid to speak our minds." The congressman sent a fundraising email using similar language.
Jolly added that Trump's popularity "represents the deep frustration of the American people, and I think all candidates should recognize that."
Despite claiming to call it as he sees it, Jolly would not say whether he would support Trump as the nominee. "I'm not expecting Trump to be the nominee. So ask me after the convention," he said, adding that he supports Jeb Bush in the primaries.
The electoral consequences of a Trump nomination, Jolly acknowledged, would be bad: Democrats would win the White House and Senate, and Republicans' House majority would be threatened. But Jolly is holding out hope Trump could be reformed.
"If he is our nominee," Jolly said, "maybe he will recognize that he needs to be a leader that unites the country, and not [who] seeks to get elected by dividing a party and dividing a country."