Hillary Clinton Links Guns, Terrorism in Security Address
"Terrorists use guns to kill Americans, and I think we should make it harder for them to do that ever again."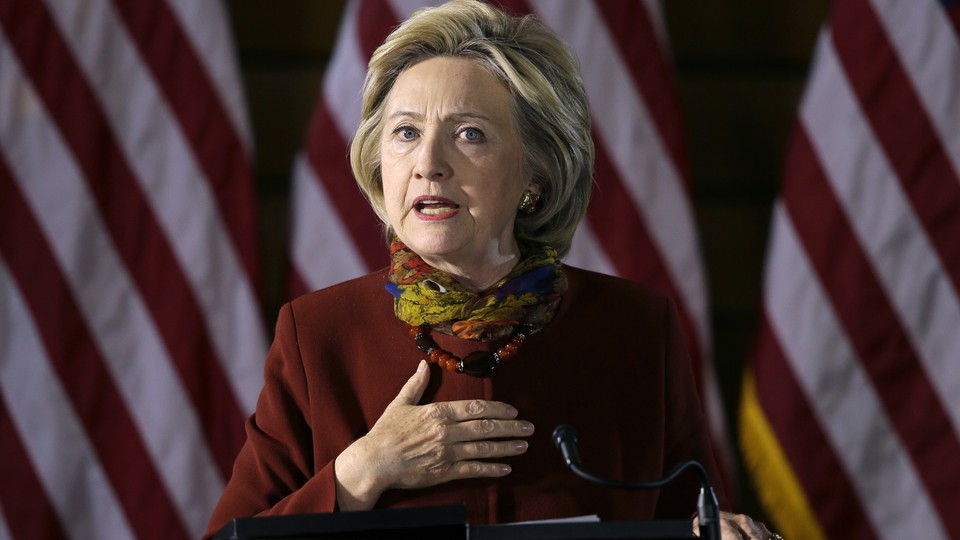 After the San Bernardino attacks, Democrats were eager to talk about gun policy. Republicans were eager to discuss domestic terrorism. Hillary Clinton wants to combine the two topics into one conversation.
At a counterterrorism speech in Minneapolis Tuesday, Clinton criticized Republicans for refusing to make a connection between accessible guns and terrorist attacks.
"I know that this will drive some of our Republican friends a little crazy. … They will say that guns are a totally separate issue, they have nothing to do with terrorism," Clinton said. "Well, I have news for them: Terrorists use guns to kill Americans, and I think we should make it harder for them to do that ever again."
The former secretary of State also called for banning people on the no-fly list from purchasing guns in the United States, saying, "If you are too dangerous to fly, you are too dangerous to buy a gun—period."
The comments on gun control came as part of Clinton's five-part plan to fight homegrown terrorism and radicalization. That plan, she said, involves working to shut down ISIS's recruitment in the United States, particularly online; stopping potential terrorists from training overseas and returning to the United States; improving intelligence coordination to discover terrorist plots before they happen; supporting and training local law enforcement to deal with threats; and engaging the Muslim-American community in the process.
In describing the role of the president of the United States, Clinton said it's largely about keeping Americans safe—from all threats, whatever form they take. "You see, I have this old-fashioned idea that we elect a president in part, in large part, to keep us safe: from terrorists, from gun violence … from whatever threatens our communities," she said.
The debate comes amid a messaging struggle between Clinton's campaign and Republicans in the wake of terror attacks in Paris and San Bernardino.
Republicans have blamed decisions made by President Obama and former Secretary of State Clinton for ISIS's rise. Democrats, meanwhile, have accused Republicans of lacking serious plans to deal with the group—as well as highlighting anti-Muslim comments made by Donald Trump.
It's a high-stakes fight. There has been a stark increase in the number of voters who say terrorism and national security top their list of issues in the 2016 campaign, even just in the last few weeks. A Gallup survey released Monday found that the percentage of American adults who name terrorism as the most important issue facing the country has risen from 3 percent in November to 16 percent in December—an exponential increase over the course of just one month. It's now at its highest point since 2005, per Gallup data.