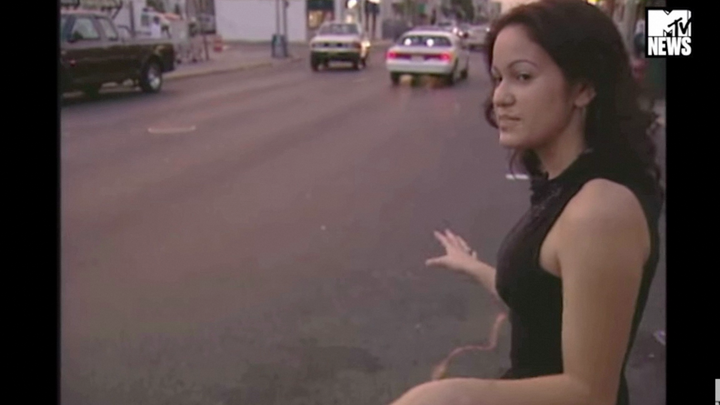 A recently released video from MTV News adds greater doubt to Donald Trump's claims that people were cheering in the streets after the terror attacks of 9/11. 
Emily, who goes only by her first name in the clip, was interviewed in her home town of Patterson, New Jersey, soon after the terror attacks. Leading the camera crew down the street, Emily described what she believed at the time to be celebrations on the night of Sept. 11.
"I noticed they were holding rocks and sticks and saying 'Burn, America,'" Emily said in the video. She then pointed out various signs of physical destruction, such as chips on steps and a railing in front of a school, that she attributed to revelers. 
Today, Emily no longer claims that was the case. 
Interviewed again on Nov. 25, Emily described a group of rambunctious children acting out from boredom and couldn't remember hearing chants of "Burn, America."
"What I saw that night was not any different from what would've happened on any other summer night," she said. 
Not referring to Trump by name, Emily denounces the claims made by the Republican presidential front-runner as completely false. 
Since initially alleging that he saw celebrations of 9/11 in Jersey City, Trump has refused to back down from his claims, despite a lack of concrete visual evidence, which he attributes to poor technology from the time. In an interview Sunday on Meet the Press, Trump assured that his campaign team is searching for further evidence, saying, "We're looking for other articles. And we're looking for other clips. And I wouldn't be surprised if we found them … but for some reason, they're not that easy to come by."
We want to hear what you think about this article. Submit a letter to the editor or write to letters@theatlantic.com.
Sarah Gibbens is a producer on National Journal's audience development team. She previously worked as a digital media fellow at The Podesta Group and as a writer for San Antonio-based newspaper The Rivard Report. Sarah graduated from the University of Texas at San Antonio where she was the editor-in-chief of the independent student newspaper, The Paisano.