Harris County Jails Prove Impervious to Reform
Years after a federal investigation documented abuses in Houston-area lockups, a newspaper report finds that little has changed.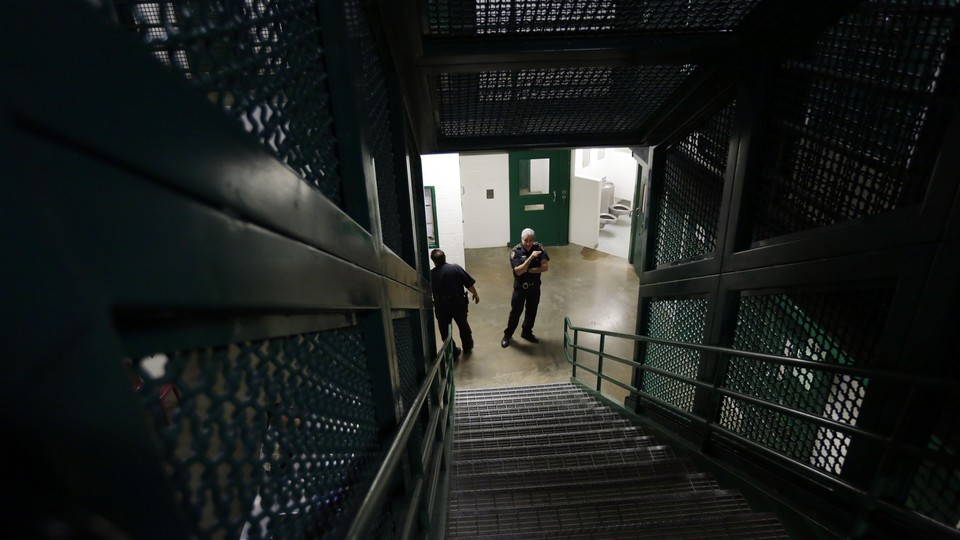 Earlier this year, Lasswon Shannon, a 28-year-old jail guard, was putting a mentally ill inmate into a padded cell when an altercation occurred. The guard told superiors that the inmate spat on him, prompting him to reassert control of the situation by pinning the man against the wall with his forearm and taking him to the ground.
Normally, an inmate like Akrem Azzam could not have disproved that narrative. But in this case, video-surveillance footage exposed the jail guard's lies. As it turns out, Shannon shut the door on the inmate, saw the incarcerated man spit toward him, and then reentered the cell. Then he punched the inmate in the face until he hit the ground. In reporting the altercation, he denied punching the inmate at all. "This case illustrates the importance of having a video when complaints are made against law-enforcement officials," a prosecutor told the Houston Chronicle, who quoted him in its impressive series of articles on the jail. "We could not have proven this particular case without the video to disprove the justification given by the jailer."
The incident is one of many that illustrates the need for pervasive video surveillance in America's jails and prisons, where the abuse of inmates is an epidemic. And it provides context for jail altercations in Harris County, Texas, where there is no video evidence. Roughly 10,000 inmates are in the county's jail system on a given day. There are honest guards who use legitimate force against inmates who are literally attacking them. But there's also a lot of inmate abuse, and the status quo makes inmates unacceptably vulnerable to being victimized—especially since inmates have reason to suspect that complaining about the guards' brutality may result in their being charged with crimes themselves.
Here's how the newspaper put it in one article:
... a Houston Chronicle investigation has found misuse of force by staff against inmates is prevalent and hard to prove, especially when jail staff file charges against inmates in altercations during which their own actions have been called into question. Between 2009 and May of this year, the Harris County Sheriff's office has pursued charges more than 900 times against inmates for harassment, assault and other crimes against public servants stemming from incidents within the jail, according to court records.

With the U.S. Department of Justice's Civil Rights Division continuing its review of excessive force by jail staff and pursuing an "ongoing law enforcement proceeding" in the jail, the Chronicle found that jail staff members have been disciplined in more than 120 incidents for misuse of force and other abuses of authority since 2009, records show. Several of those disciplined have been involved in dozens of inmate prosecutions.
These oft-disciplined guards are demonstrably untrustworthy. Yet their word is good enough to convict men of jailable offenses. Grave injustices are surely a result. The newspaper investigation noted other cases of video contradicting the narrative of jail guards. And it found "14 Harris County deputies and sergeants with disciplinary histories related to use of force incidents who filed charges in 50 separate cases in which inmates were charged with crimes against jail staff since 2009."
Keep that year in mind.
The series also found "eight cases in which inmates were choked, punched or kicked by detention officers and then ended up facing felony charges for alleged crimes against staff members, even though jailers were later disciplined for misconduct in connection with the same incidents." And it reported that since 2009, "fifty-five inmates died in the jail while awaiting adjudication," never receiving the day in court that is their constitutional right. The jail system has failed to prevent suicides, too, sometimes due to breaches in protocol that violate federal law.
Summing up the status quo in Harris County, the criminal-justice blog Grits for Breakfast wrote:
If you're too poor to post bond in Houston, your bail hearing will be a joke, with no lawyer to represent or speak up for you. You might get sick in jail or be beaten by a guard then convicted of a felony for assaulting him. Even if you're innocent. And if despair overtakes you and you attempt suicide, maybe no one will be there to stop you; perhaps they'll even falsify records to cover up their negligence.
It would be comforting to think that this jail system's problems are due to the myopia of local leaders, and that the revelation of these serious problems will directly lead to improvements.
But this same jail system was investigated by the Department of Justice back in 2009. And numerous shortcomings were documented in a formal report. The findings are here.
This one seems particularly relevant:
Jail policy does not clearly require the individual using force to file a use of force report; nor does Jail policy provide for routine, systematic collection of witness statements. When supervisors review use of force incidents, they do not have ready access to important evidence. Instead, they appear to rely excessively on officer statements to determine what happened during an incident. While Jail staff were helpful and willing to assemble use of force documents requested by our review team, we found it troubling that the Jail did not collect such documents as a matter of course. In other words, use of force occurs at the Jail without adequate review, and Jail data regarding use of force levels cannot be considered reliable. We believe that the incidents noted during our review may only reflect part of what is really occurring within the facility.  
Despite being put on notice, jail administrators abjectly failed to bring the system up to acceptable standards. Local officials failed to provide adequate funding and oversight. And innocents have almost certainly suffered irreparable harms to life and liberty as a result of these failures. For them, there will be no happy ending.