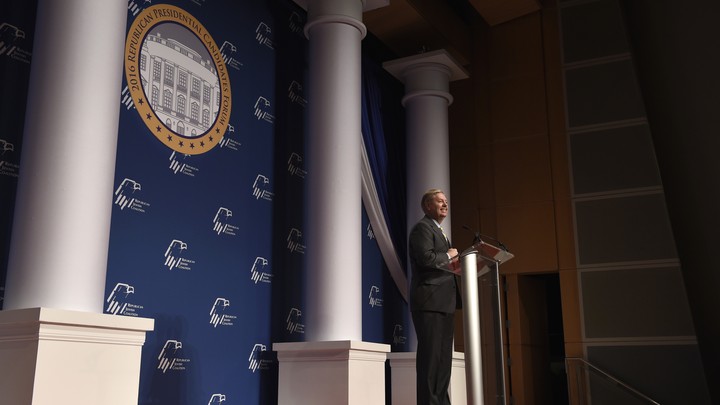 Lindsey Graham's quixotic presidential campaign has focused almost exclusively on foreign policy. So in the wake of recent terrorist attacks abroad, Thursday's Republican Jewish Coalition forum seemed like an ideal opportunity for the senator from South Carolina to home in on that topic again.
But Graham decided to call an audible. Instead, he opened his speech Thursday morning by ripping into the campaign-trail rhetoric coming from his GOP rivals—particularly Donald Trump and the rising Ted Cruz—on immigration and abortion that he warned would harm the party's chances to win back the White House.
Graham, who took the stage after Cruz opened the RJC forum, said he wanted to "take issue" with some of his fellow senator's positions. He started with illegal immigration, after Cruz pledged to secure the border and stop the flow of undocumented immigrants into the U.S.
"How many of you believe we're losing elections because we're not hard-ass enough on immigration?" he asked, to a smattering of applause. "Well, I disagree," he responded.
Graham went on to say it is time to repair the damage Republicans have caused with Hispanic voters thanks to "incredibly hateful rhetoric.
"I believe Donald Trump is destroying the Republican Party's chances to win an election that we can't afford to lose," Graham said, referring to the real estate mogul topping the polls, who has made a series of controversial statements about undocumented immigrants. 
Graham also criticized Cruz's earlier answer to a question on how he would win over voters who support abortion rights. Cruz said he would build a coalition by bringing in disaffected evangelical voters and blue-collar Democrats. That answer didn't satisfy Graham.
"If you're going to tell a woman who's been raped that she has to carry the child of her rapist, you're losing most Americans," Graham said. Both Cruz and another ascendant presidential candidate, Marco Rubio, oppose abortion exceptions. Graham is antiabortion, but favors exceptions for rape and incest. 
Eventually, Graham did move into foreign policy, though he acknowledged that by now, most RJC members know where he stands.  
"Not the speech you thought you were going to hear, huh?" he asked. "Not the speech I thought I was going to give."
We want to hear what you think about this article. Submit a letter to the editor or write to letters@theatlantic.com.
Adam Wollner is an analyst for National Journal Hotline. Previously, he covered politics as an intern for NPR and the Center for Public Integrity. A native Wisconsinite, Wollner graduated from the University of Wisconsin-Madison in 2013 with a bachelor degree in journalism and political science.