GOP Is Relying on Obama to Veto Reconciliation Bill
If this bill actually became law, the party—and health exchanges—would likely be thrown into chaos.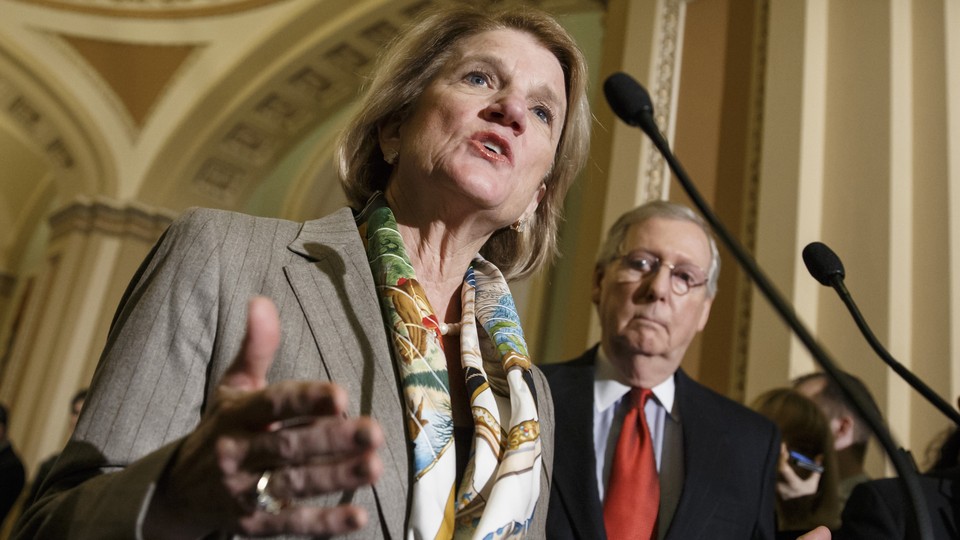 Senate Republicans have crafted an alternative to the House-passed reconciliation bill that guts an extensive list of Affordable Care Act provisions while continuing to strip Planned Parenthood of funding.
All along, it has been understood that the bill, being considered under a procedural tool called reconciliation that allows it to pass the upper chamber with only 51 votes, awaits a certain veto from President Obama.
The proof that Republicans are counting on an Obama veto? If he didn't, the GOP would not only be left with a largely unworkable health policy—they'd face steep political consequences for passing it.
"I think the policy is not relevant here. This is a message," said Dan Mendelson, CEO of the nonpartisan health care consulting firm Avalere Health. "No, it's not workable policy. One thing about the ACA is it's a patchwork. If you affect one thing, you affect everything."
One of the most controversial provisions in the reconciliation package repeals Obamacare's Medicaid expansion, but delays the repeal for two years to "give people in those states that have opted for Medicaid expansion the transition time and the ability to, in the interim, provide additional funds for unmet needs, but also then to come up with a better option than current Medicaid as it operates," Senate Majority Whip John Cornyn told reporters on Tuesday.
Several GOP senators represent states that have opted to expand Medicaid under the ACA, and stripping their constituents of health care coverage could be dangerous politically—but the president's veto threat assures that won't happen.
"Well, it's going to be vetoed," said Sen. Dean Heller, a Nevada Republican, when asked about the Medicaid provision. Nevada has expanded Medicaid.
Yet, a vote for reconciliation lets GOP members campaign on the fact that they voted to repeal major parts of Obamacare—that Congress did its part but ultimately it was the president who didn't sign the bill.
"The whole purpose of this was to give our members an opportunity—many of whom committed to their voters when they ran this year that they would do everything they could to repeal Obamacare—and so this is an opportunity for our members to be on record in favor of repealing and replacing Obamacare and put a bill on the president's desk that accomplishes that," Sen. John Thune, the Senate's No. 3 Republican, told reporters Monday night.
While a two-year phase-out of the Medicaid expansion gives those senators from expansion states some wiggle room, it's unclear what options are available as alternatives to provide health insurance to that newly-covered population.
"I have really no idea, when they say they're going to phase out the expansion, what that actually means," said Diane Rowland, executive vice president at the Kaiser Family Foundation. "You could obviously extend coverage on the marketplace … but that doesn't seem to be very popular on the Republican side of the aisle either."
The transition period was fought for by senators from expansion states, including Sen. Shelley Moore Capito of West Virginia. Capito said she will support the version of the bill that includes the two-year delay.
"I fought to make sure that we had some kind of transitional period for those, certainly in my state, that are on Medicaid, to have a transition," she said. "I've always advocated for a repeal and replace. Two years gives you time to work those out with the states."
Sen. John Hoeven of North Dakota, a state that has gone forward with Medicaid expansion, said that right now, under Obamacare, some states have received permission from the Centers for Medicare and Medicaid Services to create nontraditional Medicaid-expansion programs tailored to their state. "So that goes more in the direction that we want to go to, where there's coverage but you have the ability to have a state-led program," he said. "We think that would be more responsive and better for people."
CMS has approved waivers for seven states, four of which are currently operating, according to a Kaiser Family Foundation issue brief released Nov. 20.
It's unclear whether senators from expansion states will be punished at the polls if they vote for the bill and, by proxy, repeal Medicaid expansion, whether a two-year delay is built into it or not.
"It's too cute," Mendelson said of the delay. "I do think that a senator who votes against it is going to be justifiably pegged for repealing a low-income benefit, two years or not. What happens at the end of those two years?"
And not all senators feel comfortable voting for the repeal. "It does provide me with discomfort. I am very reluctant to take positions that counter the decisions made by the governor," said Sen. John McCain of Arizona. "As a federalist, I believe that it puts me in a difficult position."
The Senate version of the bill creates a host of policy problems as well. Unlike the House version, it repeals—after a two-year delay—the tax subsidies given to low-income people enrolled on exchanges created under the law. It tweaks the House repeals of the individual and employer mandates, instead nullifying them by making their penalties $0. It also ends, after two years, the authority given to the Department of Health and Human Services under Obamacare to operate federal exchanges in states that opted out of creating their own—which is a majority of states. However, it leaves in place other pieces of Obamacare, including the guarantee that those with preexisting conditions can get health insurance.
Mixing and matching provisions of the ACA that would be left in place all but ensures a catastrophe if the reconciliation bill were actually signed into law.
"There would be chaos in the insurance market if the individual mandate and premium subsidies were repealed but the ACA's insurance-market rules remained intact," said Larry Levitt, a senior vice president with Kaiser.
The Senate bill drew praise from the conservative Heritage Foundation, and a spokesperson for Sen. Mike Lee, who had previously railed against the House-passed version of the bill as being too limited in its repeal provisions, on Monday night said the senator was "very encouraged," particularly by the inclusion of the Medicaid-expansion repeal. Lee was joined in his opposition to the House-passed version of the bill by two presidential candidates, Sens. Marco Rubio and Ted Cruz. The potential of losing those three votes put the reconciliation bill at risk of not passing at all, as Republicans hold only 54 seats in the Senate and the bill needs 51 votes to pass.
On the other hand, the bill's inclusion of a provision defunding Planned Parenthood still makes it likely some moderate GOP senators—including Sens. Susan Collins, Mark Kirk, and Lisa Murkowski—will vote against it.
It also repeals multiple ACA taxes, including the House version's repeal of the Cadillac and medical-device taxes. Unlike the House bill, it targets provisions—the reinsurance, risk-corridor, and risk-adjustment programs—included in the health care law to create stability on exchanges.
Republican leadership had to rework the House bill to ensure it was in compliance with Senate rules regarding reconciliation. They also expanded upon the House bill, at least in part to meet conservative demands.
"The consequences of what might happen if this bill becomes a law are perhaps less on the table right now than the need to have provisions that enable them to get the votes to get it passed," Rowland said.
---
Alex Rogers and Rachel Roubein contributed to this article