GOP Debate Stokes Fears and Prejudices
Jeb Bush and Lindsey Graham stand up to bully Donald Trump in rare act of courage.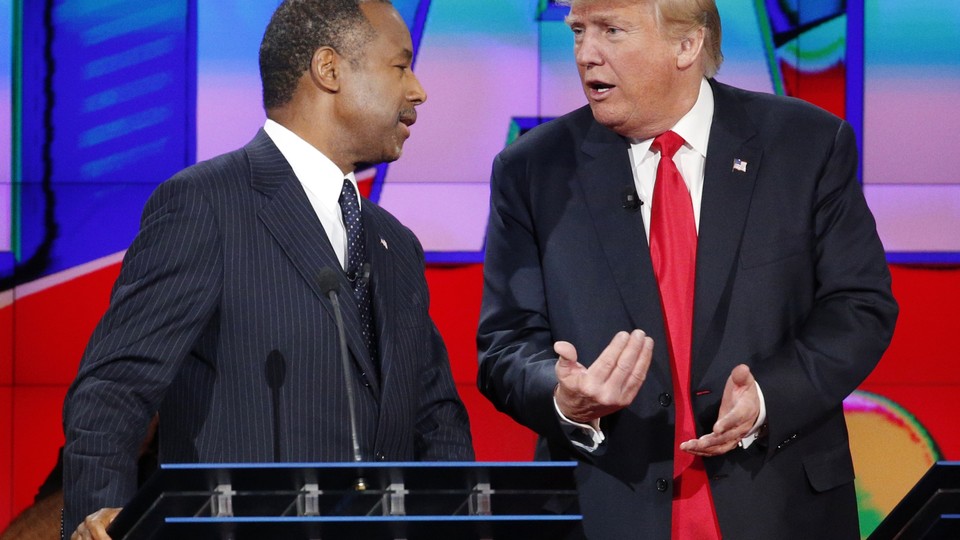 It's easier to frighten than to inspire. It's easier to divide than to unite. It's easier to ban Muslims and war refugees from the United States than to admit that the world is a complicated place—and that ISIS feeds upon our fear and demagoguery.
In their final debate of the year, most Republican presidential candidates took the easy way out—the well-trod path of cynics and cowards. "When people are feeling insecure," Bill Clinton warned Democrats in the run-up to the Iraq war, "they'd rather have someone who is strong and wrong rather than somebody who is weak and right."
Donald Trump is wrong. The GOP front-runner reinforced his plans to ban Muslims from entering the United States and deport 11 million undocumented immigrants. "We're not talking about isolation, we are talking about security. We are not talking about religions, we are talking about security," Trump said.
But he most definitely is talking about isolationism and religious bigotry. He also is talking incongruously about shuttering unspecified parts of the internet. "I certainly would be open to closing areas where we are at war with somebody …," he said. "Yes, sir. I am."
Ben Carson is wrong. The retired brain surgeon said mosques need to be monitored, along with schools, supermarkets, theaters, and other public venues where "a lot of people" are getting radicalized. He said, "We need to get rid of all this PC stuff"—not to mention those silly little civil liberties.
Chris Christie is wrong. The New Jersey governor said "Americans are more afraid than any time since 9/11" and "we have people across this country who are scared to death." Panic, people. Fear is a "new normal," according to Christie. "Everywhere in America," he said, "is a target for terrorists."
Sen. Ted Cruz of Texas is wrong. He blamed President Obama as much as ISIS for the public's fear. "We will not be prisoners to political correctness," he declared. "We will not be admitting jihadists as refugees." For the record, that is not the U.S. policy.
Sen. Rand Paul of Kentucky is wrong. He proposed a temporary halt to immigration from 33 mostly majority-Muslim countries, just slightly less odious than Trump's plan.
Sen. Marco Rubio of Florida is wrong. He opposes Trump's ban on Muslim immigration but blamed Obama for it, deflecting for the front-runner. "The president has left us unsafe," Rubio said. Trump smiled, like bullies do when the bullied walk away.
Mike Huckabee and Rick Santorum are wrong. The former Arkansas governor and former Pennsylvania senator spent a good part of the second-tier debate justifying their plans to spy on mosques and to treat Islam as a "political structure" that can be denied religious freedoms guaranteed to other faiths.
Finally, Sen. Lindsey Graham had enough. Speaking directly and passionately to thousands of Muslims fighting in the U.S. military, the hawk from South Carolina said, "Thank you for your service. You are not the enemy. Your religion is not the enemy."
Huckabee and Santorum stared blankly as the Graham continued. "Leave the faith alone," he said, "and go after the radicals who kill us all."
At one point, Graham even apologized for Trump's bigoted rhetoric. "To all of our Muslim friends throughout the world … I am sorry," Graham said. "He does not represent us."
At the main event, former Florida Gov. Jeb Bush stood up to the bully Trump. "This is not a serious proposal," he said of the Muslim ban. "In fact, it will push the Arab world away from us at a time when we need to reengage" with Arab allies in the fight against ISIS.
"Donald Trump is great at one-liners, but he's the chaos candidate," Bush continued. "He'd be the chaos president."
This column is not a defense of Obama, whose weak and tone-deaf stewardship make it easier for demagoguery to flourish. People have a right to be afraid when the U.S. government gives a fiancée visa to the San Bernardino terrorist after she posted social-media messages about jihad and martyrdom. They have reason to be afraid after their commander in chief consistently underestimated the threat of ISIS.
And yet, short of sending thousands of troops back into the Middle East and keeping them there for years, there is not a radically different approach to Obama's policy on the table.
Given a chance to fill the leadership vacuum, the GOP field chose instead to worsen it. They didn't address the people's fears, they stoked them. They didn't curb the quiet prejudices of an anxious nation, they exploited them.
For most of the field, most of the time, they were weak and wrong.