Google Proves That TV Teaches Girls to Not Like Computer Science
Girls are less likely to consider a career portrayed as the haven for geeky boys.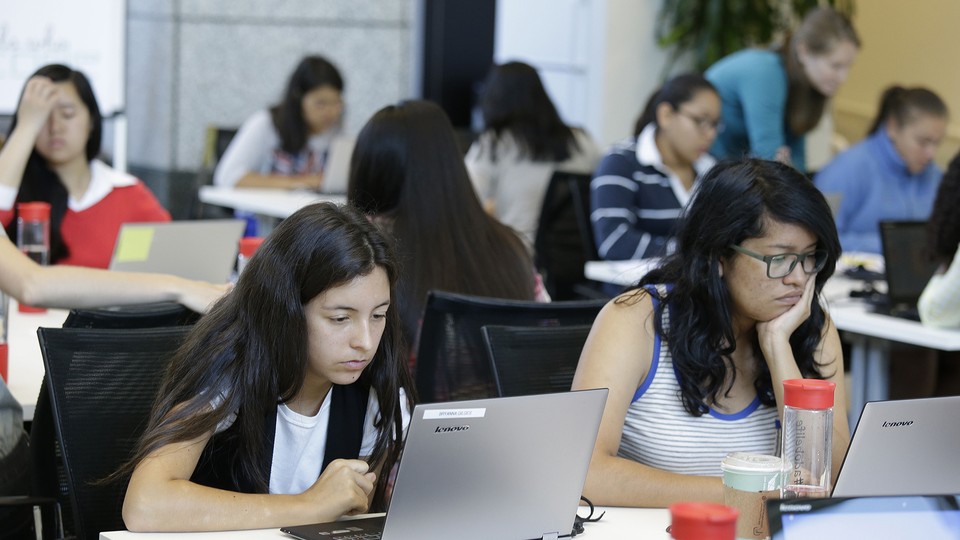 A new Google report that includes surveys of parents and students conducted by Gallup suggests that stereotypes perpetuated by TV and movies foster misleading perceptions about who is capable of pursuing computer science.
Gendered stereotypes furthered by television and film portrayals of computer science as nerdy or for boys only seem to have real-world impact. Most students surveyed report seeing primarily White characters engaging in computer science, while a significant number also see Asian characters. However, just 7 percent of students say they see Black or Latino computer-science characters most of the time. The lack of diversity on shows that young people watch also feeds into a lack of confidence among young people who don't see themselves reflected in those portrayals.
"Even though they value it, students don't often see that computer science is for them," said Sepi Hejazi Moghadam, head of research and development for the K-12/pre-university education outreach program and manager at Google.
Google hopes that by increasing the number of girls and young people of color on television and in movies, a broader array of young people will think about pursuing computer science.
"If we can't break through the silly stereotypes portrayed in popular media, that's a real shame because it's a powerful driver" of who pursues computer science, said Brandon Busteed, ex­ec­ut­ive dir­ect­or of edu­ca­tion and work­force de­vel­op­ment at Gal­lup.
More than 60 percent of male middle- and high-school students surveyed say they are "very confident" they could learn computer science, while just 46 percent of girls say the same. While 35 percent of male students say they are "very likely" to learn computer science at some point, just 18 percent of female students feel that way. And more than 40 percent of boys think they are likely to have a job where they need to know computer science compared with 33 percent of girls.
The natural extension of these attitudes bears out in reality, where women, Blacks, and Latinos remain significantly underrepresented in tech jobs and in computer-science degree programs at universities.
In recent years, Google says it has worked with different TV shows, including ABC's The Fosters and Disney Jr.'s Miles From Tomorrowland, to portray more people of color in tech roles. "We want to increase access to opportunities by breaking down barriers," Moghadam said.
Access is critical. As Moghadam said, "structural inequities" are reinforcing negative perceptions of who can be a computer scientist. Offering more positive portrayals of computer science will only work if the young people who are inspired actually have the ability to pursue computer science. The survey suggests that lower-income families are the most likely to want some formal computer-science instruction for their children. Three-quarters think computer science should be required in school.
But right now, low-income students and young people of color are disproportionately less likely to have access to advanced computer-science courses or to pursue the major in college. In 2014, 12 states had no Black students take the A.P. computer-science exam. Students who are female, Latino, or from poorer backgrounds are the least likely to have learned any computer science, which may limit their confidence in their ability to take on a computer-science career in the future, the report suggests.
Google says it wants to help fill that gap broadly and add more people of color to its own workforce in the process. The company is one of a number of Silicon Valley giants that has faced criticism for being a White boys' club. In the past couple of years, the technology giant has launched programs like CS First, free computer-science education tools that teachers or other adults can use to expose kids to things like basic coding. More than 100,000 kids have accessed the tool, Google said. The company, Moghadam said, has also widened the number of colleges it considers when it recruits new employees. Google began working in 2013 with Howard University, a historically Black school, to bolster its computer-science program, after finding that HBCUs graduate a significant number of the nation's Black engineers. Since then, Moghadam said, the number of interns from HBCUs has more than doubled.
There is no quick fix, though, and Google acknowledges that increasing the percentage of people of color will be a long process. But Moghadam thinks there is "a lot of momentum" nationally right now around expanding access to computer-science education and careers. Increasing the diversity of perspectives and ideas at Google and in the industry as a whole, he said, will ultimately lead to better products for everyone.