The Voters Who Love Donald Trump
Fans of the Republican frontrunner are keenly aware of his faults, but when others point them out, it only deepens their loyalty.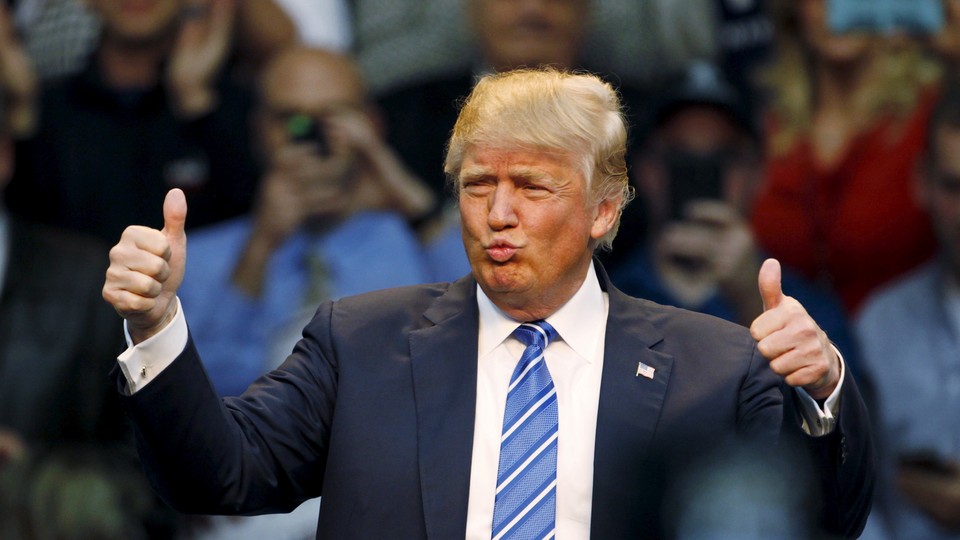 It's not easy loving Donald Trump. The mainstream media is ever ready to attack your favorite presidential candidate, twist his words, take him out of context. Other people—friends, family, members of the Republican establishment—try to tear him down.
Then there's Trump himself. The Republican frontrunner rises in the polls as he campaigns on an agenda many of his rivals are unwilling to endorse. On Monday, Trump called for "a total and complete shutdown of Muslims" entering the U.S. in the wake of a deadly terror attack in San Bernardino. That willingness to be bold is what many of Trump's fans love best. But it doesn't mean they don't occasionally cringe or feel conflicted as the candidate stretches the limits of what's acceptable in American politics.
"I really am worried that if he keeps saying some of what he's been saying he might drive people away," Trump supporter Tina Collier said in an interview.
Collier was one of 29 men and women who convened at a nondescript office building in Alexandria, Virginia on Wednesday evening to talk about Trump for a focus group moderated by Republican strategist Frank Luntz. Most of the participants, identified by name tags that kept the conversation to a first-name basis, called Trump their No. 1 candidate. Supporters conceded that the real-estate mogul sometimes says things that don't sit well, but they were quick to defend the Republican frontrunner all the same.
"When he said we're going to stop all Muslims from coming in, at first I just thought oh no way," Collier said. "But he says something crazy, and then he dials it back and explains it, and then I start to think yeah that makes sense. We have to do something, and I think he's the only one who will do it."
Fear was a constant refrain. Even in their own country, many supporters said they don't feel safe. Trump is the only person capable of steering the country in the right direction. If he isn't scared of the backlash that words invite, he won't be scared to stare down the enemy.
"Americans think the country is in crisis," a participant identified as Jeff said. "I'm attracted to his persona because of what's happening in the world, international affairs. He stands up there and he gives the image that he's not going to put up with any crap."
"The president is not making us feel safe," another called out. "He wants to yell at us about gun control," a third chimed in. "We have to protect ourselves!"
Their pervasive sense of distrust only confirmed, in the minds of many assembled, that attacks on Trump are designed to trip him up by forces invested in the status quo. Confronted with criticism, most claimed to like Trump even more—though they were keenly aware of how the candidate may come across to people who aren't receptive to his message.
"You've been highlighting what seem to be Trump's weaknesses," Scott, a participant said to Luntz, the moderator. "They're not that bad. You couldn't shoot him down with all the things you pointed out. Yeah, he makes mistakes. He's human. He says some things that are off color, that I'm embarrassed by occasionally, but I still think he's a leader."
Luntz put it this way: "The more that you challenge them supporting him, the more people align themselves with him … They don't like people attacking him, even more than they don't like what he's saying."
While the rest of American society has let Trump supporters down, the Republican candidate gives voice to their thoughts and feelings. The appeal of validation creates a powerful pull. ("[He's] talking to us not like we're stupid," Kara, another participant said.)
Many supporters felt that Trump, and they themselves, have been misunderstood. The media has distorted the facts and created a caricature of Trump's campaign, and frustration was palpable as Trump's fans felt pressure to justify the way they see the world.
"We understand there are radical people and then there are people who are totally fine," said Kara. "They're just trying to say 'oh people distrust Muslims.' No, that's not the case. We distrust Jihadists, we distrust people who come here to cause harm and kill us."
Some supporters expressed anxiety that Trump may go too far, though that usually wasn't enough to make them change their minds.
"I would say that Trump has a lot of good words and he's really positive. The thing about the Muslims, that's the only thing that I'm kind of nervous about," Joy, a participant, said. "But I would vote for him."
"I wish he would tone it down a little bit," Collier said, "but I'm beginning to think there's just not a lot left that he can say that would just put him out of the race."
It is hard to imagine what Trump might say that would alienate supporters who have remained loyal all this time. A few people, however, said that Trump's brash words have made them less inclined to vote for him. At times, it is difficult to publicly avow support for a candidate who so often offends.
"[I like] to see him speak when he's serious, when he's in 'good Trump' mode," a participant named Jennifer said. "Usually we just see the clips of him in 'bad Trump' mode. He needs to get out there, shut his mouth and be serious. When he's serious, he's very persuasive."
Several participants reported that their resolve to support Trump had been strengthened at the end of the night.
"He would have been my second choice, Ted Cruz was my first, when I first came in," Britton Johnson, said in an interview after the event. "Now I feel like he would be my first choice. Ultimately he's been right on almost every one of his decisions. That has been my thought, but to hear publicly from other people here that they feel the same way, that kind of validated my thoughts."
"Everybody wants to be a part of something larger than themselves," he added.