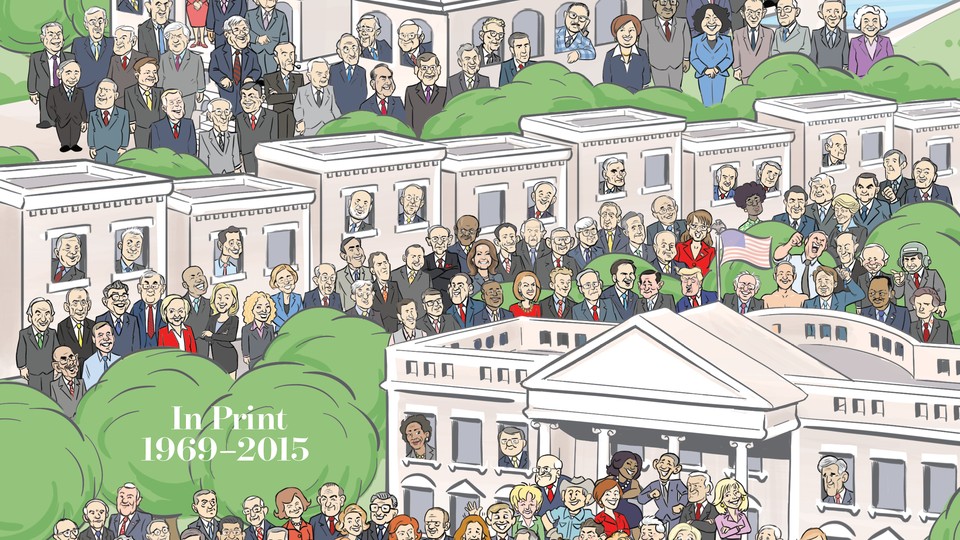 In early 2014, I was offered what I will, for the rest of my life, consider an amazing opportunity: the chance to edit National Journal magazine. The job was perfect and daunting all at once. NJ had legendary stature but also faced a massive challenge: Like all print publications, it needed to figure out how to justify its existence in the Internet age.
The past two years have been fun and rewarding not in spite of this challenge, but because of it. While the magazine is ending with this issue, the process of trying to reshape the publication—by putting a new twist on its traditions and emphasizing long-form storytelling and elegant design—yielded many individual pieces and overall issues that my colleagues and I are extremely proud of.
We were quite lucky in at least one sense: As should be clear from reading the recollections of the NJ stalwarts who wrote for this issue, the journalistic tradition that NJ had built up over time—the one that we inherited—was extraordinary. It was a tradition that had, for decades, insisted that the details of policy and politics mattered enormously. That the decision-makers behind the scenes could not be ignored. That there was no shortage of investigative digging to be done in Washington. That reporting and argument could strengthen each other. That a magazine could earn the respect of both conservatives and liberals.
There is one other theme that is abundantly clear from these recollections—and it too is part of the tradition of this place: National Journal has always been a magazine with a streak of idealism. Putting out a weekly is inevitably grueling. If you don't believe in what you're doing, the stress and long hours will never seem worth it. Read the remembrances in this issue, and you will have no doubt that generation after generation of NJ writers, editors, and staffers were passionate about their work.
My colleagues and I are no exceptions. We continued to strive, right up until our very last issue, to publish as strong a magazine as possible. I want to thank everyone who was on the magazine's small team over the past two years; but in particular, I want to acknowledge and thank Andie Coller, the magazine's brilliant deputy editor, who twice served as acting editor.
All of us are immensely proud to have been part of the National Journal tradition. And we know that the 46-year run of this magazine will be remembered and celebrated for a long time to come.
Richard Just
Editor, National Journal magazine