From Reluctant Recruit to Happy Warrior
"I think people are relieved," Paul Ryan says of his speakership so far, projecting confidence about his 2016 agenda.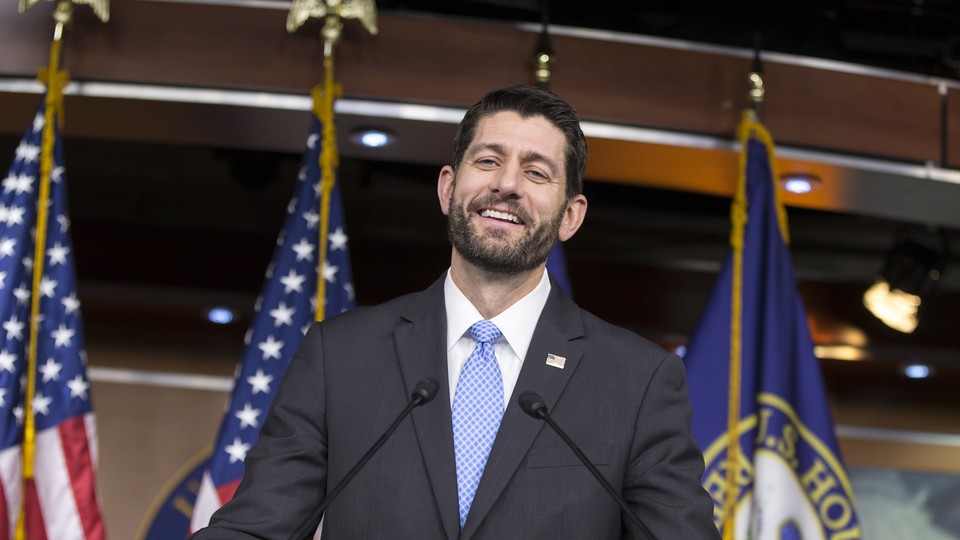 Christmas is coming, and House Speaker Paul Ryan is in a merry mood.
Just hours after passing a massive bipartisan spending bill in convincing fashion, one day after notching scores of tax policy wins and barely two months into his speakership, Ryan has fully transformed from reluctant recruit into happy warrior.
Now he just has to bring the Republican Party with him.
"I'm very happy with how the last seven weeks have gone," he told a small group of reporters assembled in his Baroque-style Capitol office.
The space has been repainted with a fresh coat of palatial red, part of the successful effort to rid it of the damp tobacco smell of its previous inhabitant, John Boehner. So too has the cloud of Boehner's presence and abrupt departure seemingly been lifted from Congress.
Yes, many members are still frustrated, But Ryan has, to paraphrase his predecessor, cleaned the barn, and the House is ready to move into 2016 on his terms with him at the helm. The past was rocky, but in talking about the future he is calm and confident.
"When John Boehner threw the curveball of his unanticipated resignation, it threw the place into a bit of chaos. Members were very worried about where this was all going, and it looked like Congress was going to seize up and come to a screeching halt," Ryan said. "People looked at that situation around Congress and saw all that they came here to do, to work on, basically being all for naught. That we were about to have such a chaotic crash, that the hard work that they took to get here, to legislate, to make a difference, was going to be in vain."
In his speakership, though, Ryan said his members see a change to a culture in which conservatives can unify and all members have legislative input. He points to the just-passed omnibus and tax bill, as well as the recently passed early-education and highway authorization bills as proof Congress is back to work.
To be sure, the omnibus bill passed under his watch came together in a top-down process more reminiscent of his predecessor. Ryan said even he is disgusted with the process, but he wanted to close it out to move on to a new chapter. Even still, he said members feel they have had more input than in the recent past.
"Since we have restored that fairness to the process—I have done everything I said I was going to do—I think people are relieved, and they now realize the outcome doesn't have to be perfect, it may not even be what they want, but at least they had a fair chance of affecting the outcome," he said.
Ryan said he honed his serene demeanor during the chaos of the 2012 presidential campaign trail, when he was Mitt Romney's running mate. He has learned to unplug and does not get rattled or fazed by high praise or deep criticism, especially from the conservative movement that birthed him and now seems ready to disown him.
Taking that lesson away from a presidential contest seems quaint given the anything-but-Zen tenor of the current GOP primary race. Ryan said he recognizes the tone of his party's would-be presidents is different from his own, but that it's just the nature of the primaries and things will change come the general election. He blames the rancor, unsurprisingly, on President Obama's administration, which he said has set a "governing temperament that is arrogant, paternalistic, and condescending.
"That deep sense of anxiety in the country is what is fueling all of this, and that tells me we owe people the right to decide if they want to stay on this path or not," he said. "And the only way you can do that is if you offer another path—and not just some vague platitudes, not just get some pollster to tell you what to say, but an actual path."
But that cannot wait until a nominee is chosen. Ryan said he and Majority Leader Kevin McCarthy will hunker down with the conference over the break and into January to draft a governing vision. Whether that will be bound in contract or pledge form remains to be seen. But some of the tenets are emerging. He wants to move on two tracks, both working with Democrats on areas where they can find common ground—for instance, on criminal-justice reform and the appropriations process—and also staking out contrast by passing solely GOP legislation, such as a repeal of Obamacare.
Ryan said the House will vote on a reconciliation package in January that reverses Obamacare and cuts off federal funding to Planned Parenthood, and the House will craft and vote on an alternative to the president's health law. He is cognizant, in the meantime, of Boehner's warning not to overpromise to the electorate.
"I'm not going to say it's going into law. … But are we going to propose something? You bet we are," he said. "We will make commitments on things that are within our control. Making a proposal is within our control. Don't suggest that we're going to say that proposal is going into law in 2016—with a president named Obama—[and that] we're going to repeal something like Obamacare. That's not what's being promised and committed to."
He said the House could also take up an authorization for the use of military force to target jihadist terrorists in the Middle East, and McCarthy and Foreign Affairs Committee Chairman Ed Royce will start listening sessions on the topic in January. But he knows his conference would not pass anything that in any way limits this president or the next from military engagement with the Islamic State.
"I think it would be a good symbol of American resolve to have a new AUMF to go after ISIS, to thoroughly defeat and destroy ISIS. Not to contain—to destroy ISIS. But we will not pass an AUMF that is designed to tie the hands of the next president," he said.
And in general, he said, he wants to allow more votes, and not just ones that are pre-sanitized for consumption during an election year, but ones that allow both Democrats and Republicans to propose real policies.
"There's a plus side and a downside of regular order and opening up the process. People have got to take votes, and that's just the way the cookie crumbles," Ryan said. "I came here with a D+3 district and then it became an R+0 district. … So I'm no stranger to taking tough votes and explaining it in difficult political situations. It clearly can be done, so you've just got to lean into it and do it.
"What this place always used to do is try to predetermine everything, down to the amendment. I don't think that the speaker's office should have that kind of power," he added.
Still, there are some things he said he simply will not do, for various reasons. Comprehensive tax reform is out of the question for 2016, he said, because the gulf of ideas between his party and the president's is too wide. Ryan is an avid deer hunter (he started growing his new beard in a deer blind, and he makes venison sausage and jerky in his free time), and gun-control legislation to respond to the country's spate of mass shootings is out of the question.
"What we should focus on is criminals, terrorists, mental-health reform, and we should not be distracted with ideas that take away the constitutional rights of law-abiding citizens," he said.
Not all of this will work, he conceded. As he said in his speech accepting the speakership, he expects bills to fail and considers that a healthy part of the legislative process. The Left and the Right will take aim at him. But he said he will remain the happy warrior throughout.
"I'm sure there are going to be websites and voices out there that will always be contrarian, no matter who is in charge and no matter what we are doing. That's to be expected," he said. "But the core of the conservative movement is yearning to be unified around a bold, conservative, specific agenda, and that's what we are going to do."