Freedom Caucus to Battle McConnell on Campaign Finance
Conservatives fear a move on the omnibus to raise party spending limits will help the establishment at the expense of outside groups.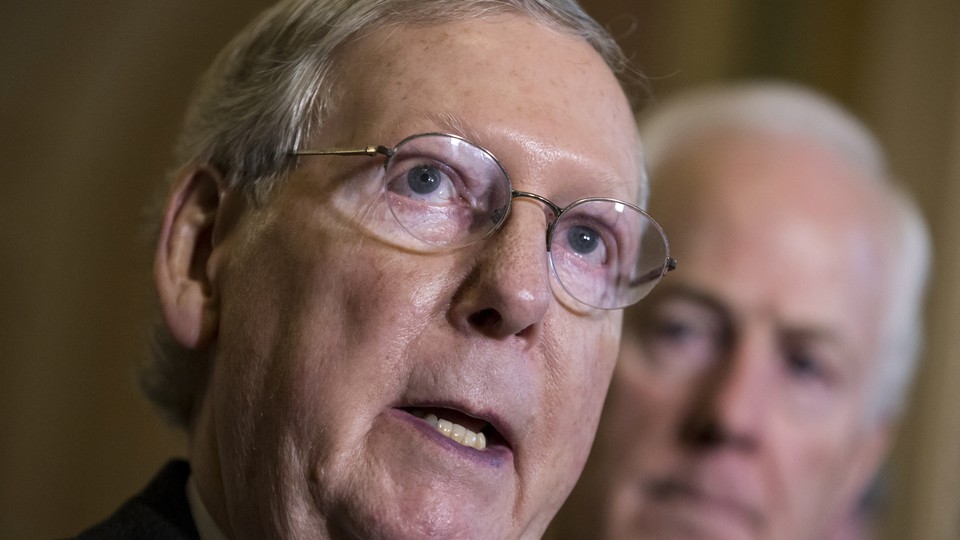 House conservatives are decrying an attempt by Republican leaders to loosen campaign spending limits, banding Democrats together with antiestablishment Republicans and opening up a rare intra-party split on an issue that usually unites the GOP.
The dustup comes as Senate Majority Leader Mitch McConnell is pushing to do away with limits on spending by political parties in coordination with candidates. As first reported by Politico, McConnell is trying to attach a provision to the omnibus spending bill that would allow party groups, such as the Republican National Committee and the Democratic National Committee, to spend unlimited sums in coordination with party nominees.
That would allow the parties to finance advertisements and other campaign needs in coordination with candidates, as long as the money is not directly donated to the candidates.
Members of the House Freedom Caucus, however, are arguing that the measure is an attempt by the GOP establishment to consolidate power to box out candidates who do not toe the party line, and they are making it one of their top targets in negotiations over must-pass spending legislation. Rep. Mick Mulvaney, a founding member of the Freedom Caucus, said Tuesday that loosening the limits would send the wrong message as GOP voters are clamoring for a party outsider in the presidential election.
"Don't let it be the anti-Donald Trump bill. Because that's what it is," Mulvaney said. "It effectively empowers the establishment wing of both parties. And that's one of the reasons I think you'll see some kickback from the Freedom Caucus."
Rep. John Fleming, another Freedom Caucus founder, who is running for the Senate seat being vacated by Sen. David Vitter, said that allowing unlimited coordinated spending by party committees would make it more difficult for a candidate like he was in his first race—an upstart who was not the pick of the National Republican Congressional Committee. He said he would prefer the limits to stay where they are, but that if leaders feel they must do away with them, they should also allow political action committees to spend unlimited sums in coordination with candidates.
"Either uncap everything or uncap nothing," Fleming said. "What they're really saying is, 'We get to choose our candidate, and we run our candidate, and we're going to make sure they have unlimited money.' … If they are given no limits or more limits or more coordination, so should the other organizations."
That would allow groups like the Senate Conservatives Fund, which has financed antiestablishment candidates and even run ads against McConnell, to keep pace with party committees. These PACs, unlike their spinoff groups called super PACs, can spend in coordination with candidates, but the spending is capped at $5,000 per election.
Party committees can donate only $5,000 per candidate per election, but can spend more in coordination with a candidate. The caps to coordinated spending vary state-to-state based on population, but range from $48,000 for House candidates to some $20 million for presidential candidates. McConnell, however, is trying to remove the caps outright, which would give party committees an advantage over not only PACs, but also super PACs, which can spend unlimited sums on ads and other spending, yet are not allowed to coordinate with candidates. Political party committees can also spend unlimited sums in independent expenditures if the spending is not coordinated.
The issue marks the latest rift in the fraught relationship between GOP leaders and outsiders within their party. Leaders have long complained that some conservatives do little to fundraise for the party and do not pay their dues to the NRCC. Alternately, members of the Freedom Caucus have complained that the establishment has withheld donations or even targeted them with ads or other spending.
Yet just how influential the Freedom Caucus can be on the issue remains to be seen. Many members often vote against omnibus bills to begin with, limiting their negotiating power as this package is being put together. Meanwhile, the group is also seeking provisions on the omnibus dealing with Obamacare, the Syrian refugee crisis, and Planned Parenthood, so it's not clear they would support an omnibus bill even if it does block McConnell's rider if it did not also include riders dealing with those issues.
McConnell has made no secret of his contempt for the outside groups pouring money into contests against Republican incumbents. He made waves among tea-party Republicans in 2014 when he declared, in regard to the outside conservative groups targeting himself and others: "We are going to crush them everywhere."
McConnell has long pushed to roll back some campaign finance laws, and he is a major congressional advocate of the Supreme Court's decision in the Citizens United case. As a former chairman of the National Republican Senatorial Committee, McConnell has often pushed to increase spending limits for political parties. During last year's "CRomnibus" battle, McConnell helped to attach a rider that allows individuals to donate 10 times as much to political parties as they had been able to previously. This year, he's pushing to eliminate limits on how much of that money political parties can spend on individual candidates.
A McConnell spokesman said that the omnibus rider, which has been floating around for years, had nothing to do with the relatively new Freedom Caucus and its members.