For 9/11-Responder Advocates, Drama in Spending Deal's Final Days
Advocates of the Zadroga Act hope the spending package will include support for responders.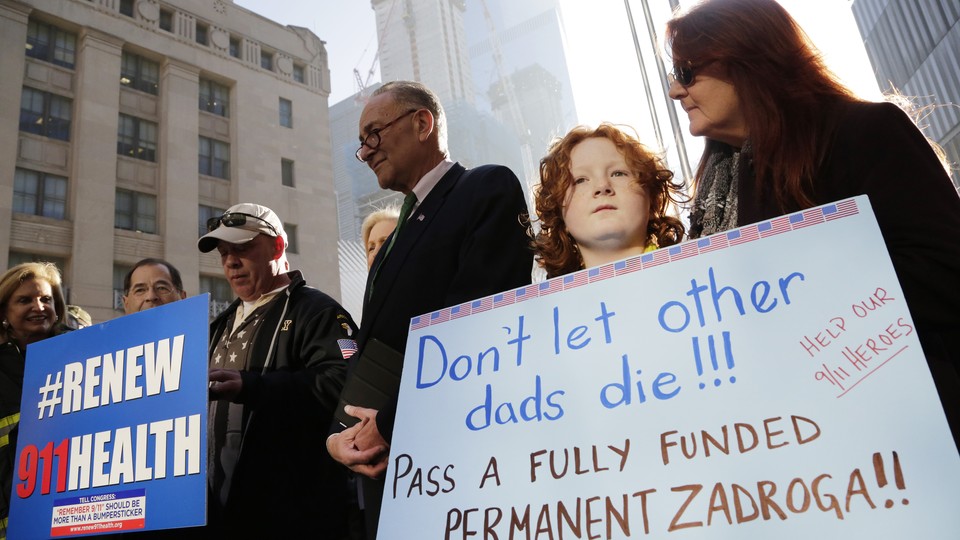 John Feal has a routine: He—along with a crew of maybe 12 or 18, sometimes even 40 or 50 people—drive from New York to Washington, D.C. They stay in the cheapest hotels they can find. They fill their days with meetings on Capitol Hill. He has been doing this throughout the year and also in 2010, before the Zadroga Act first passed Congress.
Feal's years-long campaign is part of a push in support of the Zadroga Act, which would renew health care benefits for 9/11 first responders and survivors who fell ill due to exposure to toxic air at the attack site.
It has now reached a critical juncture. The bill could be passed as part of a deal on a tax-break package or a $1.1 trillion spending bill. Then again, the provision could be left out, and the decision is made behind closed doors, where lawmakers can go—but people like Feal cannot.
And so they're left outside waiting to see if this is the time their work pays off.
This year, they've taken 22 trips to Washington and had an estimated 600 meetings, Feal said. The group has a tactic: "Be prepared, know more than a staffer, and give them the facts and the statistics. And then get in their face and keep constant pressure on them," said Feal, the president and founder of the 9/11 advocacy group FealGood Foundation.
"We have walked the halls in both houses," Battalion Chief James Lemonda, the Uniformed Fire Officers Association president, said in an interview. "We have delivered the message of how important this legislation actually is. It's in their hands now."
They've gained the support of top lawmakers, not to mention Jon Stewart, who's used The Daily Show as a podium to advocate for the bill as recently as Monday, in addition to hitting the Hill with first responders and advocates.
House Speaker Paul Ryan has "committed to reauthorize the program and he will keep his word," his spokeswoman, AshLee Strong, said in an emailed statement Thursday. "We expect it will be included in one of the year-end legislative items."
And Sen. Chuck Schumer, the Senate's No. 3 Democrat, stood beside his junior senator from New York, Kirsten Gillibrand, and New York City Police Commissioner William Bratton at a press conference Thursday. A flock of uniformed officers and advocates stood behind them as they detailed the need to renew the act, which began to expire in the fall. It's important to renew the bill, they said, because first responders are plagued with health challenges related to the attacks and deserve the security of health care. Several thousand survivors and first responders have contracted cancer, according to the Centers for Disease Control and Prevention, as of Sept. 9.
"We're losing a lot of people through these cancers each year," Bratton told reporters afterward. "All of the union leaders talked about their personal experiences having lost their members since the last time they were here. Take the burden of worry off the people."
As of Thursday, negotiations were still in flux on an omnibus and tax-extenders package with the Senate passing—and the House slated to pass—a five-day continuing resolution to keep the government running.
Advocates hope their bill will pass before year's end.
The Zadroga Act could go on either the omnibus or tax-extenders bill, Schumer said. "The other side is insisting on so called 'pay-fors' even though we're going to have hundreds of billions of dollars of tax cuts that are not paid for, but we are working productively, Democratic leadership, Republican leadership, on finding those pay-fors and we're making good progress on that." If pay-fors aren't found, Schumer said at a news conference, then lawmakers will try to get the measure in the tax-extenders bill.
It's been a long, ever-changing battle, Feal said, and it hasn't been easy. Last week, he brought 42 people down to Washington. Three couldn't make it to Capitol Hill due to a flare-up of illness or post-traumatic stress, Feal said. But Thursday morning he exuded confidence that the effort would be worth it.
"We've met with some members of the Senate and Congress four, five, six times," Feal said. "Every time we got close, they move the goalpost back on us. Every time we got to the one-yard line, they just kept moving it back, and this time they can't go nowhere. We're confident we're going to get it done."