Five Things to Know About the Newly Minted Global-Climate Accord
The agreement reached in Paris on Saturday is ambitious, but will it produce a safer planet?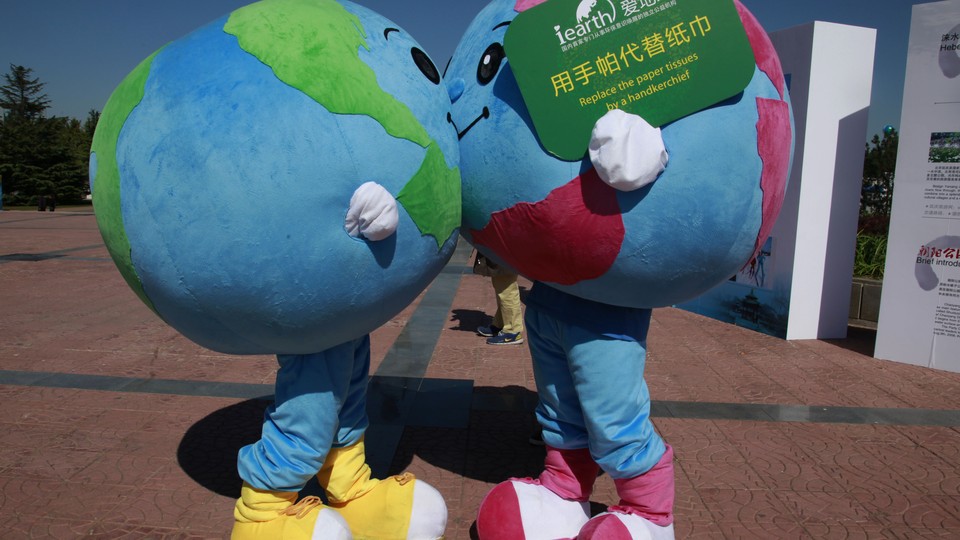 Nearly 200 countries cemented a major international accord to fight global warming Saturday, capping years of fractious negotiations that dragged on even as evidence of the dangers of runaway greenhouse-gas pollution mounted.
French foreign minister Laurent Fabius, the host of the United Nations climate talks in Paris, quoted the late Nelson Mandela: "It always seems impossible until it is done," he told the conference before unveiling the agreement.
The breakthrough tethers non-binding national pledges to limit carbon-dioxide emissions with more formal agreements that enable monitoring and verification of countries' actions to ensure trust. Nations will also submit new plans every five years, a key provision that acknowledges that existing national pledges are nowhere near tough enough to prevent highly dangerous levels of global warming.
The accord sets a goal of a global peak in greenhouse-gas emissions "as soon as possible" and holding the rise in global temperatures to "well below" 2 degrees Celsius above pre-industrial times, a benchmark for avoiding many of most dangerous consequences of climate change.
But it also calls for "pursuing efforts" to limit the rise to 1.5 degrees, a recognition that the higher ceiling will still enable highly damaging changes (though in practical terms the lower target doesn't have much influence).
Elsewhere, the pact has provisions aimed at mobilizing finance to help developing nations battle climate change, and bolstering work to help countries improve their ability to adapt to inevitable changes.
Here are five important things about the "Paris Agreement" and its aftermath:
It's Not Truly Over.
The new pact leaves many important decisions for the future.
That's not a bad thing, per se. Having countries revise their carbon-cutting pledges on a five-year basis, as State Department climate envoy Todd Stern has pointed out, provides chances to ratchet up ambition as low-carbon technologies (and hopefully pro-climate political will) advance.
But even the immediate post-Paris period will be important in determining how successful the pact is. Let's turn it over to Michael Levi, a climate policy analyst with the Council on Foreign Relations, who shared some thoughts he's putting into a blog post. Levi warns against judging the pact too quickly, noting:
"Its first test will be in the coming days and weeks as leaders and major media around the world talk about the deal. What leaders say will signal how much they see the Paris deal as settled and how they interpret the language that treats developed and developing countries differently. How the media describe the Agreement will shape how the broader public views it, and hence how much of a penalty leaders might face for later backtracking or spinning what the deal says."
Levi also notes that big decisions loom one year from now, when negotiators flesh out provisions in the Paris agreement on transparency and review nations' pledges, and then the "biggest test" looms in five years when countries are slated to offer new carbon-reduction plans.
Capitol Hill Republicans Want a Bite, But (Probably) Won't Get It
Republicans are itching for a chance to scuttle the deal, arguing that it's going to lock the U.S. into an economy-killing emissions reduction scheme. As an international agreement, Senate Majority Leader Mitch McConnell and others have argued that the Senate should give the deal its consent 1997 Kyoto Protocol, which was rejected by the Senate.
That's why the Obama administration pushed for a hybrid deal, in which countries set voluntary emission-reduction plans, and the U.N. ratchets up transparency and reporting mechanisms to keep everyone on track. True to form, the final U.N. agreement doesn't mandate any emissions targets, but does lay out a system for countries to submit new pledges (called Nationally Determined Contributions) every five years, starting in 2020. The accord also sets up meetings every five years starting in 2023 to take stock of where countries are and calls on the U.N. to devise a system for countries to report progress, relying on the existing climate-change convention that the U.S. ratified in 1992.
Follow the Money
One of the key conflicts looming over climate negotiations has been how much help rich, developed countries such as the U.S. should offer to the developing world to help reduce emissions and harden defenses against effects of climate change that can't be avoided.
The new agreement does "strongly urge" rich countries to go above and beyond an agreement to mobilize $100 billion a year by 2020, setting that figure as a "floor." But that promise shows up outside of the legally binding portion of the accord, and congressional Republicans have vowed to block any U.S. funding to the multilateral Green Climate Fund or other international climate spending.
The Paris conference also saw heavy buy-in from the private sector. Bill Gates opened the conference by announcing a joint effort by 28 rich investors to help bring promising low-carbon energy technologies from the lab into real-world deployment. It's linked to a new pledge by the U.S. and 19 other countries to double funding for clean-energy research and development.
The deal also formally acknowledges for the first time that vulnerable countries deserve compensation for the consequences of climate change. But the "loss and damage" clause does not set up a system in which developed countries would be held legally liable, opening them up for poor nations to seek compensation (Grist breaks down the debate here).
A Legacy for Barack Obama and John Kerry
President Obama has made climate change a big priority during his second term, with a suite of initiatives. At home, his Environmental Protection Agency has finalized sweeping rules to cut carbon pollution from power plants. Internationally, he struck major deals with China. And he was all in on getting a deal done in Paris. He was in personal contact by phone in recent days with the heads of China and India (the world's biggest and third-biggest carbon emitters), as well as the heads of Brazil and France, in an effort to get a deal across the finish line.
The White House, in a fact sheet touting "U.S. leadership," lauded the pact for creating a "long-term, durable global framework to reduce global greenhouse gas emissions.
"For the first time, all countries commit to putting forward successive and ambitious, nationally determined climate targets and reporting on their progress towards them using a rigorous, standardized process of review," the White House said.
It's a career-capping moment for Secretary of State John Kerry, a former senator who has been an outspoken advocate of battling climate change for decades. Kerry experienced bitter failure five years ago when a sweeping climate-change bill that he coauthored collapsed in the Senate, ending any hopes of moving a major global-warming bill through Congress. A half-decade later, he's found more success on the global stage.
Ammunition for 2016 and Beyond
For years, green activists have pined for climate change to have something more than a cameo in national elections. The arrival of the Paris deal as the 2016 presidential race heats up will do more to inject global warming into the campaign conversation.
Hillary Clinton, the Democratic front-runner, called the agreement a "historic step forward in meeting one of the greatest challenges of the 21st century." But she warned: "The next decade of action is critical—because if we do not press forward with driving clean energy growth and cutting carbon pollution across the economy, we will not be able to avoid catastrophic consequences."
Bernie Sanders, by contrast, was critical of the deal. "While this is a step forward, it goes nowhere near far enough. The planet is in crisis. We need bold action in the very near future and this does not provide that," said Sanders, who recently rolled out his climate platform.
Meanwhile, look for Republican candidates, many of whom say climate change is either bunk or exaggerated, to take aim at the pact from the other direction.
It's not just campaign rhetoric either. The outcome of the U.S. election could have any number of repercussions for the Paris deal. Remember that a central pillar consists of pledges made by each nation to curb emissions. GOP White House candidates have pledged to roll back Obama's regulations—policies that help underpin the U.S. pledge to cut its emissions by 26 to 28 percent below 2005 levels by 2025. So a GOP win could shake faith in the willingness of the U.S. (the world's largest historical carbon polluter and currently No. 2 behind China) to follow through.