Even With 60 Cosponsors, Chemical-Reform Bill Can't Find Finish Line
Barbara Boxer offers another hurdle to getting a long-awaited bill done.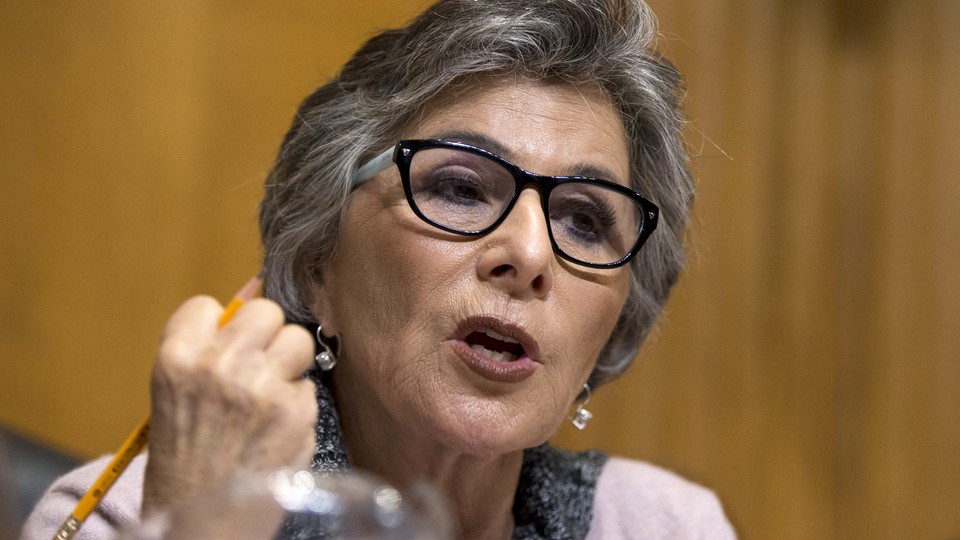 The final roadblock to getting a long-awaited chemical-reform bill through the Senate appeared to have been lifted this week.
But as has become customary in the tortured, Sisyphean path for the bill, another obstacle immediately appeared: Sen. Barbara Boxer.
A bipartisan bill from Republican Sen. David Vitter and Democratic Sen. Tom Udall to overhaul the 1976 Toxic Substances Control Act has had a magic number of cosponsors—a filibuster-proof 60—since early October, and sponsors say they have an agreement for a quick, drama-free vote to get it through.
The Frank R. Lautenberg Chemical Safety for the 21st Century Act, named for the late Democratic senator, was then immediately held up over an unrelated issue. Republican Sen. Richard Burr of North Carolina had been blocking the bill to force a reauthorization of the Land and Wa­ter Con­ser­va­tion Fund, a popular public-lands program that expired in September. That program is set to be reauthorized for two years in the omnibus spending package released this week.
Burr lifted his hold on the chemical bill Wednesday, but Boxer quickly stepped in to put her own hold on it. Boxer has long fought against the bill, but had reached a deal with sponsors behind the scenes to let it go through. Sen. James Inhofe, chairman of the Environment and Public Works Committee, told reporters that Boxer had reneged on the deal and was "breaking a commitment," according to The Hill.
An aide for Boxer, the ranking member on the committee, told National Journal that the hold wasn't about language at all, but was about making sure leaders did not try to negotiate the Senate bill with a House-passed version without a public conference.
"Senator Boxer continues to support the substitute language that she worked on with [the] majority, and she has also asked that they go to a formal conference and have a transparent process," the aide said.
Boxer has said she wants to continue to make changes to the chemical bill in a conference with the House—which passed a TSCA bill last spring—but the aide said there hasn't been an assurance of a formal negotiation. Udall and Inhofe have talked publicly about holding a conference with the House, but a formal arrangement to hold one is not part of a unanimous-consent agreement cleared by the Democratic caucus.
In a statement, Udall said "we should be able to pass TSCA reform this year" and that he was talking to leadership about it.
It's another hurdle in what's been an arduous process to bring a chemical-reform bill to the floor. The 1976 statute, which has never been updated, is widely criticized for leaving the Environmental Protection Agency with little authority to regulate toxic chemicals in commerce. Of the 80,000 or so chem­ic­als cur­rently in com­merce, EPA has re­quired test­ing for only about 200 since the ori­gin­al TSCA le­gis­la­tion was passed, and has par­tially reg­u­lated just five.
Lautenberg, a New Jersey Democrat, had tried for years to get a reform bill through, but only got traction in 2013 when he drafted a bipartisan agreement with Vitter. After Lautenberg's death that summer, Vitter and Udall continued to try to get a bill through the Environment and Public Works Committee.
Their bill would set­ up min­im­um bench­marks for EPA to test and reg­u­late chem­ic­als, es­tab­lish a new user-fee sys­tem to pay for it, and set a sched­ule to clear a lengthy back­log of un­tested chem­ic­als. It would also give EPA guid­ance to eval­u­ate chem­ic­als based only on their health and safety risk at first.
Boxer, however, has long objected to the bill over concerns that it would overstep states' rights to regulate chemicals on their own. She had pitched her own, competing TSCA bill and vowed to use every tool in her power to block the bipartisan bill from the floor.
With periodic changes and tweaks, Udall and Vitter ended up convincing even liberal Democrats like Sens. Sheldon Whitehouse and Edward Markey to join with Inhofe and Majority Leader Mitch McConnell as cosponsors, finally getting the 60th cosponsor in October. Boxer then agreed that the language was good enough to pass the Senate, although she has said she'd like more changes to be made in conference.
The House passed its own TSCA reform bill in the spring, and sponsors on both sides say they think the differences are workable enough to get a final compromise easily.
Now the only question is when they can get to the table.